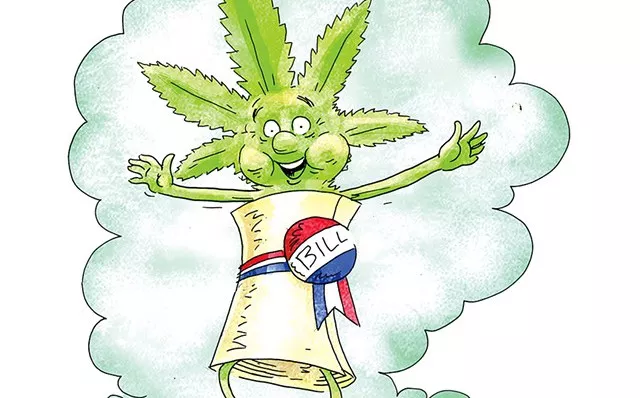 If you're reading this, it's
possible
Gov. Phil Scott has already signed into law a bill that legalizes marijuana.
He has until this Monday, and said on Thursday that he'll meet the deadline — but in private. No showy display, he told reporters,
including our John Walters.
"There are many people on both sides of the fence," the governor said. "Some are very happy about it, and some are very displeased as well. I recognize that, and want to respect that some feel that this is not a momentous occasion."
Even if he's signed it, nothing's changed — yet. The law takes effect July 1.
We'll have plenty more on this story as the state adapts to a new legal landscape.
Here are some other stories we've been following this past week:
---
January 12
: Will legal weed drive down demand — or the price — of medical marijuana? Too soon to tell, but right now, it's damned expensive, especially compared to opioids, which insurance companies cover. MaryJane Sarvis (yes, her real name) spends $200 a month on medical marijuana and dreams of having Medicaid cover the expense. Experts say that ain't happening anytime soon. [
Emily Corwin, Vermont Public Radio
]
---
---
January 15
: Here's a video with
a song about weed
. Take it away, Bryan Parmelee:
---
January 16
: Vermont's Marijuana Advisory Commission, tasked with examining the implications of legalized pot, issued a report with a slew of recommendations this week. Among the proposals, the commission suggests creating a separate panel to study standards and testing for possibly stoned drivers. [
Taylor Dobbs, Seven Days
]
---
January 17
: The colorful mayor of Barre,
Thom Lauzon
, has a scheme up his sleeve. He wants to institute a local license requirement for marijuana growers in his city. Lauzon believes it will be up to each municipality to ensure local growers are following the rules laid out in the law.
"I don't have a problem with legalizing marijuana. I don't," he said. "But, I think that the bill that is sitting on the governor's desk is flawed in so many respects."
After 12 years in office, Lauzon has said he'll step down in March. [
David Delcore, Barre-Montpelier Times Argus
]
---
January 17
: Here's a killer lede: "The legal has landed." Our intrepid reporter checked in with some experts to find the safest ways to consume legal cannabis. [
Ken Picard, Seven Days
]
---
January 17:
Speaking of Ken Picard, he took one for the team and hung out at a CBD meditation class at Green State Gardener. Read on to find out if it helped him go deeper within his psyche. [
Ken Picard, Seven Days
]
---
January 19
: The
Burlington Free Press
editorial board took the Vermont legislature to task for doing a half-assed job on legalization. The paper calls for full legalization that includes taxed-and-regulated marijuana retail shops.
"To assert that the demand for marijuana can be met entirely by people growing their own — the only means allowed under the legislation — is either dishonest or deluded," they opine. [
Editorial Board, Burlington Free Press
]
---
January 19
: Celebrities — they're just like us! And apparently, that means they're "slathering themselves with cannabis lotion." Among those named in the Page Six piece are Olivia Wilde and Jessica Seinfeld. [
Christine Burroni, New York Post
]

Got a story you want to see run in our our weekly roundup? Send an email to cannabeat@sevendaysvt.com
.