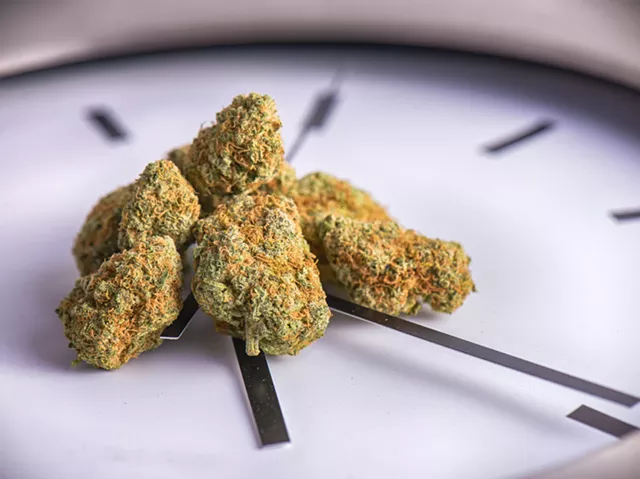 Roxana Gonzalez | Dreamstime.com
Tick tick tick...
Yup — it's here.
The weekend stretches before us and, with it, the realization of legalized weed. Our guess here at
Seven Days
? Not much will be different the first few weeks. But it's a very significant milestone and could bring some interesting changes down the line.
So — what have you got planned? Let us know by sending an email to
cannabeat@sevendaysvt.com
.
There are least two legalization celebrations happening Sunday in different parts of the state, something our Sara Tabin
wrote about in this week's issue
of
Seven Days
. One is in Johnson,
on Willow Crossing Farm
. Another, in West Dover, is dubbed the Original Green Mountain Cannabis and Music Festival. That'll go down at
Layla's Riverside Lodge
.
If you end up in Johnson, say high to Sara — she'll be there!
Here are some other cannabis stories we followed this week:
---
June 22
: "Vermont's past two commissioners of public safety have failed to comply with a 2013 law charging their department to create a method of accurately measuring the marijuana content in pot-infused products like edibles or oils," Jess Aloe reported this week in the
Burlington Free Press
.
---
June 27
: Three years after the first Weeders Survey, we went back to our readers to see if their habits had changed. Here are the results! [
Dan Bolles, Seven Days
]
---
June 27
: The Vermont Cannabis Nurses Association will offer free cannabis plant clones to anyone who is currently prescribed opioids. An interesting approach! [
Stephanie Boucher, Heady Vermont
]
---
June 28
: Legal cannabis sales could begin Sunday in Massachusetts, and the first recreational retail cannabis shop license could go to Cultivate Holdings, which already operates a medical marijuana dispensary in Leicester. Where's Leicester, you ask? It's in the center of the state, about a three hour and forty-five minute
drive from Burlington
, in case you were wondering. [
WBUR, Steve Brown
]
---
June 29
: The announcement this week that the U.S Food and Drug Administration approved Epidiolex, a cannabis-derived epilepsy treatment, was huge news. What's it mean for the future of cannabis and big pharma? [
Thomas Buckley, Bloomberg Businessweek
]
---
June 29
: Oklahoma legalized medical marijuana this week, but the feds are warning residents they'll have to choose between weed or owning guns. "Using a controlled substance is a prohibitor, similar to being convicted of a felony offense," Meredith Davis, a special agent with the Bureau of Alcohol, Tobacco, Firearms and Explosives, told NBC affiliate KFOR-TV. [
Danielle Garrand, CBS News
]
---
June 29
: A state-sanctioned report in Massachusetts found that one in five Bay Staters had puffed pot in the previous 30 days. The western part of the state had the highest percentage of tokers, the study found. [
WBUR, Martha Bebinger
]
---
June 29
: Weed — it's not just for brownies anymore. Foodies are getting more and more creative in bringing pot to the potluck. [
K. Astre, Huffington Post
]
Got a story you want to see in our our weekly roundup? Send an email to cannabeat@sevendaysvt.com.