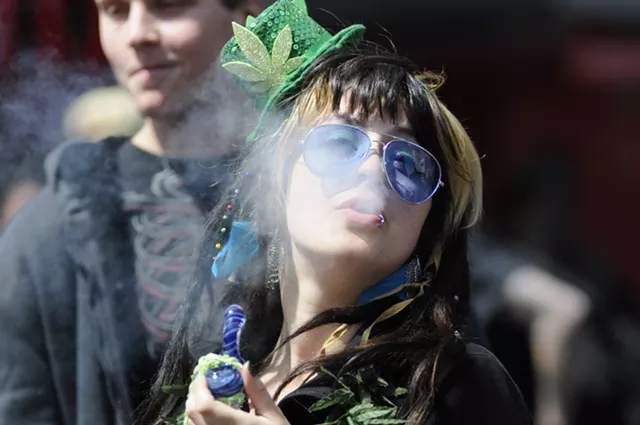 Arindam Banerjee/Dreamstime.com
'Tis the season
Welcome to the first 4/20 in Cannabeat history!
This year's high holiday for stoners is the last one in Vermont for which weed will be illegal. That's not to say there won't be plenty of events and celebrations going on all around the state. And sure, it was snowing today, but we'd venture a guess that you'll find quite a crowd on the University of Vermont campus celebrating the holiday outside.
More interested in staying
inside
?
Head to the movies
to catch
Super Troopers 2
, some 17 years after the original captured the hearts and minds of stoners worldwide.
Wanna just sit on the couch and surf the web? We've got you covered there! As is tradition, every outlet that never writes about cannabis has decided that today is the day to publish the think piece they've been holding onto all year. Rather than summarize just one, we've compiled several of our favorite 4/20 stories below, along with the rest of the week's weed news. Rock on!
---
April 16
: The folks over at Heady Vermont compiled a list of 4/20-related events going on this week. There are still some in play today and over the weekend if you're looking for something to do. [
Heady Vermont
]
---
April 18
: The CannaBus Film Festival begins today in Burlington and our own Ken Picard took a look at what you can expect to experience. [
Ken Picard, Seven Days
]
---
April 18
: Check out this excellent photo essay of 10 Colorado cannabis users. [
Maria Levitov, Westword
]
---
April 19
: Sen. Chuck Schumer (D-N.Y.) says he's going to introduce a bill that would decriminalize marijuana on the federal level. Check out this interview, 'cause the Senate minority leader also signed a bong — but didn't smoke it. [
Shawna Thomas, Vice News
]
---
April 19
: A Food and Drug Administration panel on Thursday endorsed a drug derived from the cannabis plant that would be used to treat seizures for children with epilepsy. Groundbreaking stuff. [
CBS News
]
---
April 20
: Guess what: Even some of the world's fastest ultramarathoners like getting high before — and after — a training run. [
Jen A. Miller, New York Times
]
---
April 20
: Watch out Vermont — we could see an influx of Connecticut residents coming town, and not to ski or go to UVM. Connecticut's medical cannabis program is reportedly in the midst of a weed shortage as the number of registered patients there soars. [
Matthew Ormseth, Hartford Courant
]
---
April 20
: Wondering how 4/20 came to be 4/20? This story claims it was a group of California teens dubbed the "Waldos" who'd smoke at 4:20 p.m. each day after school. Eventually, Grateful Deadheads picked it up and the rest is — well, yeah. [
Olivia B. Waxman, Time
]
---
April 20
: Weed isn't just for teenagers anymore. Elderly folks are getting in on the action. [
Sara Davidson, New Yorker
]
---
April 20
: Cannabidiol, or CBD, is popping up in more and more skin care products. Is it the industry's next "it" product? [
Julia Brucculieri, Huffington Post
]
Got a story you want to see in our our weekly roundup? Send an email to cannabeat@sevendaysvt.com.