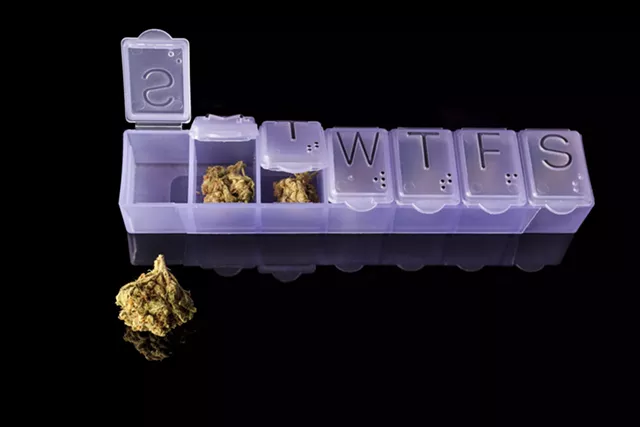 Dreamstime
Your weekly dose of cannabis news
Here's a gimmick that would make Cheech and Chong proud.
A Massachusetts cannabis growers collective created a 100-foot-long joint for a convention December 16 in Worcester. It took more than two pounds to fill and proved quite the attraction at the Harvest Cup,
the Worcester Telegram & Gazette reports
.
"When are you gonna light it up?" asked Denise Fournier, according to the paper.
Recreational cannabis, of course, is legal in Massachusetts; the event actually fell on the day after the one-year anniversary. Dispensaries, meanwhile, are expected to open in 2018.
"What we're hoping to get out of it is a little bit of celebration to bring this out of the shadows and let the average Joe know this is not just some room that stinks like patchouli and is filled with hippies, " Peter Bernard, president of the Massachusetts Grower Advocacy Council, told the
Telegram & Gazette
. "We're coming out of the 'pot closet,' so to speak."
No better way to shed the patchouli-hippy image than by breaking out a two-pound, 100-foot-long joint!
[Worcester Telegram & Gazette, Cyrus Moulton]
We'll be off next week but we'll see you in the new year! To tide you over until then, here are some other stories we read this week:
---
December 18
: California green will be legal January 1, but the first batches of bud "could contain pesticides, molds and other contaminants," the Associated Press reports. That's because growers will get a six-month grace period before stiffer regulations are imposed, according to the AP:
Shops will have six months to sell the current crop of cannabis before their inventory has to pass tests. Any pot harvested or manufactured after Jan. 1, however, will be subject to testing for potency and contaminants with a high public health risk. Stricter limits will be phased in by the start of 2019.
[
Associated Press, Brian Melley
]
---
December 18
: Sure, California is getting all the hype. But
Forbes
reports that Canada's cannabis market could be quite a hit. One estimate forecasts $5 billion in sales in 2018, when the drug will be legalized across the country. [
Forbes, Julie Weed
]
---
December 19
: A VICE reporter spent Hanukkah getting high. Specifically, Eve Peyser celebrated the Festival of Lights by toking out of an eight-pronged Menorah Bong — because, of course. You have to see the Grav Menorah to believe it. Peyser writes:
Having smoked all eight bowls of the menorah, I feel closer to my heritage than ever before. Being Jewish was already great, but being Jewish while smoking a bong is even better. While I'll always prefer joints to any other method of smoking, I'll be sure to bust out the Hanukkah bong on every Jewish holiday. In fact, if synagogues started celebrating the high holidays with more emphasis on the "high," I'd become Orthodox in no time.
[
VICE, Eve Peyser
]
---
December 19
: Could this be the roadside test that Gov. Phil Scott so wants the state to have ahead of legalization? An Oakland, Calif., company has created a cannabis breathalyzer that can measure the amount of tetrahydrocannabinol (THC) on someone's breath, reports NBC Bay Area. "Dr. Mike Lynn, the company's CEO, says if THC appears in someone's breath, that means they've smoked within the past couple of hours and are more than likely impaired," the station reported.
That doesn't sound quite foolproof. And it doesn't test for someone who's consumed edibles. But hey, it's progress! [
NBC Bay Area, Pete Suratos and Bob Redell
]
---
December 20
: Nevada, which legalized recreational cannabis on July 1, had $38 million in weed sales in October, its highest monthly total yet, according to the
Las Vegas Review-Journal
. That means the state has already pulled in $19 million in tax revenue, according to the newspaper. [
Las Vegas Review-Journal, Jamie Munks
]
Got a story you want to see run in our our weekly roundup? Send an email to cannabeat@sevendaysvt.com.