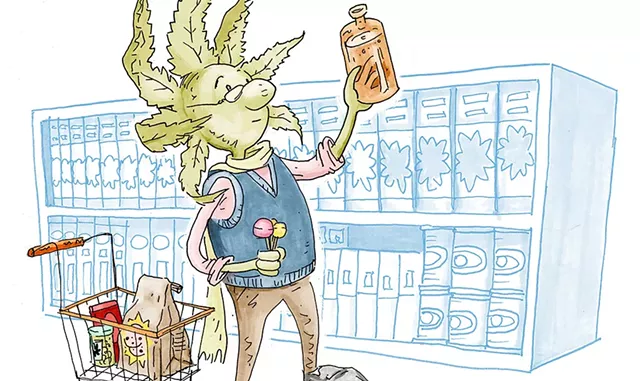 On Tuesday, the Vermont legislature will reconvene after a weeklong break.
Immediately before the interlude, the Senate approved a bill that would legalize cannabis sales by April 2021. That was expected, as the chamber has traditionally been receptive to such legislation.
All eyes are now on the House, where Rep. Sam Young (D-Glover) has already introduced a bill with some similar components. He told
Seven Days on March 1
that he's leaning toward working with the Senate bill instead of his own. Asked how many of his colleagues would back the bill, Young said, "I feel like we're in the 80s. It's always going to be the little details that make people decide whether they want to support it or not, but I feel like we have a strong majority."
That could be huge in the event of a gubernatorial veto. Republican Gov. Phil Scott has pledged to nix any legislation that fails to direct funds to youth prevention or set specific policies to enhance road safety. The Senate bill does neither.
Strap in. All eyes are on the Golden Dome.
Here are some other cannabis stories we followed the last few weeks:
---
February 21
: University of Connecticut is offering a class that teaches students how to grow hemp. [
Patrick Skahill, Connecticut Public Radio
]
---
February 23
: Former NBA player Al Harrington has become a cannabis tycoon. He started a company several years ago named after his grandmother, Viola, with $5 million in seed money. The company is now valued at $100 million and operates in California, Oregon, Colorado and Michigan. [
Gregg Doyel, Indianapolis Star
]
---
February 25
: The district attorney in San Francisco announced he'll wipe clean 9,000 eligible cannabis-related convictions dating back to 1975. [
Evan Sernoffsky, San Francisco Chronicle
]
---
February 25
: Cannabidiol is everywhere, but scientists still don't know much about CBD. Is it snake oil or a life-changing cure-all? [
Roni Caryn Rabin, New York Times
]
---
February 27
: Medical marijuana dispensary owners in Vermont are hoping for relaxed regulation as they seek to grow their patient pools amid a changing and crowded cannabis market. [
Xander Landen, VTDigger.org
]
---
February 28
: This seemed inevitable. Martha Stewart is teaming up with a cannabis company to create a line of CBD products for people and pets. [
Joelle Goldstein, People magazine
]
---
February 28
: Medical marijuana patients can now pick up their medicine using a drive-thru window at the Southern Vermont Wellness dispensary in Brattleboro. [
Brattleboro Reformer
]
---
March 1
: Cannabis businesses in California are starting to use odor-capture systems to prevent the skunky scent of weed from pissing off their neighbors. [
Brittany Martin, Los Angeles magazine
]
---
March 3
: As the cannabis conversation heats up in the Green Mountain State, Efficiency Vermont is preparing for legalization of sales by scheduling talks and events with growers and suppliers about ways to minimize costs and electricity usage. [
Anne Wallace Allen, VTDigger.org
]
---
March 4
: A growing number of colleges are offering cannabis courses for students wanting to join the green rush. [
Mary Esch, Associated Press
]
---
March 5
: Denver-based cannabis industry pioneer Larisa Bolivar will be the keynote speaker this spring at the Vermont Cannabis and Hemp Convention. The two-day event will be held at the Champlain Valley Expo on May 18-19. [
Heady Vermont
]
---
March 6
: Cops in Minnesota arrested two Montana men with 900 pounds of cannabis and weed-laced products. Cops estimated the haul was worth $4.25 million. The giveaway? An officer observed the men pulling a camper along the highway, an oddity during the harsh Minnesota winter. [
Dana Thiede, KARE-TV
]
---
March 7
: Former Colorado governor John Hickenlooper, a Democrat, kicked off his 2020 presidential campaign with a rally in Denver. He'll be in Vermont
on March 23
, discussing cannabis and the economy at an event in Burlington hosted by VTDigger.org. [
Nic Garcia, the Denver Post
]
---
March 7
: Officials in Hawaii have unveiled a new initiative that allows medical marijuana patients visiting the islands to partake in the state's program. You'll have to fill out an application 60 days in advance of your visit and pay a fee of about $50. [
Javier Hasse, Forbes
]
---
March 7
: Bipartisan legislation introduced in the U.S. House on Thursday would end the federal prohibition on cannabis and "would allow states to make independent choices about their marijuana programs," according to Rep. Don Young (R-Alaska), a sponsor. [
Ej Dickson, Rolling Stone
]
---
March 8
: Dallas Cowboys defensive lineman David Irving announced in a smoke-filled Instagram video that he's quitting the NFL over its policies that encourage the use of pain pills but prohibit players from using weed. Remember when Ricky Williams did something similar? [
Joshua Rhett Miller, New York Post
]
---
March 8
: Residents of a Michigan burg of fewer than 1,000 people are facing big changes since some entrepreneurs opened Doobie's Tavern, a bring-your-own-bud cannabis lounge. "It's bringing the big city to a small town," Elsie Village Manager Shane Grinnell said. "And that can be good — or bad." [
Eric Lacy, Lansing State Journal
]
Got a story you want to see in our our weekly roundup? Send an email to cannabeat@sevendaysvt.com.