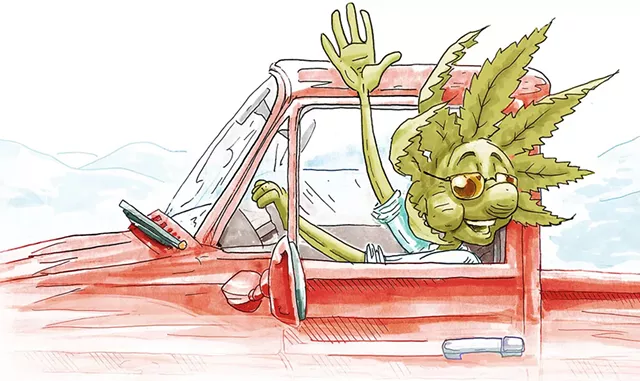 Luke Eastman
Will saliva testing be in place once weed becomes legal in Vermont on July 1?
One of the biggest showdowns surrounding cannabis this legislative session in Vermont could be about your spit.
Vermont Public Safety Commissioner Thomas Anderson told legislators that H.237, a bill that would allow police to test the saliva of suspected stoned drivers, could be the most important piece of legislation passed this session.
Meanwhile, the American Civil Liberties Union of Vermont said it would sue if such a bill becomes law. High drama! [
Alan J. Keays, VTDigger.org
]
Here are some other stories about cannabis we read this week:
---
January 29
: Dennis Peron, a California cannabis advocate who sparked the state's trailblazing, first-of-its-kind medical marijuana program in 1996, has died of lung cancer. [
Keith Stroup, NORML
]
---
January 30
: How much are
you
paying for weed? New data collected by an Israeli company show the average marijuana prices in several large cities across the country. You'll pay the most in Washington, D.C., where prices average about $18.08 per gram. Meanwhile, in legal weed-haven Denver, you'll pay closer to $7.79 per gram.
Boston, the closest-to-Vermont city included in the analysis, comes in at a reasonable $11.01 per gram. [
Jen Skerritt, Bloomberg
]
---
January 31
: California, where recreational cannabis has been legal for about a month, has been known for its permissive position on pot, and now "cannabis is part of a booming wellness industry" in the always-sunny Golden State. [
Dana Goodyear, the New Yorker
]
---
February 1
: A 6-year-old Texas girl became the first person in the Lone Star State to receive medical marijuana. The state instituted a strict medical marijuana program two years ago. It allows those with intractable epilepsy to use a cannabis oil that is low in THC (the cannabis component that gets you high) but high in CBD. [
Alex Samuels, the Texas Tribune
]
---
February 1
: Police in Boston, where marijuana is legal, busted a guy with an amount of pot well beyond the limit. Cops say Daniel Lincoln had four pounds of weed in his truck, along with THC-laced gummies, chocolate bars, cookies and Rice Krispies treats. [
Scott J. Croteau, MassLive
]
---
February 1
: Sorry, Vermont college students. You
still
won't be legally allowed to smoke or possess weed on campus, even after July 1. [
TG Branfalt, Heady Vermont
]
---
February 1
: Could we see a gifting economy in Vermont? An Associated Press investigation found that there's a thriving gifting business in Massachusetts that sprouted shortly after the state legalized cannabis in 2016. Retail shops are expected to open in July, but entrepreneurs have been essentially selling weed by "giving it away" along with a $55 bottle of juice or a T-shirt. [
Philip Marcelo, Associated Press
]

Got a story you want to see in our our weekly roundup? Send an email to cannabeat@sevendaysvt.com.