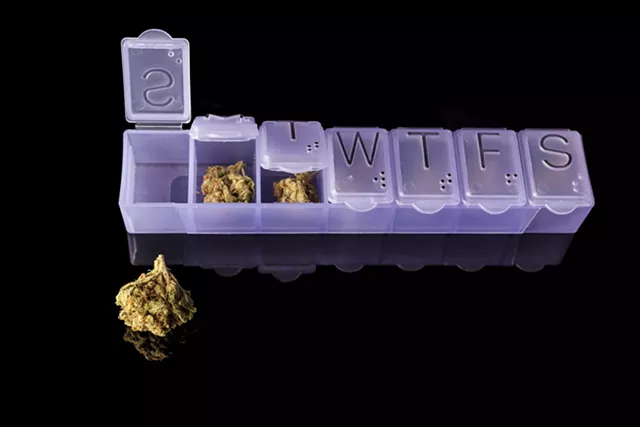 Dreamstime
Your weekly dose of cannabis news
What a week.
After Vermont Gov. Phil Scott on Monday signed — "with mixed emotions" — a bill legalizing adult marijuana use, possession and growing in the state, we can finally start parsing the new law.
In this week's issue of
Seven Days
, online and on newsstands now, our Alicia Freese took a look at some common questions you might have — and there are plenty. Check out
her story here
.
We'll continue to cover different aspects of the new law, which goes into effect July 1. In the meantime, take a look at some of the other stories we were reading during the past week:
---
January 22
: Just a boring day. Apparently, the Vermont governor privately signed some bill. [
Taylor Dobbs, Seven Days
]
---
January 24
: "The Late Show With Stephen Colbert" spoofed marijuana legalization in Vermont by running out some tired clichés about weed smokers. [
Sasha Goldstein, Seven Days
]
---
January 25
: Vermont officials are struggling to find a valid, scientific method to measure whether a driver is stoned or not. Turns out, everyone is having this problem — and there might not be a solution anytime soon. Why? Weed affects every user differently. Alcohol, on the other hand, is much easier to measure uniformly.
"It's not a problem of accurately measuring [THC]," according to one expert on cannabis intoxication. "We can accurately measure cannabinoids in blood and urine and sweat and oral fluid. It's interpretation that is the more difficult problem." [
Matt Simon, WIRED
]
---
January 25
: Planning to escape Vermont for a warm-weather winter vacay? Head south of the border! A Mexican tourism official said the country should legalize marijuana in tourist beach hotspots such as Cancún and Los Cabos. [
Daina Beth Solomon, Reuters
]
---
January 25
: New Jersey's new Democratic governor, Phil Murphy, is on the marijuana-legalization train, and plenty of state residents are ready to hop on, too. A cannabis symposium Thursday in Newark drew a huge crowd and the state could have legal weed — including retail markets — in place by this summer. [
Mike Davis and Michael L. Diamond, Asbury Park Press
]
---
January 25
: Despite a recent surge in marijuana legalization in states across the nation (and a general trend of societal tolerance for weed), plenty of people are still getting popped for possession.
In 2016, 574,641 people were arrested nationwide for simple marijuana possession, a number greater than all of those arrested for violent crimes in the country. The tally is still high even in New York City, which arrests more than 50 people per day for possessing pot.
And —newsflash — this continued war on (somewhat legal) drugs is hitting minority communities hardest. [
Shaun King, The Intercept
]

Got a story you want to see in our our weekly roundup? Send an email to
cannabeat@sevendaysvt.com
.