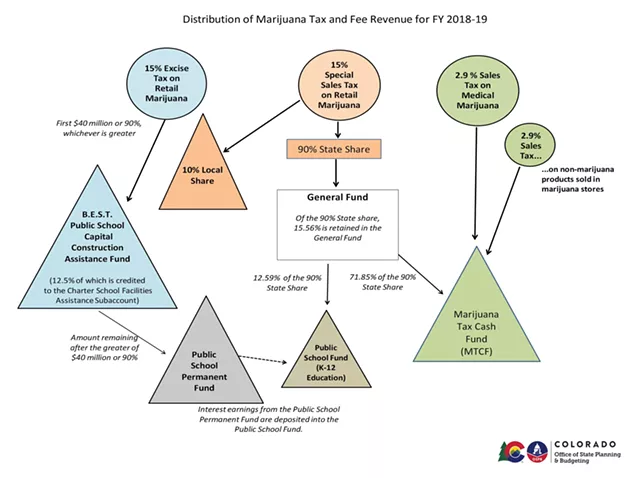 Colorado Department of Revenue
Where the weed money goes
Since 2014, when Colorado allowed its first legal cannabis sales, the state has raked in more than $1 billion in tax revenue.
Yes, that's
billion
, with nine zeros: $1,000,000,000.
Weed in Colorado is taxed twice: 15 percent when it's sold from a cultivation facility to a store or manufacturer, and then another 15 percent at the cash register,
according to the Colorado Sun
.
A large chunk goes to public education, and some is deposited into the state's general fund. The biggest portion goes into what's known as the marijuana tax cash fund. Legislators dole that out at their discretion, but it "must be used for health care, health education, substance abuse prevention and treatment programs, and law enforcement," the
Sun
reported.
The revenue comes from more than $6.5 billion in cannabis sales since 2014. The still-growing industry employs more than 40,000 people in Colorado, which is home to some 3,000 licensed cannabusinesses.
"This industry is helping grow our economy by creating jobs and generating valuable revenue that is going towards preventing youth consumption, protecting public health and safety and investing in public school construction," Gov. Jared Polis
said in a statement announcing the mile-high-stone
.
Here are some other cannabis-related stories we've followed the last few weeks:
---
May 28
: Canopy Growth, a Canada-based cannabis company, plans to open a 308,000-square-foot facility to process and make hemp-derived products in Broome County, N.Y., part of the state's Southern Tier region on the Pennsylvania border. The idea is to bring jobs to an area in need of them. [
N. Rao, Cannabis Wire
]
---
May 28
: It seems like this was only a matter of time: A California-based startup called Foria Wellness has created vaginal CBD suppositories — cannabidiol tampons, if you will — aimed at soothing period pain. [
Arwa Mahdawi, the Guardian
]
---
May 29
: The NFL and its owners — which have long implemented a strict prohibition on marijuana use by players — are reportedly considering loosening restrictions, especially regarding cannabis use for pain. [
Mark Maske, the Washington Post
]
---
May 31
: Cynthea Hausman, a Burlington woman who sued the Vermont Hemp Company last year, has settled with the business. She had claimed she was owed $45,000, but she received only the harvested hemp seed in the settlement. [
Sasha Goldstein, Seven Days
]
---
June 3
: Illinois lawmakers have legalized recreational cannabis and will allow commercial sales beginning January 1, 2020. Medical marijuana dispensaries will get the first shot at sales before the state issues licenses for other businesses. (A similar provision has been discussed in Vermont.) In most states with legal pot, voter referendums were key. While Vermont's governing body became the first state legislature to legalize weed, Illinois' was the first to legalize legal weed
sales
. [
Robert McCoppin, Chicago Tribune
]
---
June 5
: Since Vermont legalized weed on July 1, 2018, law enforcement officers have ticketed 42 people for smoking in public. One, a medical marijuana patient, is fighting the case on the grounds that he had nowhere else to medicate but on a public street in Newport. [
Taylor Dobbs, Seven Days
]
---
June 10
: A new study found that states that have legalized cannabis have not experienced a decrease in opioid overdose deaths — in fact, the opposite has occurred. [
Erika Edwards, NBC News
]
---
June 10
: The Vermont State Police has declined to investigate allegations that Champlain Valley Dispensary illegally grew hundreds of marijuana plants at a Craftsbury vegetable farm. [
Sasha Goldstein, Seven Days
]
---
June 10
: Eli Harrington, the cofounder and public face of cannabis media and events biz Heady Vermont, is leaving the company. [
Eli Harrington, Heady Vermont
]
---
June 12
: "Starting in 2020, Nevada employers cannot refuse to hire a job applicant for failing a marijuana screening test, making it the first state to pass such a law." [
Eric Levenson and Chris Boyette, CNN
]
---
June 12
: In an opinion piece, journalist Matt Laslo notes the hypocrisy of former U.S. congressmen, from John Boehner to Joe Crowley, who could've helped end the federal prohibition on cannabis — but now aim to make money off weed. [
Matt Laslo, NBC Think
]
---
June 12
: Scientists have found evidence of cannabis use during burial rituals dating back to 500 B.C. at a site in the Pamir mountains of western China. [
Jan Hoffman, New York Times
]
---
June 13
: Ohio has issued 56 provisional licenses to medical marijuana dispensaries, but only 18 have opened, creating a bottleneck in a program that's been beset with delays. What's going on? [
Laura Hancock, cleveland.com
]
Got a story you want to see in our our weekly roundup? Send an email to cannabeat@sevendaysvt.com.