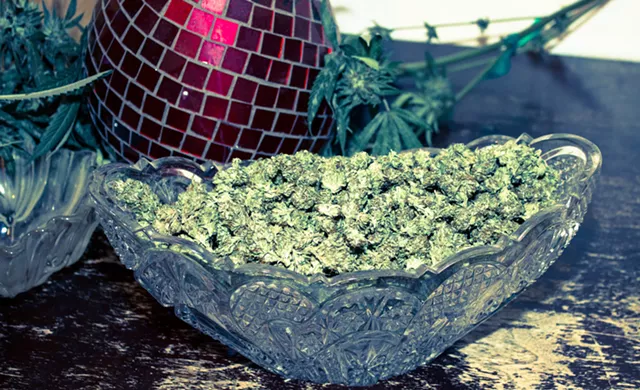 King Dragon | Dreamstime.com
Dream or nightmare?
One year in, cannabis legalization does not appear to be the boon that California had hoped.
Legal sales fell by half a billion dollars in 2018 compared to 2017, when only medical cannabis was offered. Meanwhile, the state is producing about 15.5 million pounds of weed — and consuming just 2.5 million pounds. The surplus is equal to 13 times that of Colorado's total annual production,
according to the New York Times
.
What, you ask, happens with the rest? It's smuggled out of state, "especially across the Rockies and Mississippi where the wholesale price is as much as three times as high," the
Times
reports. A pound of pot goes for about $3,000 in Illinois, compared to just $1,200 in California.
The landscape in California now favors major cannabis corporations, which have entered the marketplace in a big way.
"The icon for cannabis is going to become the Marlboro Man," Lynda Hopkins, who is on the board of supervisors in Sonoma County, told the
Times
. "In California we've done what we always do — regulate, regulate, regulate, which ultimately gives significant advantage to large companies with significant economies of scale."
Here are some other cannabis stories we read this week:
---
January 3
: The first legal cannabis shops in Massachusetts opened recently. What's in store for 2019? Some experts say 40 new dispensaries could start up during the year. [
Nik DeCosta-Klipa, Boston.com
]
---
January 3
: It's not just Vermont that is struggling to determine when someone is too high to drive. Other states, even those with full legalization, are wrangling with the same issue. [
Kaiser Health News
]
---
January 3
: Speaking of road safety ... Vermont Public Safety Commissioner Tom Anderson has long said that legal pot will lead to an increase in roadway deaths and impaired driving. He pointed to what's happened in Washington and Colorado, both of which legalized weed years ago. So is Anderson right? [
Kit Norton and Xander Landen, VTDigger.org
]
---
January 3
: The planning board in Charlton, Mass., voted against a cannabis company's proposal to build one of the country's biggest weed cultivation facilities on a farm property in town. [
Dan Adams, Boston Globe
]
---
January 3
: Luxury weed tourism is already a big thing in Canada. One company takes visitors on a high-hiking tour — weed, meals and lodging included — for about $9,200 American dollars. Yes, really. [
Nadja Sayej, VICE Canada
]
---
January 4
: Guess what — the percentage of millennials serving in U.S. Congress went up by 420 percent this year. Check out this handy image. [
Sean Morrow, Twitter
]
---
January 4
: Cannabis farmers in Oregon grew 1.3 million pounds of usable weed in 2018, the second consecutive year the state's harvest hit the million-pound mark. The glut will likely drive depressed prices down further. [
Associated Press
]
---
January 4
: Brooklyn's first medical cannabis dispensary has just opened. Pot puns and all. [
Colin Mixson, Brooklyn Paper
]
Got a story you want to see in our our weekly roundup? Send an email to cannabeat@sevendaysvt.com.