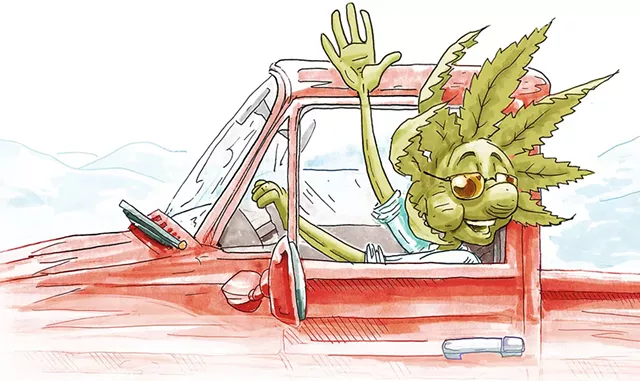 Luke Eastman
Say goodbye to the Weed Guy
Another legislative session, another disappointment for cannabis advocates.
In perhaps a not-so-shocking development, Vermont lawmakers in the House failed to act on
S.54
, a bill that would create a regulated market for recreational cannabis sales. As our colleague
Dan Bolles put it, "Maybe next year."
If advocates see a silver lining, it's that the legislature is in the first year of a biennium. That means the House could take up the bill as is when lawmakers reconvene in January 2020. That could lead to quick movement on the measure and it could make it to Gov. Phil Scott's desk early in the session.
The bill would implement full retail sales by July 2021, so there's a possibility that could be delayed — or that the legislature could expedite its timeline for creating a Cannabis Control Board and implementing rules and regulations.
Who knows! As we've seen with this bill, which passed the Senate on March 1 but didn't make it out of the House Government Operations Committee
until May 2,
anything could happen.
Our John Walters
broke news of the developments Monday night
, as
Seven Days'
staffers were wrapping up our annual Cannabis Issue. It's
packed with stories
(as you'll see below) and is on newsstands now if you're hankerin' for a hard copy.
On another note: The Vermont Cannabis & Hemp Convention
kicks off Saturday
at the Champlain Valley Exposition in Essex. There's more action on Sunday, too. Full disclosure:
Seven Days
is a sponsor of the event, so come say hi!
Here are some other cannabis stories we followed this week:
---
May 10
: Court documents in a case against a Williston man accused of growing and possessing a felony amount of weed detail how law enforcement "subpoenaed his electric bills, conducted surveillance from the woods and the street and flew aircraft over to take pictures and analyze heat signatures of the suburban house he shared with roommates." [
Evan Johnson, Heady Vermont
]
---
May 12
: Drug trafficking arrests at Los Angeles International Airport (LAX) have spiked by 166 percent since California legalized recreational cannabis in January 2018. [
Joseph Serna, Los Angeles Times
]
---
May 14
: This is a weird one. Actor Jonathan Rhys Meyers was a passenger aboard a private jet that was grounded on the Caribbean island of St. Kitts after authorities found 5,000 cannabis plants, hemp seeds, CBD goodies and other stuff — all apparently worth about $1.3 million. Also aboard the jet were two billionaires: Coca-Cola bottling heir Alki David and Chase Ergen, son of Dish Network cofounder Charlie Ergen. There's plenty more to this story… [
Kenzie Bryant, Vanity Fair
]
---
May 14
: Here's a long — but fascinating — look at the history and efficacy of cannabidiol. Snake oil or the real deal? Researchers quoted in this story seem to believe the latter. [
Moises Velasquez-Manoff, the New York Times Magazine
]
---
May 15
: As adjournment draws ever closer, the Vermont legislature is poised to underwhelm on a variety of issues this session — including cannabis. [
John Walters, Seven Days
]
---
May 15
: Anyone who's gone through the D.A.R.E. program knows that cannabis has long been called a "gateway drug." Well, advocates, patients and some researchers now think that weed can be an "exit drug" from chronic opioid use and addiction. [
Ken Picard, Seven Days
]
---
May 15
: The potency of weed is on the rise, and health professionals and researchers are concerned about the health risks associated with such potent pot. [
Rhitu Chatterjee, National Public Radio
]
---
May 15
: The operators of Vermont's medical marijuana dispensaries are worried about the decline in the number of patients since partial cannabis legalization went into effect last July. What's next for those who pioneered growing and selling legal weed in the Green Mountain State? [
Sasha Goldstein, Seven Days
]
---
May 15
: The Emily Post Institute is known as
the
reference for the best behaviors in a civilized society. With her latest offering, Lizzie Post, the great-great-granddaughter of the org's namesake, is putting the "high" in high society. [
Dan Bolles, Seven Days
]
---
May 15
: Roger Daltrey of the Who is apparently allergic to weed smoke. During a show at Madison Square Garden in New York this week, the band's frontman lambasted some audience members who were partaking — and apparently it's not the first time this has happened. And yes, there's video. [
Andy Cush, Spin
]
---
May 15
: Larisa Bolivar will be the keynote speaker Saturday at the Vermont Cannabis & Hemp Convention. Read on for more about this outspoken, Colorado-based cannabis advocate. [
Taylor Dobbs, Seven Days
]
---
May 15
: Canada, which legalized recreational cannabis last year, is now poised to legalized weed-infused edibles this October. What's it mean for a country that said it intended to legalize pot without normalizing it? [
Sylvain Charlebois and Janet Music, the Conversation
]
---
May 15
: Speaking of edibles — meet Amy Bacon, the chef who makes things like cannabis-infused pâte de fruits for two Vermont medical marijuana dispensaries. [
Carolyn Shapiro, Seven Days
]
---
May 15
: Vermont's slumping medical marijuana dispensaries are doing more outreach and looking for different patient groups, such as senior citizens.
Seven Days
dropped by a recent informational panel in Shelburne. [
Molly Walsh, Seven Days
]
---
May 15
: There's undoubtedly a need for skilled workers as the cannabis industry booms, and several Vermont colleges have taken note. There's even a Medical Cannabis elective offered by the University of Vermont. [
Chelsea Edgar, Seven Days
]
---
May 15
: Entrepreneurs in Vermont are cooking up all sorts of cannabiz ideas. Take, for instance, Bobby, a Burlington chef who offers weed-infused menus at pop-up dinner events. He also makes "Bobby's blackout barbecue sauce." [
Sally Pollak, Seven Days
]
---
May 15
: A reader this week asks for advice on the age-old question: "How do I get my friends to stop mooching my weed?" Good luck with
that
one… [
Ask the Rev., Seven Days
]
---
May 15
: Startling stats: "In the six months before legalization, Burlington cops searched cars 24 times. But they've conducted just four searches since July 1, 2018, and none so far this year." [
Derek Brouwer, Seven Days
]
---
May 16
: New Jersey's bid to legalize recreational cannabis won't happen this year and is expected to go to a referendum in 2020. But a bill to make changes to the state's medical marijuana program can still go forward this year, a win for patients and caregivers. [
Jerry Carino, Asbury Park Press
]
---
May 16
: Canada-based Aurora Cannabis, the second most valuable marijuana producer in the world, is considering its expansion options as international trends change and markets open for weed. [
Max A. Cherney, MarketWatch
]
---
May 16
: Lawmakers in Illinois are considering legalizing recreational cannabis and on Wednesday heard from those for — and against — provisions that would allow for home growing and automatic expungement for certain cannabis-related criminal convictions. [
Jeremy Borden, Cannabis Wire
]
---
Got a story you want to see in our our weekly roundup? Send an email to cannabeat@sevendaysvt.com.