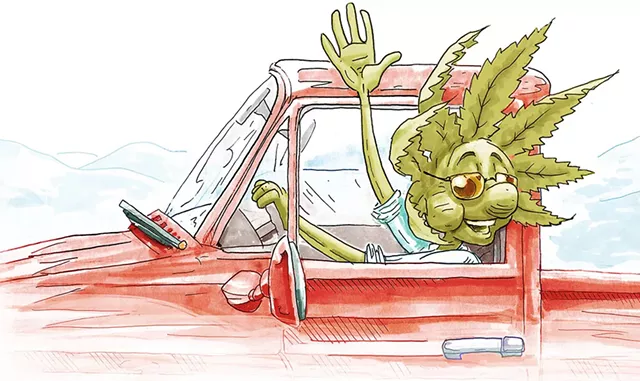 Luke Eastman
Is this the path?
The bill that would legalize a retail cannabis market in Vermont is on the move.
After a few days of review, the 11 members of the House Government Operations Committee voted unanimously on Friday to move the measure back to the Ways and Means Committee. The tally was significant in one respect: Rep. Jim Harrison (R-Chittenden), the lone Gov Ops Committee member to vote against the bill last session, approved it this time around.
Among the incorporated changes was a rule that will prohibit cannabis cultivation operations from claiming farming exemptions from local zoning ordinances. That rule, reports our Colin Flanders, is intended to give municipalities more control over where cannabis growers set up shop.
It remains to be seen if that regulation will make it into the final bill. But Friday's vote,
the second time the measure has moved this session
, gives us a clearer sense of the roadmap for its passage.
The Ways and Means Committee will get another crack before it goes to the Appropriations Committee for money and tax-revenue discussions. Presumably, then, the whole House will vote on the legislation.
If it passes, the House and Senate will reconcile differences in a conference committee and then send it to Gov. Phil Scott. There have been indications that he's warming to the idea of signing it, including his pitch of using tax revenue from any "future" weed market to fund a universal after-school program.
Rep. Sarah Copeland Hanzas (D-Bradford), the Gov Ops chair and an S.54 supporter, seemed heartened by the bill's progress. "We are on a good path," she said on Wednesday.
Here are some other cannabis stories we've followed recently:
---
January 5
: Even if Vermont creates a legal retail cannabis market, officials should not expect the illicit market to completely dry up. Other states and Canada have seen approximately three-quarters of their weed sales happen outside of the regulated market. [
Xander Landen, VTDigger.org
]
---
January 7
: Newly legal Illinois weed shops ran out of product preeeetttyyy quickly. Here are staggering sale numbers: more than 271,000 purchases adding up to nearly $11 million in the first five days. [
Katie Shepherd, the Washington Post
]
---
January 7
: Meet Michael Steinmetz, a serial entrepreneur and former Wall Street investment banker who is now the new "King of Weed." [
Adam Bluestein, Men's Journal
]
---
January 8
: The Vermont League of Cities & Towns has spent the last couple of months encouraging municipalities to support S.54 only if it gives them the power to prohibit weed shops from opening within their borders. [
Colin Flanders, Seven Days
]
---
January 11
: The headline says it all: "This farmer had a million-dollar hemp crop — until South Carolina bulldozed it". [
Chris Dixon, the Washington Post
]
---
January 13
: "Hemp growers and entrepreneurs who were joyous a year ago after U.S. lawmakers reclassified the plant as a legal agricultural crop now are worried their businesses could be crippled if federal policymakers move ahead with draft regulations." [
Gillian Flaccus, Associated Press
]
---
January 13
: The governors of some Northeast states, including New York, New Jersey, Connecticut and Pennsylvania, all want to legalize recreational marijuana, perhaps even this year. In Vermont, meanwhile… [
Jennifer Peltz, Associated Press
]
---
January 13
: "A New Mexico man serving a house arrest sentence for drunken driving is suing to be allowed to use medical marijuana." [
Associated Press
]
---
January 14
: Wondering how cops tell the difference between hemp and marijuana? The short answer: If they're really unsure, it generally takes a lab test. [
Elizabeth Murray, Burlington Free Press
]
---
January 14
: After years of price swings, including a high in 2017 and a low in 2018, Colorado cannabis growers hope that the wholesale weed market has settled down a bit. [
Tiney Ricciardi, the Denver Post
]
---
January 14
: "High Times Magazine, the prominent but struggling pot publication, is looking to shift away from its stoner reputation and focus on covering the broader culture as marijuana shifts to the mainstream." [
Chloe Aiello and Lauren Sonnenberg, Cheddar
]
---
January 16
: Some 100 workers at a Cresco Labs cannabis cultivation facility in Joliet, Ill., voted to unionize. They joined the Local 881 of the United Food and Commercial Workers, a union that represents some 10,000 cannabis workers around the country.
Among those supporting the push
was Democratic presidential candidate and Vermont senator Bernie Sanders. [
Bob Okon, the Herald-News
]
---
January 16
: Legendary guitarist Carlos Santana is launching his own line of cannabis and cannabidiol products. [
Ethan Millman, Rolling Stone
]
---
January 16
: Rhode Island Gov. Gina Raimondo wants to legalize recreational cannabis by opening state-run dispensaries modeled after the New Hampshire liquor outlets. Under her model, about 60 percent of the tax revenue would go to the state. [
Steph Machado, WPRI
]
---
January 17
: You're gonna wanna read this one: "Armed guards, secret location: Inside an illegal marijuana bazaar publicized on Instagram." [
Conor Ferguson, Cynthia McFadden and Rich Schapiro, NBC News
]
---
January 17
: "Despite statewide legalization, some counties ban probationers and parolees from using medical marijuana. So the chronically ill turn to less effective and more addictive prescription drugs." [
Eli Hager, the Marshall Project
]
---
January 21
: A recent Siena College poll found that nearly 60 percent of New Yorkers support weed legalization — a record-high percentage of supporters. [
Bernadette Hogan, New York Post
]
---
January 22
: Meet Jack Nichol, founder of Canna-Trim, a mechanized bud-trimming business that serves Vermont's cannabis industry. [
Ken Picard, Seven Days
]
---
January 28
: An Ohio man submitted a petition to make Bengals and Browns football fans eligible for medical marijuana in the state. Not sure that's the kind of pain and suffering officials have in mind… [
Jackie Borchardt, Cincinnati Enquirer
]
---
January 29
: This is cool. Colorado Gov. Jared Polis has proposed something called the Carbon Dioxide Reuse Pilot Project. It'll combine two things that Colorado has become pretty good at: "The program will capture carbon dioxide produced during the beer brewing process and use that carbon to cultivate cannabis and stimulate plant growth." [
State of Colorado
]
---
January 31
: Hey, the Iowa caucuses are on Monday! So where do the 2020 Democratic candidates stand on weed legalization? Check out this handy graphic. [
Kevin Uhrmacher, the Washington Post
]
Got a tip or a story you want to see in our our weekly roundup? Send an email to cannabeat@sevendaysvt.com.