Matthew Thorsen
Joey and Hannah Marshall (Elle)
Joey's just a regular guy at home. Surrounded by five more boisterous and mostly bigger siblings, who compete with him for attention and treats and often win, he stays back in the pack and hesitates to speak up. Joey was the last to be adopted into his Essex Junction home, and sometimes he has to hide his toys under an end table where only he and his littler sister can fit.
Soon, though, Joey is going to be a star — at least in the world of community theater.
This month, he scored the lead-dog role in the upcoming Lyric Theatre production of Legally Blonde: The Musical. It's the story of Elle Woods, a perky sorority coed who follows her stuffy boyfriend to Harvard Law School and upends everyone's expectations — all while accompanied by Bruiser, her equally well-dressed Chihuahua.
That's Joey. And he's not the only canine cast member.
Elle's friend, a manicurist named Paulette, has a beloved pup, too. A burly French bulldog who lives a privileged life in Burlington's New North End — real name Enzo — will play the part of Paulette's Rufus.
Joey and Enzo beat out a dozen other four-legged would-be actors who auditioned earlier this month. Kathleen Leach, the production's dog trainer, says each canine scored high on two crucial counts: They resemble the characters, and they exhibit a temperament that makes them easy to train, happy to cozy up to the human cast and comfortable with the bustle of the stage.
"It just shows a willingness of the dog to go outside of their comfort zone a little bit," she says of the tryouts. "I'm asking a dog to do a lot of new things" for the show.
Matthew Thorsen
Kathleen Leach and Joey watch Enzo perform a trick
Joey is still getting used to the spotlight. For a Chihuahua, a breed that can react nervously and even nastily to strangers, he is laid-back and friendly, particularly when his favorite frozen-chicken treats are proferred. But he's also unassuming and a little shy, and keeps his round dark eyes on his mom, Joyce Girard.
"He's my golden boy," she says.
Unlike Joey, Enzo loves to be the center of attention. He's a ham. He'll swagger from person to person, getting snuggled and scratched and giving kisses or snorts with his smushed, wrinkled nose. Outgoing and confident, he pounces on a squeaky toy and perks up his rounded ears when his dad, Greg Anderson, makes "woof" sounds. When he's not snoozing in his beanbag bed at home, Enzo works as a therapy dog.
On a recent Sunday, the two dogs show up for their first rehearsal at Lyric's warehouse space in South Burlington. Joey, who is 4, arrives in Girard's arms wearing a black, puffy hooded jacket and a tentative look.
Enzo sports a chip-programmed LED collar that flashes in rainbow colors — Anderson's invention. The bulldog, who turns 2 in February, acts excited to meet Joey and sniff his rear. Joey is a bit standoffish and, at one point, gives Enzo a mild growl.
"He does stick up for himself," Girard says of Joey. "He's not a pushover. If the other dogs [at home] get on him, he'll let them know."
Leach meets with each pup and his owner individually in a small room to go over their schedules. Joey in particular faces rigorous training in the coming weeks before opening night on April 9.
He's already working hard to master his commands. Joey must bark on cue four times in an early scene with Elle's sorority sisters.
With a piece of chicken in her fingers, Girard puts both hands together and recites Joey's cue line: "Where's Elle?" Then she opens her hands wide — his signal to speak. Joey gives a low rumble, then a more emphatic yap, standing up and twitching his tan-colored tail.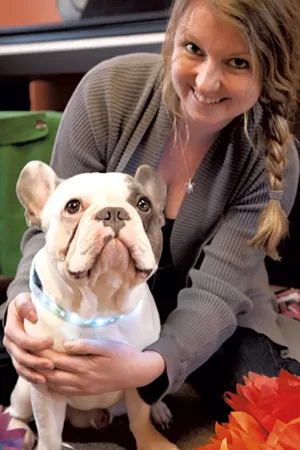 Matthew Thorsen
Enzo and Megan Beaucage (Paulette)
Joey will also learn to run to a mat onstage, where he'll wait for his cues. In another scene, he jumps into a bag in which Elle carries him. He's already an expert at this trick, hopping right into the purse sitting beside a visitor who holds some chicken.
"You have to be doing something right for him to learn that quickly," Leach tells Girard.
Girard adopted her six dogs from All Breed Rescue Vermont, which recently moved its animal shelter to Williston; she also sits on its board. In keeping with the dog-loving themes of Legally Blonde, Lyric has picked the rescue group to spotlight during its marketing of the musical.
Both dogs will have to get to know the actors they'll work with. For now, Leach wants Joey to develop consistency in his performance. Later, he'll practice blocking positions with the cast onstage.
Enzo's role is less regimented. "It's mostly just running to the people in the show and getting hugs and cuddles, which is one of the reasons we chose him," Leach tells Anderson during his session.
One of Enzo's cues to leave the stage comes when the actress playing Paulette says, "Come on, Rufus. It's time for your manicure."
That'll work for Enzo. He spends much of his time getting adored and embraced, especially during walks in downtown Burlington, Anderson says. When friends walk with him and Enzo for the first time, he has told them, "Prepare to feel like a movie star."
Anderson jokes that Enzo will need a chaise lounge to relax offstage or "a little chair with his name on it." At home, the pup has multiple cushy beds, including one beside the heater, though he usually sleeps with Anderson.
"I have a king-size bed, and somehow he takes up all the room," Anderson says. "I don't understand it."
It's just as well that Enzo has a less demanding rehearsal schedule than Joey. Bulldogs aren't built for stamina. "You can see he's got maybe 30 to 35 minutes of oomph," Anderson explains to Leach during rehearsal, as Enzo abandons the toys and flops down with droopy eyes.
"Enzo, I don't think he'll really have a hard time," Leach says during a break. "But for Joey, I think these first three weeks are going to be a little frustrating for him."
Leach, a University of Rhode Island student who is back home in Williston working this year, trains service dogs on a volunteer basis for Guiding Eyes for the Blind. Her father, Sean Leach, has stage-managed more than 30 shows for Lyric, so she has worked on sets over the years, she says. But this is Leach's first production as a staff member, and her first dog-training gig outside the guide-dog school.
Leach doesn't want to diminish the triumphs of the humans in Legally Blonde, but she says she expects the audience to express a preference by the time they all take their bows — or bow-wows.
"The dogs are going to steal the show," she vows.
INFO
Legally Blonde: The Musical, produced by Lyric Theatre Company, Thursday through Sunday, April 9 to 12, at the Flynn MainStage in Burlington. $23-38. The original print version of this article was headlined "Canine Characters"