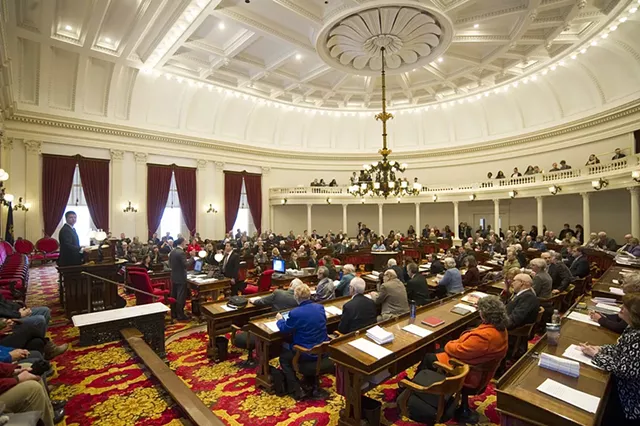 Jeb Wallace-Brodeur
The Vermont House
The Vermont legislature's annual town meeting break is upon us — a week for lawmakers to prepare for the inevitable second-half rush.
When they reconvene on Tuesday, legislators will face their annual crossover deadline, when most bills have to reach the floor in one body in order to be considered by the other. And the House will be under pressure to finish work on its version of the budget.
Gov. Phil Scott's administration has yet to fully engage in the budget process — wanly insisting that its original budget plan is still alive and hoping that Town Meeting Day might produce signs of voter fatigue with property taxes.
In the meantime, House lawmakers are well on their way to crafting a budget of their own — one that won't include any of the governor's plans for new spending or tax incentives.
In narrowing the projected budget gap from $70 million to $17.9 million last week, the House Appropriations Committee jettisoned all new spending in the Scott budget. It did adopt several of Scott's money-saving ideas.
Appropriations chair Kitty Toll (D-Danville) is aiming to get as close as possible to a balanced budget without new revenue. And she's hoping to find that last $17.9 million in one fell swoop.
"Is there a structural change we could make, instead of nipping away every year?" she posited. "Is there something bigger we could go after? Or end a program entirely?"
Toll is looking for a belated partnership with the Scott administration.
"I am hoping that when we return from Town Meeting Day, they will have a plan B or a proposal," she said. "I'm hopeful that they will be a partner in solving this."
The tax-writing House Ways and Means Committee, meanwhile, has taken a similar approach to Scott's proposed tax incentives. Or, to use the more explicit term, "tax expenditures" — since every incentive is effectively a giveaway of public funds.
"In past years, we've set aside a set amount of money for new tax expenditures," said Ways and Means chair Janet Ancel (D-Calais). "This year, my understanding is that there's nothing set aside. So I'm operating under the assumption that there won't be new tax expenditures this year."
There go more of Scott's priorities: expanded or extended tax credits for research and development, aircraft parts, downtown development, tax increment financing, and the proposed "sales-tax holiday" for energy-efficient vehicles and appliances. Also, that $12 million tax break for nonresidential property owners.
Ancel's committee has just received a waterways cleanup bill from the House Natural Resources, Fish and Wildlife Committee. That bill, shepherded by committee chair David Deen (D-Westminster), combines the revenue from an existing property transfer tax with Treasurer Beth Pearce's plan for $50 million in bonding over the next two years to get the cleanup off and running, plus a longer-term funding source involving new taxes and fees in future years.
The former is likely to survive in Ways and Means; the latter, not so much.
"I don't think there's much disagreement that we're going to use the bonding capacity and property transfer tax," said Ancel. "I think where there's a different perspective is how much we need to decide this year what we're going to do two years from now."
Or, in road-sign terminology, "Slow: Speed bumps ahead."
The natural caution over increasing taxes is compounded by the looming threat of major federal spending cuts. If the landscape might change radically in coming months, why should lawmakers try to address the long term?
"I think that plays into the decision," Ancel acknowledged.
The tidings from Washington, D.C., grow ever more ominous. "We continue to be concerned about what we're hearing," said Rep. Sarah Copeland Hanzas (D-Bradford), the House's point person on federal budget matters. "Not as much in the way of specifics as we might have hoped at this point, but we get stronger indications each day about what the proposed budget might look like."
Last Friday, Sen. Patrick Leahy (D-Vt.) held a rare home-state press conference to sound the alarm over what he called President Donald Trump's intent to take a "machete" to environmental spending and regulation.
"What we're hearing is potentially devastating," Copeland Hanzas said. She's concerned about losses in funding for in-state environmental programs and potential deregulation of midwestern coal-fired power plants, which could prompt the return of acid rain.
The Scott administration isn't any happier over Trump's plans for the U.S. Environmental Protection Agency.
Julie Moore, the governor's natural resources secretary, shares the alarm. "Overall, federal funds represent more than a third of the agency's total budget," she noted. "Some of the funds come in from the feds, and we turn around and grant to municipalities, typically for projects related to drinking water and wastewater treatment."
Also on the Trumpian chopping block: pollution prevention programs that help businesses cut down on use of toxic materials; the Lake Champlain Basin Program that coordinates cleanup among New York, Vermont and Québec; and brownfields cleanup efforts that have done much to revitalize Vermont's old downtowns.
If the Trump cuts go into full effect, Moore may find herself managing a shell of an agency. She estimates that one-third of the Agency of Natural Resources' staff positions are wholly or partly funded by the feds.
And then there's the real monster on the horizon: the specter of a major overhaul, or even repeal, of the Affordable Care Act.
"That has the potential to have a much larger budgetary impact than the EPA cuts we've been talking about," said Copeland Hanzas. "And it has the potential to really impact people's lives and health."
Put it all together, and the picture is much the same as it's been since January. Vermont's current budget situation is extremely tight, and the worst is almost certainly yet to come.
Blades Versus Blades
There was some last-minute commotion last month around the proposed Swanton Wind project, a seven-turbine ridgeline-wind farm currently under consideration by the state Public Service Board.
Well, technically it was after the last minute. Public comment on the project was closed on February 17, but six days later the Vermont Army National Guard filed a three-point objection and asked to be granted intervenor status. Backers of Swanton Wind were taken aback by the guard's late entry.
"We filed our certificate of public good in September of 2016," noted lobbyist Anthony Iarrapino, spokesperson for the project. "We did so with a lot of publicity, so it wasn't a secret. Anyone with an interest would have time to come forward."
The guard didn't have a good explanation for the delay. Captain Dyana Allen, the guard's spokesperson, offered a generic reference to "careful consideration."
Seems a bit weak.
Turns out that the guard's February 23 letter wasn't its first missive on Swanton Wind. The broad outlines of the project were unveiled in September 2015; two months later, the guard wrote a letter to the PSB asserting that Swanton Wind "would clearly have an adverse impact" on its operations.
So, on the one hand the guard has taken a consistent position. On the other, the delay in formal filing makes even less sense.
There's also the fact that the Air National Guard and the Federal Aviation Administration have both given Swanton Wind their stamp of approval. What's different with the Army National Guard?
"The Air National Guard in Vermont flies F-16s," Allen explained. "The Army National Guard flies rotary aircraft. F-16s would be flying at a much higher altitude."
Allen asserted that the wind farm would interfere with helicopter test flights and with guard operations involving drug enforcement and search and rescue. Seems reasonable. But wouldn't the same objection apply to any large-scale turbine anywhere in Vermont?
Maybe.
"I don't want to say that we would object to every single windmill project," Allen said. "The way we look at things is pretty inclusive of what is going on in that area. If you had a lot of windmills in one location or there are multiple other hazards in an area, yes, it would probably be our stance that there would be a safety issue."
Iarrapino professed "tremendous respect" for the guard but pointed out that "they are trained to fly under combat conditions." It seems reasonable, he asserted, to think that pilots could "safety navigate around stationary objects that are well marked."
Another point of contention: the FAA's position on Swanton Wind. Iarrapino cites an FAA study that concluded the project poses "no hazard to air navigation." However, the guard claims exactly the opposite: that the FAA has found the structure "exceeds obstruction standards" and could interfere with instrument landings at Franklin County Airport, which its pilots use frequently.
Funny thing about the guard's claim: They can't, or won't, back it up. There is no citation, and the guard declined to provide a reference or link or any documentation.
It's kind of like taking a math test and providing only the answers. "Show your work," a teacher would say.
There's history informing all of this back-and-forth. It involves one Brian Dubie, former lieutenant governor, retired Air National Guard pilot and staunch opponent of Swanton Wind, which would be located about a mile from his home.
Dubie is a fixture in military aviation circles, and his brother Michael Dubie is a former commanding officer of the Vermont Army National Guard. And the ex-LG has a history of using his connections to rally opposition to Swanton Wind. In 2015, he enlisted state and military officials in an unsuccessful effort to change the FAA's position on Swanton Wind.
Is he pulling strings once again?
When given two opportunities to flatly deny it on the record, Dubie dodged. He pivoted immediately to his position as chair of the Vermont Aerospace and Aviation Association, in which he publicly advocates for aviation safety.
Including safety from large wind turbines.
"I know all about the Franklin County approach," he said. "Just because something is legal doesn't mean it's safe."
Later in the conversation, Dubie gave a hedged denial of involvement in the guard's action. "I didn't know they were going to intervene," he said.
That's a very specific denial: He didn't know about the February 23 letter before it was sent. What goes unsaid is whether Dubie has been lobbying for the guard to get involved.
Whether or not the guard is granted intervener status, the disputes around its letter show just how deep and strong the passions run on both sides.
Given the PSB's recent proposal of surprisingly stringent rules for ridgeline turbines, advocates of the Swanton project have to be wondering if an ill wind isn't blowing their way.