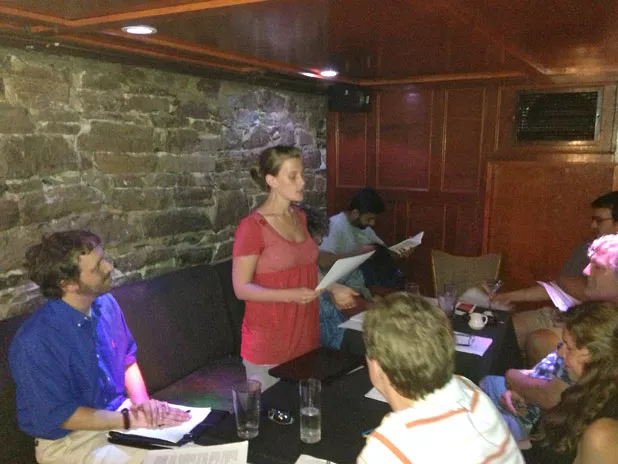 On a recent Wednesday evening in the basement of Burlington's Halflounge, the Burlington Writers Workshop is trying to figure out what works and doesn't in Lizzy Fox's poem.
Fox, a teacher and performance poet, will star in her own spoken-word event the following week as part of the Helen Day Art Center's exhibit "Exposed." Right now, though, she's in the hot seat. She reads aloud a dark poem addressed from a seemingly estranged child to a parent, then murmurs, "This is super rough."
Once Fox falls silent, it's time for the attendees of this particular meeting — 15 prose and verse writers, not all from Burlington, and with ages ranging over perhaps five decades — to weigh in.
"I got 'alcoholic,' 'troubled,' possibly 'abusive father,'" one woman says.
"I would be careful about being really definitive about the role of the TV as a metaphorical vehicle," says the man beside her.
This is not one of those writers' workshops where eliciting critique is like pulling teeth. The participants aren't harsh — Peter Biello, who organizes the BWW and is leading this session, sees to that. But the comments are precise, articulate and opinionated. And this is only a small sampling of the BWW, a growing group that has gained local visibility in recent months with an anthology and public readings.
The BWW started as the Burlington Writers Group in 2009, the same year Biello moved up from North Carolina. (He's now a producer at Vermont Public Radio.) "Looking for a social life" in Burlington, Biello says, he found his way to a meeting at a member's apartment.
About a year later, he was leading the group, which has swelled from three or four members to nearly 300. "It's pretty amazing how people have taken to this," Biello says.
Of course, not all those registered members come to all the workshops, which are capped at 15. But in the past six months, Biello says, 100 members have attended at least one. He adds that writers like the flexibility of coming when they choose to the weekly and sometimes twice-weekly meetings, which have whimsical names drawn from previously critiqued manuscripts. (The next meeting, on July 24, is called "Insatiable as a Succubus.") The group uses Meetup.com to take head counts and distribute work for critique.
Biello, who holds an MFA from the University of North Carolina Wilmington, says the group "had to develop guidelines so we had some kind of structure." Since his arrival, the BWW has come to resemble an MFA workshop, with writers required to sit silent during discussion of their work. They must also critique one piece of work before submitting their own.
"We try to start based on what's working well," Biello says. Writers, he adds, "like the protective atmosphere. It's not a place where we're going to shoot you down. We're going to play to your strengths."
At the BWW, "we focus on getting better before we talk about getting published," Biello says. Still, last year the group self-published an anthology of its members' work, The Best of the Burlington Writers Workshop 2013. A Kickstarter campaign raised $3600 to produce the paperback, which has sold over 100 copies so far. All proceeds go toward the next annual edition, for which Biello is taking submissions and seeking editors.
The BWW is networking, too. It has held public readings at the Essex Free Library and other venues and will have a presence at September's Burlington Book Festival. After a Vermont Stage Company board member showed up at a BWW meeting, participants were invited to submit stories for possible use in VSC's annual holiday production Winter Tales. They've also been asked to blog about artists and performers for the Flynn Center for the Performing Arts.
Retired Johnson State College professor Darlene Witte-Townsend came from Fairfax for this workshop. She says the BWW's "very good, free-flowing conversation" has "helped me grow as a poet." Listening to critiques of her work was "very humbling and tremendously stimulating."
Part of the strength of that conversation, Witte-Townsend notes, is that "You have several generations represented." That's true tonight.
Representing a mature perspective is Al Uris of Waitsfield, whose fiction appears in the anthology; he says he returned to writing recently after his career as a New York trial lawyer. On the younger side are Fox and artist Amanda Vella, who say the BWW has helped them make new connections. "It's awesome," Fox says. "Peter creates a really good tone."
Vella says she came seeking "a community of people to have an intellectual conversation with." She found it, and the group has inspired her to branch out from poetry to prose.
On this Wednesday, when two poets have presented their work, it's Biello's turn. He's written a story about mother-daughter conflict that gets everybody talking about whether maternal selflessness is a myth. Is the mom's character development believable? Has her ex been depicted too much like "Satan"?
The story makes people argue about real stuff as well as words — as fiction should. At last, the critiques draw to a close. Most members slip out, but it's not over.
Four writers take out their guitars and join Biello in a jam. They settle into "Fly Me to the Moon," and Uris croons the lyrics smoothly enough to evoke Sinatra. The moment has a touch of poetry in its own right.
The Burlington Writers Workshop holds its next meeting on Wednesday, July 24. For information on signing up, go to burlingtonwritersworkshop.com.
The Best of the Burlington Writers Workshop 2013, 125 pages. $12 print or $.99 e-book (price good through July).
Lizzy Fox Spoken Word Event. Thursday, July 18, 6 to 7 p.m. at the Helen Day Art Center in Stowe. Donations accepted. helenday.com