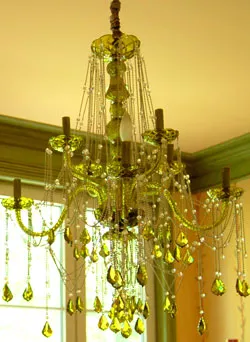 Hanging from a white chain in the corner of Maryline Scaviner's Montréal atelier are the bones of a work in progress: a silver hook fastened to a fist-sized metal disc, and a slender wand with a knob at the bottom. These meager metal beginnings give no hope of glamour, no indication of the swoop and sparkle that will delight the homeowner who commissioned it. The skeleton will become a one-of-a-kind crystal chandelier, destined for a dining room in Québec.
Scaviner, slim and smiling in black boots with fine, silver hair, started her company, Monts et Cristaux, five years ago. Arriving in Montréal from Africa, she missed the continent's lush colors. When she couldn't find a lighting fixture that fit the bill, she designed one. She has since created chandeliers for kitchens, dining rooms, restaurants and even a prestigious French aperitif.
Her personalized approach to lighting makes Scaviner the go-to person for cooks and decorators throughout North America. After meeting with a client in the space where the fixture will hang, she determines its size and shape. The one hanging in the corner of her atelier will have a traditional form: round, with a half dozen upswept arms, tapered columns holding clear bulbs, and graceful sweeps of crystal pendants, beads and attenuated drops. A lamp like this would be at home in a formal dining room with a temperature-controlled wine cave and a cook who makes impeccable sauces.
When a kitchen is modern, materials may lean toward industrial: chain mail, either in sheets or single strands, recycled aluminum, LED lights. Shapes are crisp and linear — a column of glittering crystal, for instance, suspended by silver chains from a laser-cut aluminum crown and illuminated from within.
Color is Scaviner's muse, and she hand-dyes her European crystals. A striking green chandelier called "Le Vert" contains a multitude of beaded ropes that glimmer as they spill from rich green bobeches — patterned glass bowls that hold the lamps. Small pearls stud the ropes, and reflect soft, white light, in contrast to the shimmering chartreuse pendants suspended below them. Imagine beneath it a long wooden table, set with linen, fine porcelain and ivory-handled knives.
Scaviner's most recent kitchen assignment featured stainless-steel appliances and walls, and counters of gray and white marble. In addition to light, the room needed color. Scaviner's solution placed the chandelier against a metal wall, and brightened the space with a mix of gray and turquoise crystal.
For the makers of the French aperitif, Pineau des Charentes, Scaviner combined textured bronze balls with crystal beads and faceted pendants, which she dyed gold to match the wine. The company featured the fixture in a print ad, replacing 12 white candelabras with glasses of Pineau.
In the dining room of Le Cosmos, a Québec restaurant and bar, she strung 1000 crystals of different sizes and colors around an antique Spanish chandelier. Beneath, diners sit in Louis XVI chairs.
When restaurants or homeowners have Monts et Cristaux chandeliers, their guests are treated to a feast before the food is even served.