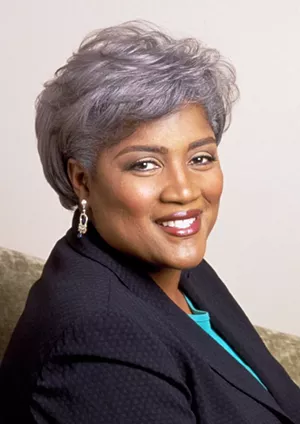 Ron Aira/Wikipedia
Donna Brazile
The revelations landed like a bomb in Democratic Party circles last Thursday. Spicy excerpts from a new memoir by former Democratic National Committee chair Donna Brazile included allegations that the 2016 primary was "rigged" against Sen. Bernie Sanders (I-Vt.) and that the Hillary Clinton campaign had effectively seized control of the party.
There's been some blowback since then. Senior Clinton campaign officials wrote a letter saying they "do not recognize the campaign portrayed in the book." And Brazile herself, in a Sunday appearance on ABC's "This Week," acknowledged that she had no proof the process was rigged. But wherever the truth may lie, the memoir underscores a profound reality facing the party: Many Sanders supporters are convinced that the charges are true. And that perception is a huge problem for the national party and for Vermont Democrats.
"There are a lot of folks who believe the DNC backed Clinton," acknowledges Vermont Democratic Party chair Faisal Gill. "This [book] verifies their belief."
"The wounds of 2016 are nowhere close to healing yet," says Terje Anderson, who supported Sanders' presidential bid and now serves as one of Vermont's DNC members.
Billi Gosh, a member of the Vermont party's executive committee, was on the DNC for 12 years before stepping down in 2016. She clearly respects Brazile but is puzzled by the timing of the book. "What motivated her to do this?" she asks. "The book is coming out the day of the Virginia governor's race. This will have an effect on the race; some people may decide not to vote. That really concerns me."
As if to validate these concerns, Sanders' advocacy group, Our Revolution, immediately sought to capitalize on the Brazile excerpts. It sent an email blast claiming that the book is proof that the process was rigged and urging recipients to, you guessed it, make a donation to bolster its fight for representation in the party.
Top Vermont Dems take pains to distance themselves from the national party in terms of inclusiveness. "We're in Bernie-land," says Anderson. "We've got good relationships with Bernie and his people ... We're more progressive; we're more for Bernie."
Perhaps. But the party has an uneasy relationship with Sanders and with the Progressive Party. And new groups such as Rights & Democracy, Indivisible and Our Revolution are pushing the party to the left — while there are still a lot of moderate Dems who feel at home in the center.
State party leaders hope that Brazile's book will serve as a dose of castor oil for an ailing organization. "The party needs a makeover," says Gosh. "They need a complete self-examination of 2016. They're sidestepping it. They need to meet it head-on, have a really serious, honest exchange about what went wrong and how we prevent it from happening again."
That's going to be a long, hard slog. And if Gosh is worried about the impact on this week's Virginia election, what about the Dems' fight to gain ground in Congress in 2018, not to mention the presidential election in 2020? Sen. Elizabeth Warren (D-Mass.), a Sanders ally and possible presidential candidate, seized on Brazile's writing as proof that the 2016 process was unfair.
There's no better way to whip up the troops than to wave the bloody flag. Sooner or later, the "Sanders wing" of the party will have to choose between confrontation and accommodation. And the Democratic Party will have to do whatever it can to make accommodation the most appealing option.
Musical Chairs, Part One
On the eve of Vermont's 2016 presidential primary, then-lieutenant governor Phil Scott issued a firm rebuke of Donald Trump, without mentioning the candidate by name. In an email to supporters, the Republican wrote, "I cannot support someone who exploits fear for political gain, mocks people with disabilities, attacks journalists who ask difficult questions, [or] makes sexist, racist and other hateful comments."
The next day, Vermont's Republican voters ignored Scott's pleadings and gave Trump a narrow victory.
On Saturday, Scott's advice again fell on deaf ears. At an organizational meeting in Montpelier, Republican delegates elected Trump supporter Deb Billado of Essex Junction as state party chair over Scott's choice, Mike Donohue of Shelburne. And Scott's advocacy went beyond adding his name to an endorsement list; he formally seconded Donohue's nomination with a speech from the podium.
How often does a state party ignore the wishes of its own sitting governor?
Clearly, Trump was not the only factor. Billado is a longtime party activist fresh off two years as Chittenden County GOP chair, while Donohue has been a full-time Vermonter since only last year.
But it's difficult to ignore Billado's support for Trump. In her written statement to party delegates, she boasted of introducing Trump at his January 2016 rally in Burlington's Flynn Center for the Performing Arts.
On Monday, she told Seven Days her role at the Flynn has been "a little overstated. I also introduced [Ohio Gov.] John Kasich when he was here. My role was to introduce any candidate who came to Chittenden County." Well, she was the one who touted the Trump intro in her delegate pitch — and never mentioned Kasich.
Gov. Scott has continued to be critical of Trump. And while many conservatives appreciate Scott's electoral success, they find his moderate brand of Republicanism too squishy for their taste.
Donohue, who supported Kasich in 2016, acknowledged that his own defeat was due, at least in part, to Republican tensions. "There are divisions within the party nationwide, and certainly here, stemming from the election last year," he said in an interview after the VTGOP meeting. "It's understandable when people who strongly supported a presidential candidate ... carry that into their selection of party leaders."
In an email interview, Scott downplayed any talk of division. "Vermont's Republican Party is a big tent with wide-ranging perspectives," he wrote, "but I believe at its heart the Vermont Republican Party is focused on the affordability challenges Vermonters face and is committed to working to grow Vermont's economy and protecting the vulnerable." Scott advocated for "focusing on areas of common ground."
Billado has suggested creating a "'contract with Vermont,' a real set of promises to Vermonters that we can and will keep." That drew an enthusiastic response at the VTGOP meeting, but Scott threw cold water on the concept.
"It never hurts to write down priorities," he wrote, "but I don't think we should tell legislators, candidates for office or other elected officials what they can, or can't, support or propose — people should speak their mind and vote their conscience."
And, really, it's hard to imagine a contract that would be agreeable to both Scott and his party's ever-Trumpers.
Musical Chairs, Part Two
Meanwhile, it looks like Vermont Democrats may soon have a new party chair. Gill, of Winooski, has been interim chair since March, when he was chosen to replace Dottie Deans. At the time, Gill said he would run for a full term — but now he's having second thoughts.
"I am still going over it," he says. "I'm figuring out what I want to do. I've run for office before; that's what I'm more interested in." Gill was a candidate for state Senate in 2016; he finished eighth in a race for six nominations in the Chittenden County district.
Even as the incumbent has yet to decide, another candidate has emerged: Anderson, the DNC member, who lives in Montgomery.
Anderson was a key Democratic figure in the 1980s and '90s, serving three terms as a member of the DNC. He was also a leader in the fight against HIV/AIDS as the first executive director of Vermont CARES, a support organization for those affected by the disease. He left Vermont in 1997 to do advocacy work elsewhere; when he returned in 2006 he didn't reenter the political scene.
"I jumped back into politics in 2015 with the Sanders campaign," Anderson wrote in his statement of candidacy. He was a Sanders volunteer in several states and served on the campaign's LGBTQ steering committee. In 2016, he was chosen to fill one of Vermont's seats on the DNC.
In September, Anderson became chair of a state party committee tasked with recharging its run-down financial reserves. "We're reevaluating fundraising," he told me. "We have to get small donors to become active again. We were seeing $600 a month in small donations; that's now doubled, but it's not enough."
It may be that the party's dire financial straits played a part in Gill's rethinking process. The Dems' coffers have been depleted since spending big on the 2016 campaign; in September, Gill called for a fresh approach to fundraising — after six months as chair of a cash-poor organization. That seems a bit belated.
In mid-September, the party had to delay issuing checks for its staff by four days. It barely made the end-of-month payroll. As of September 30, the end of its most recent reporting period, the party had a little more than $8,000 in cash on hand — but also had outstanding obligations of $8,700. Not good.
The Dems have a big fundraiser on Thursday evening that will feature U.S. Rep. Keith Ellison (D-Minn.), deputy chair of the national party and one of the most prominent backers of Sanders' presidential bid. The event should generate some much-needed cash, but the party still faces a struggle to improve its finances.
It will be interesting to see how Ellison addresses the Brazile memoir, if he does at all. He was Sanders' choice to be DNC chair; after he lost, he was given the deputy position as a consolation prize. Will he echo the allegations of a rigged process or defend the party he now serves?
Gill says he won't make a decision on running for party chair until after Ellison's visit. The state party will hold its organizational meeting on Saturday, November 18.
Media Note
Whenever Scott Waterman's face appeared on television, it usually meant something awful had happened: a fatal crash, a natural disaster, a high-profile crime. As spokesman for the Vermont State Police, he was often the bearer of bad news
But no longer. Waterman left the state police on Monday. Next week, he starts a new job as director of communications and policy adviser for the state Agency of Agriculture, Food & Markets.
"The position is a career advancement for me," Waterman explained in an email. "The position offers the opportunity to contribute to policy decisions at the agency."
The new job should also bring more predictable hours, yes? "It was quite rewarding to assist VSP during high-stress situations," he wrote. "I'll miss that important role. But I am looking forward to my phone ringing a little less often."
Not to mention, he will no longer be the public face of disaster.