Every Saturday morning during the summer in Brattleboro, just west of the covered bridge on Route 9, the road typically fills with a crush of cars. They're headed toward and away from a cluster of tents loaded with seedlings, ice cream, meat, cheese, vegetables and more.
It can take a while to find parking at the Brattleboro Farmers Market, but once you're inside, you're golden. The Burlington Farmers Market in City Hall Park may be the crown jewel of northern Vermont markets, but Brattleboro's — founded in the early 1970s — is older, semipermanent and, though not quite as large, just as diverse. A lunchtime spread might include stewed Malian beef, local chai, basil rolls, fresh focaccia, shao mai dumplings and local chicken tacos.
Several of the nearly 60 vendors who set up in the wooden kiosks each week have been coming to the market for more than 30 years, and a few were among the original back-to-the-landers who bought cheap land in southern Vermont. Peter Dunning of Mile Hill Farm in Springfield began selling his farm-slaughtered lamb there in 1982, unfettered by meat-processing laws. "I made enough money to survive as a farmer," he recalls. "Even now, this is where I make my living. It's a political and social thing, too. The market plays a vital role in the local food economy."
Lisa Holderness of Deer Ridge Farm comes to the market every Saturday with her husband, Jerry Smith, who sells flowers and syrup — and has for three decades. Holderness has met thousands of people from all over the world, she says, adding, "This is generally considered the best farmers market most people have ever been to, both for the atmosphere and the diversity of the vendors."
It's true, there's a lot to choose from here: carnitas tacos from the Taco Barn; coconut gelato; crisp hard cider from Whetstone Ciderworks; dozens of cheeses; copious berries; lettuces and other fresh veggies from Old Athens Farm, Guerrilla Grown Produce and others.
"I've been to a number of different markets, and they're all a little different," says Brattleboro resident Dora Bouboulis, who once served on the town's selectboard and seems to know everyone. She chats in between bites of wood-fired pizza. "This one has a ton of truly local produce and probably the most organic food of any market I've been to," Bouboulis says. "Plus tons of ethnic food."
She points out that Tropical Storm Irene washed out the market in 2011, but volunteers rebuilt it within weeks. The board is now hoping to purchase the market's long-term home lot, from current owner Green Mountain Power.
Rugelach and chilled fruit soup from Betz Baking
Beth-Ann Betz
Owner Beth-Ann Betz managed the New England Bach Festival for years until it folded, when she turned her hand to baking. Not standard-issue baking, either: Her kiosk is stocked with slightly offbeat eats such as plum torte, pistachio ma'amoul and a buttery, cinnamony rugelach that writer Marian Burros praised in 2007 as "quintessential" and the "ideal homemade rugelach." Betz's chilled fruit soup — made with plums, cherries and more — also has a cult following. As she sells a quart to customer (and songwriter) Brad Bailey, he hands over verses that he wrote in its praise: "Fruit soup, or Ben & Jerry's... / I just decided cherries / It's not that I lack luster / My health I will not muster / When wanting something cool / Fruit soup will be the rule."
Anon's Thai Cuisine
Fried yams and pad thai from Anon's Thai Cuisine
There are two Thai vendors at the Brattleboro Farmers Market, but the longest line always snakes in front of the Anon's Thai Cuisine trailer, where owner Anon Sengaloun doles out hot and cold street food from an open window adorned with painted lotus flowers. Sengaloun fled Laos with her family 30 years ago and has been cooking at the market since 1983. The charred, succulent chicken satay comes on a stick. The hottest seller: a heaping platter of pad thai, with two sides, for $8.
Jerry Smith
Fresh flowers from Jerry Smith of Deer Ridge Farm
Jerry Smith makes a mean maple syrup, but his tables burst with a kaleidoscope of zinnias, daisies and lisianthus. He's known here as "the flower man," and his wife, Lisa Holderness, says he's sold at the market for 30 years. Come September, the flowers won't wane, either. "It's a great time for calendulas and sunflowers and zinnias and amaranth and dahlias and tithonia," Holderness says. Tithonia? "It's an incredible iridescent bright orange flower, also called Mexican torch flower."
Rice and veggies from Takeshi and Linda Akaogi
Linda Akaogi
Takeshi and Linda Akaogi are local pioneers of sorts, at least in the Vermont agriculture community. They began experimenting with growing rice in 2006 and now sell it at the market alongside the veggies — including edamame — they've vended there since 1985.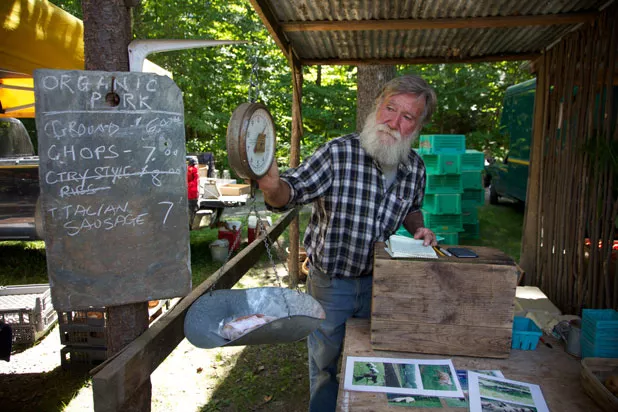 Peter Dunning
Meat and yarn from Peter Dunning of Mile Hill Farm
The booth for Springfield's Mile Hill Farm is a treat for the senses, especially touch: Owner Peter Dunning sells soft, brightly colored yarn made from the wool he shears from his own sheep. The bearded Dunning has been coming to the market since 1982, when he began selling lamb shish kabobs. "I slaughtered them in my yard, cut them up in my kitchen, marinated them in my fridge and cooked them on my woodstove," he recalls. Laws passed since then have made that process all but impossible, Dunning notes with a wince. He still sells his own pork at the market, though, and produces veggies, berries, honey, milk and cider on his farm.
Poulet au Yassa from Malian Cuisine
Dieneba Macalou
Wrapped in a colorful kanga, owner Dieneba Macalou presides over a table of steaming Malian stews such as vegetarian Naboulou — spinach cooked in peanut butter — and tart, gently spicy Poulet au Yassa, or chicken thighs cooked with mustard, onions and lime juices. Wash it down with sweet, minty hibiscus juice.
Brattleboro Farmers Market, May through October: Saturdays, 9 a.m. to 2 p.m. on Route 9 near the covered bridge; Wednesdays, 10 a.m to 2 p.m. on Whetstone Pathway, Lower Main Street. brattleborofarmersmarket.com
All photos by David Shaw, except Dieneba Macalou photo by Corin Hirsch.
The original print version of this article was headlined "The Granddaddy of Markets".