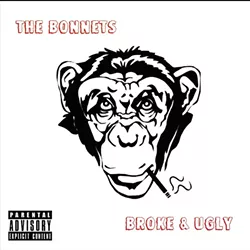 The Bonnets, Broke & Ugly
(Self-released, cd, digital download)
One of my all-time favorite adages is "It's funny because it's true." The Danish American comedian/musician Victor Borge summed it up nicely: "Humor is something that thrives between man's aspirations and his limitations ... Because, you see, humor is truth."
The Bonnets' debut album, Broke & Ugly, beautifully illustrates this concept. Maybe I'm the only one who will have this reaction, but, minutes after pressing play, I LOLed so furiously that I had to press pause and collect myself. The raucous, Lyndonville-based punkadelic trio managed to distill the plight of the depressed and anxiety-ridden so well that I thought they had been reading my diary.
Throughout the album, the band tempers its despair with sharp wit, all-too-accurate observations and a general sense of not giving a fuck. Pop culture references abound, as do actual snippets from movies and TV shows.
Stylistically, the spritely trio lands dangerously close to Red Hot Chili Peppers territory — that is, where punk meets funk. Lead vocalist Nick Morelli's propensity for shouted/spoken lyrics also lends itself to that comparison. But the band inoculates itself against any negative associations by giving the SoCal rockers a shout-out in the opening track, "Anti-D's." At least they're up-front about their predilection.
And let's talk about that song: It's a rollicking rock anthem that pairs a devil-may-care sense of abandon with some fairly disturbing, heavy themes. Anyone with even a sliver of anxiety can relate to the self-inflicted trauma of trying to keep your mind on something other than one's inner turmoil. Morelli cleverly sums it up with a list of failed attempts at distraction: "And I can't watch The Muppets / And I can't watch E.T. / And I can't fall asleep to "The Office" / I can't go shopping in Boston / I can't play Pokémon Snap / I can't listen to the Chili Peppers / And I can't fuckin' think!"
"FYI" is a prickly, ska-tinged number. Morelli details the aftermath of a relationship gone sour over offbeat riffs and heavy metal licks.
He takes a break from speak-singing on "Fruit Cups," a sunny, melodic song of self-assurance that kicks into double time on its jagged chorus. Morelli views the discovery of "fruit cups in the backseat of my Honda" as a good omen after his credit card is declined.
The closing track, "Granger Danger," is a fierce, punk-rock ode to the wizarding world of Hogwarts, flying broomsticks and the band's presumed dream girl: Hermione Granger, Harry Potter's right-hand woman.
Broke & Ugly demonstrates that the Bonnets are a powerful, goofy bunch of misfits who deftly scrutinize the pitfalls of young adulthood — and, honestly, life in general. Their humor comes from a fearless ability to speak the truth.
Broke & Ugly by the Bonnets is available at iTunes.