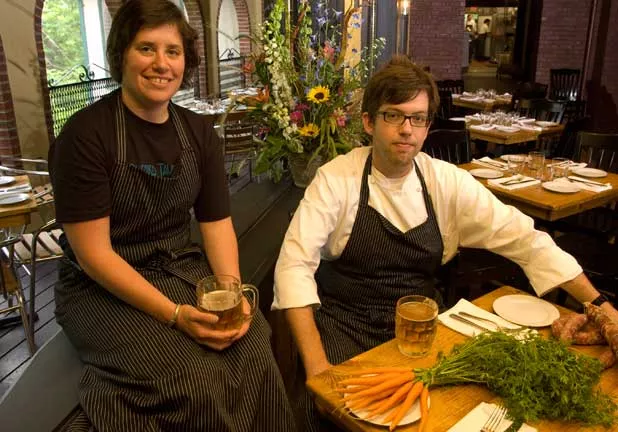 Matthew Thorsen
Sue Bette and Aaron Josinsky
People open all sorts of restaurants for all sorts of reasons, but not many are inspired by the drinking habits of long-dead presidents. After seeing the star-studded HBO miniseries about John Adams, in which the Founding Father's neighborhood tavern plays a significant role, Sue Bette decided she wanted to create a modern community center like that one.
The athlete and foodie, who already dreamed of owning a restaurant, liked the idea of a place where neighbors and friends meet for conversation and high-quality food and beer. In New England, Bette explains, the neighborhood pub was "part of what our towns were built around. I wanted to bring that back and make [my restaurant] a place you could come every night."
As it happens, Bette's Riverside Avenue effort, the Bluebird Tavern, opened to the public on July 4, which is the anniversary of Adams' death as well as Independence Day.
While the Bluebird's menu includes modern treats such as bacon jam and a sprinkling of ethnic influences not known to Americans until the 20th century, Adams and his friends would have been familiar with the seasonal, farm-fresh sourcing behind the affordably priced fare. Vegetables come from various farms in the Intervale, just a little way down the road. Animals arrive whole and are butchered in the restaurant's kitchen, with nothing wasted.
These frugal, old-fashioned practices have come back into vogue in recent years, and the localvore contingent has been hungrily awaiting the opportunity to sample what Bette and her staffers refer to as "gastropub" fare. (The British term refers to an establishment that serves better-than-average pub food.)
Dribs and drabs of information that appeared on Facebook, the Bluebird blog and most recently on Twitter got social-media-savvy types talking about the aesthetic updates Bette was making to the building, which formerly housed popular Tex-Mex eatery Tortilla Flat. And area foodies, well aware of the pedigrees of Bluebird's chef, Aaron Josinsky, and front-of-the-house manager Laura Wade — who both worked at the famed Blue Hill in New York and had plum roles at Shelburne Farms — anticipated a combination of culinary acumen and graceful service lacking in many Vermont venues.
On opening day, people trickled steadily into the restaurant, where they noshed on a special holiday menu including extra-crispy fried chicken with potato salad, lightly dressed baby greens strewn with mint, and servings of just-sweet-enough strawberry shortcake. Cool- and confident-seeming staffers, wearing black aprons with white pinstripes over their casual street clothes, asked permission before clearing plates, refilled water glasses often, and conversed intelligently about pairing wine with various menu items. Bette, dressed like the other staffers, occasionally stepped in to help out behind the copper-topped bar (made locally by Alistair Parker of Metal Design). The new restaurateur, quiet but quick to smile, seemed pleased with customers' responses.
Coaching lacrosse at St. Michael's College may not sound like a food-related job, but in the mind of Bette, 29, it was part of the trajectory that led her here. "As an athlete, being food conscious was always something I was interested in," she says.
Aiming for a career in college athletics, Bette entered UVM's master's program in higher education, student affairs and administration, where she did research projects on the "role of food services in the college environment," she says. But food became a full-time interest after her partner, Trish Rascon, took a job on the West Coast. Living in the San Francisco area, Bette explains, "I got into the local food piece … and wanted to learn more." She ended up at California's Bauman College, which offers programs in "holistic nutrition and culinary arts": "I chose to go into a kind of crunchy-granola cooking program because I didn't want to lose the healthy component," Bette says.
Healthy like a crispy chicken-skin garnish? The decadent — and flavorful — topping appears on the Bluebird's chicken liver on toast. A conventional nutritionist might go into cardiac arrest after taking a gander at the tavern's menu, which is filled with dishes such as deviled farm eggs served on crispy pork and the French-Canadian favorite poutine.
But Bette espouses an alternative school of thought. On her personal blog, Feelgood Eats, she writes: "My food philosophy is founded upon the belief that traditional, whole foods are the best sources for optimal health and happiness … These are the foods our great-grandparents ate. They closely resemble their natural state and have been refined as minimally as possible." Eggs? Check. Bacon? Check. Chicken skin? Oh, baby.
The whole-foods ideology is a good fit in Vermont, which Bette considers her spiritual home. At age 12, while growing up near Albany, N.Y., she took a trip to Manchester, Vt., with her sister and mother. "As soon as I crossed the border I was, like, 'I want to live here,'" she recalls of her first Green Mountain encounter. St. Mike's was the only undergraduate school Bette applied to, and even when she lived in food-obsessed Berkeley, home to daily farmers markets and produce Northeasterners can only dream about, she was plotting her way back.
After spending two years training and working in kitchens and as a bartender and server at Oakland's famed Oliveto, Bette felt ready to open her own eatery. In June 2008, she began making trips to the Queen City in hopes of finding the perfect space. But most locations in downtown Burlington proved too small for the vibe that Bette and her two business partners — Kerri Leach, who manages the bar, and property manager Jamie Strotmeyer — were trying to create.
They first checked out the vacant Tortilla Flat location in October. "It had a lot of promise, but I was nervous about being an island over here on Riverside Avenue," Bette says. She couldn't get the spot out of her head, though, and ultimately began to warm to the location. The sprawling 120-seat farmhouse, with balconies overlooking a wild tangle of sumac and maple trees, is close to the Intervale and convenient to "up-and-coming" Winooski and the Old North End. "I thought it would be a really neat hub if we could make it work," Bette says.
In February, her New York-based parents — who work as property developers — bought the building, which Bette leases. "We're definitely in a privileged position," she acknowledges. "Not many people get to create their dream and make it happen. I'm very thankful for that opportunity." With help from local craftspeople such as Steve Conant of Conant Metal & Light, who made the lights and twig-shaped metal accents decorated with the occasional bluebird, and Don Moquin, who crafted the tables, she and her partners began to create the cozy look and feel they were striving for.
Soon after the renovations began, Aaron Josinsky wandered in to check out the place. The former sous chef at Shelburne Farms had opted to leave when Head Chef Rick Gencarelli did. "I was interested in the concept. I didn't bring a resume or anything; I wasn't looking for a job," he says. "She asked me to consult right on the spot."
Soon Josinsky's partner Laura Wade — who used to manage the dining room at Shelburne Farms — was doing the same for the front of the house. When it came time to hire a head chef and a dining-room manager, Bette had many "great Vermont candidates" to choose from. She even flew in New York City cuisiniers for interviews. But it quickly became clear, she says, that Josinsky and Wade were just what the Bluebird needed. The twosome brought with them other Shelburne Farms alums. Nate Wade, Laura's brother, acts as sous chef.
The initial menu concept was a collaborative effort, but Bette turned over the work of fleshing out the details to Josinsky, 31, who is known in the cooking community for his love of using animals from "head to tail" and for sticking strictly to produce currently in season.
The menu with which Bluebird opened last weekend included young fava beans, which are available only briefly each year, alongside spiced lamb ribs with yogurt and a dish of minted ricotta gnudi — a pillow-soft pasta that should be like "little clouds," Josinsky says. Baby lettuces, peas and puntarelle, a bitter Italian vegetable in the chicory family that arrives in early spring, also make appearances.
Soon there will be Sun Gold cherry tomatoes and baby eggplant. "Eating in season is important and, ultimately, you should be so sick of a vegetable that you can't wait to start on the next one," Josinsky opines.
Although the menu includes a few exceptions to the rule of Mother Nature, Josinsky draws a hard line where tomatoes are concerned. "We're not bringing tomatoes in. In August we'll have tomatoes," he says firmly. When the red orbs aren't ripening on Vermont vines, Josinsky believes, the slices can only be a "flavorless garnish that take[s] away from the food." This means the double-patty burger, made with meat ground in the Bluebird kitchen, arrives sans the typical veggie toppings.
You can get it with ketchup, mustard or aioli, though, all of which are made in-house. "Our ketchup is better than Heinz, which is a great product," Josinsky says, noting that he favors mustard and aioli on hot dogs and puts mayo on fries. Pickled vegetables, which can be ordered from the "snack" menu and also come alongside fare such as potted salmon with a brioche and the meaty "Butchers Board," are another Bluebird original.
The suds aren't made here, but 11 of the 12 taps dispense regional craft brews from Allagash, Wolaver's, Brooklyn Brewery and Magic Hat, among others. The final tap is reserved for the kind of mass-produced stuff that hipsters like to quaff ironically. Right now that's Pabst Blue Ribbon, which, at $3 for a "big" glass, is a buck cheaper than any other option. "The plan down the road is to get more bottles," Bette attests. "European stuff."
Pubs and taverns — at least in the British tradition — are beer strongholds, but at Bluebird, the extensive wine list currently outshines the brewski. With 70 bottles under $50 and 12 wines by the glass, there's something for every palate. Leach and Wade put together the list; when approaching distributors, Bette recalls, "We said we 'want delicious wines that offer great value and have a story.'"
Future plans include a robust selection of nonalcoholic beverages to augment Bluebird's current selection of handcrafted sodas. "I think it's just as important as any other part of our beverage program," Bette says.
The menu, too, will continue to evolve as summer wends on. And if the diners who visited on the Bluebird's first day of operation are any indication — one announced that the fried chicken was the best he'd ever had — the new venture seems poised to take flight.