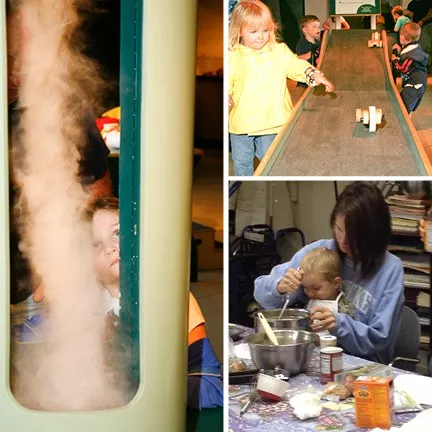 photos courtesy of Alison Novak and ECHO
"Cool Moves" exhibit and "My Child and Me" cooking class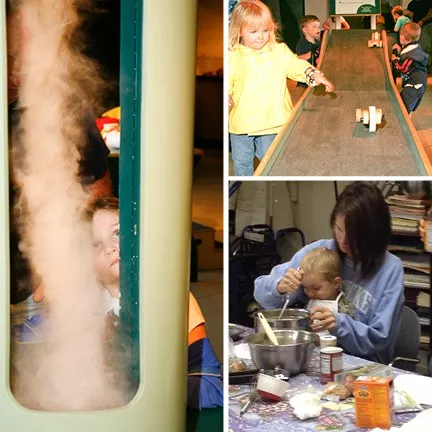 photos courtesy of Alison Novak and ECHO
"Cool Moves" exhibit and "My Child and Me" cooking class
Rainy days with little kids are tricky — there's little incentive to leave the house. But if you decide to stay in, there's a good chance you'll still be in your pajamas at 11 a.m., nursing your third cup of lukewarm coffee and playing Memory in a room that looks like a bulldozer plowed through it. Major cabin fever will start to set in.
The wet-weather strategy I've adopted to avoid situations like these is to get out of the house as early as possible. Just go. Somewhere.
That's how my 3-year-old son, Theo, and I found ourselves at Burlington's McClure Multigenerational Center at 9:30 a.m. this past dark and dreary Monday. City Market was hosting the first of its "My Child and Me" cooking classes for parents and kids ages 5 and under. It's a series the food co-op plans to offer monthly throughout the school year.
September's featured recipe was Buttermilk Oatmeal Muffins. I often bake muffins at home with my kids, so I didn't expect to learn anything new. But Caroline Homan, City Market's food and nutrition education coordinator, proved me wrong.
Homan passed around a mixture of whole-wheat pastry flour, rolled oats and buttermilk that she had let sit on her kitchen counter overnight. Soaking grains in buttermilk or yogurt for eight to 24 hours before incorporating them into a recipe "unlocks" minerals and vitamins contained within the ingredients and also makes them easier to digest, she explained.
Kids took turns measuring out the remaining ingredients and mixing them into the batter. Theo was particularly proud of his egg-cracking skills.
"I didn't even get a shell in it," he announced.
While the muffins baked, kids snacked on organic heirloom apples and Shelburne Farms cheddar, and decorated paper-lunch bags. Everyone left with a warm, golden pumpkin-raspberry muffin, which Theo quickly gobbled up.
The day was still young, so next we made a stop at nearby ECHO Lake Aquarium and Science Center. ECHO is one of our rainy-day staples, and I was curious to check out its new traveling exhibit, "Cool Moves! The Artistry of Motion," which opened earlier this month.
The exhibit's 13 interactive stations — including the Ripple Tank, Touchable Tornado and Dancing Wall — aim to teach kids about different types of everyday motion.
Theo is crazy about Matchbox cars, so it was no surprise we spent most of our time at the Three-Wheeled Racers station. There, Theo attached different wheels to wooden cars and changed the incline of a long ramp to see how the car's speed was affected.
The Swinging Art station was another favorite. Two pendulums held pen and paper. By giving them both a push and then lowering the pen to paper, all sorts of cool patterns emerged.
"Look what I did," Theo said when he saw his design. "Wow. That's awesome!"
If you go:
City Market is offering monthly "My Child and Me" cooking classes at the McClure Multigenerational Center, located at 241 North Winooski Ave. in Burlington. The next class is Nourishing Fall Soups on Monday, October 21, from 9:30-10:30 a.m. Cost per parent/child pair is $5 for City Market members and $10 for nonmembers. To register, visit citymarket.coop and click on "News and Events."
"Cool Moves! The Artistry of Motion" runs until January 6 at ECHO Lake Aquarium and Science Center in Burlington. Museum admission is $10.50-13.50, and free for ECHO members and kids under 3. For more information, visit echovermont.org.
This post was written by Kids VT contributor Alison Novak, who lives in Shelburne with her husband and two kids. Every week this fall, she and her 3-year-old son, Theo, will embark on an inexpensive excursion to someplace they've never been. The Blue Backpack Chronicles — named for Theo's trusty travel backpack — is a blog series about their adventures.