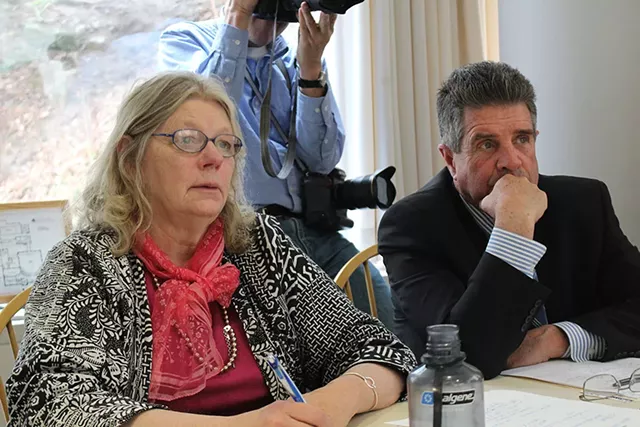 File: Paul Heintz
Sen. Jeanette White and Sen. Brian Collamore
The purpose of ethics laws is to provide a safeguard against abuses of public trust. Right?
So what does it mean if an official ethics watchdog does its work behind closed doors? That's what Vermont would get under S.8, the so-called ethics reform bill currently making its way through the legislature.
For reform advocates, the bill is flawed in a number of ways. The state ethics commission it envisions would have scant resources, no enforcement powers and only a single part-time staffer. But the cherry atop this legislative sundae is that the commission would be an ethical black box — its deliberations and decisions shielded from public view, save for an annual report stripped of all pertinent information.
I guess that's one way to restore public trust.
Sen. Jeanette White (D-Windham) chairs the Senate Government Operations Committee, which shaped the ethics bill that passed her chamber and is now under consideration by the House Government Operations Committee. She offers a pair of explanations for all the secrecy.
First, the commission has to maximize confidentiality because it's merely a "funnel" that simply forwards ethics complaints to six different enforcement bodies.
"They would have to know exactly how the different agencies deal with confidentiality, and they would have to follow the same rules," White explains.
So because the commission is powerless, it has no choice but to provide maximum secrecy.
And whose idea was it to create a powerless commission? Oh yeah, the Senate Government Operations Committee.
White's second rationale: to protect the reputations of state officials.
"You have all kinds of complaints," she says, "witch hunt complaints, people who are angry for whatever reason. I don't think they should be made public until there's some validity to them."
"If some complaint has been found to be groundless," says White's counterpart on the House Government Operations Committee, Rep. Maida Townsend (D-South Burlington), "somebody's good name is not smeared for some vacuous assertion."
This is a popular bugbear: If the process is open, aggrieved Vermonters will file reams of baseless complaints.
But there are a few problems with that argument. First, does this ever really happen? More than 40 states have ethics commissions. Have these agencies been flooded by nuisance complaints?
Second, if some wing nut starts filing reams of complaints, it's not lawmakers' reputations that will suffer. It's the reputation of said wing nut.
Third, even if the ethics commission erects a shield of privacy, there's nothing to stop the complainer from going public. The most frequent accuser in recent years has been the Vermont Republican Party, and its complaints are always accompanied by press releases seeking maximum publicity.
In short, it won't work. And all the secrecy will do nothing to enhance the public trust.
Truth be told, many lawmakers are, at best, reluctant backers of ethics reform. They see no need for it. They fear the chimera of baseless complaints. They fear a runaway commission.
"If we expanded and made it fully funded with subpoena powers and investigatory powers, they would want to justify their existence even if there aren't a lot of complaints," says White.
The rhetoric gets ridiculous at times.
"It's like a private Supreme Court," grumbled Rep. Ron Hubert (R-Milton), vice chair of House Government Operations, during the panel's deliberations last week. "They'll have their hands on all the state's ethics."
Well, it's like a Supreme Court with no power or authority, I guess.
In fairness, lawmakers spend hours upon hours working together. They share a common bond. And they have a hard time imagining their colleagues bending the rules or breaking the law.
Despite a spate of recent controversies, the occasional outright scandal and the ever-present revolving door between public and private sector, many lawmakers remain convinced that the legislature is as pure as the driven snow. To them, the mere suggestion that they need ethical oversight is an insult to their probity.
Advocates of ethics reform are backing S.8 despite its weaknesses, calling it a good first step. It may prove to be an ethical dead end.
Lobby No Hobby
By most accounts, this year's legislative session has been a rather colorless affair, with a shortage of high-profile policy battles. Tax and budget issues, where big-dollar lobbying can often be found, have been far less contentious than in most years.
Still, there's plenty of work for Montpelier's lobbyist corps, as evidenced by their latest disclosures, which were due Monday to the Secretary of State's Office.
The top line: Businesses and nonprofits spent $3.2 million during the first three months of the 2017 legislative session directly lobbying Vermont lawmakers — just a smidge less than the $3.5 million spent by this point last year.
Hmmm. I begin to see the allure of the revolving door. The grass is definitely greener over there.
There was no single entity that broke the bank on lobbying, and a whole lot of players were clustered in the moderate range. Seven organizations topped the $30,000 mark:
Vermont State Employees Association, $70,844
Vermont Public Interest Research Group, $70,738
Vermont Association of Hospitals and Health Systems, $62,185
Entergy Nuclear Vermont Yankee, $45,000
FairPoint Communications, $36,827
University of Vermont Health Network, $32,805
Vermont Electric Power Company, $31,500
You may have noticed that two of the top seven spenders were health care outfits. In all, 17 of the top 100 lobbying spenders were businesses and nonprofits related to health care. They doled out roughly $428,000 on lobbying between January 1 and March 31.
Other figures of note, for informational or entertainment value: Three independent schools — Burr and Burton Academy, St. Johnsbury Academy and Sharon Academy — spent a combined $40,558.26 on lobbying. And that's not including the $18,533 spent by the Vermont Independent Schools Association, to which they all belong. (Your tuition dollars at work.)
FanDuel and DraftKings, the major players in the trouble-plagued daily fantasy sports industry, spent a combined $12,400. Vermont PBS spent $9,450, presumably to fight state budget cuts. CoreCivic, the private prison operator formerly known as Corrections Corporation of America, spent $6,475.
Best Bingo Supplies spent $5,850 — for what, I have no idea. Something called the Elevator Industry Work Preservation Fund spent $4,000. And BreathableBaby, a company that makes "safer bedding products" for infants, spent $3,750 to lobby on behalf of, just guessing here, allowable crib slat spacing.
While more than 450 people have registered as lobbyists this year, the money trail leads mainly to the usual handful of very successful lobbying firms. A total of 17 firms took in slightly less than $2 million from January through March — and that only includes direct lobbying expenses, not other services those companies may provide.
The top billers for 2017 so far were: Downs Rachlin Martin at $372,273; MMR at $361,644; the Necrason Group at $353,340; and Leonine Public Affairs at $228,117.
Past sessions have seen big expenditures on advertising. Take 2015, when lawmakers were considering a tax on sugar-sweetened beverages. The beverage industry spent more than half a million dollars in three months fighting the measure, including nearly $400,000 in advertising. This year, total ad spending by corporations and special interests has so far totaled a mere $55,000. More than half of that — $32,201 in all — was spent by Let's Grow Kids, an advocacy group that fights for improved access to child care.
Three million dollars for lobbying may seem like big money to most Vermonters, but it's unexceptional by Montpelier standards. It's just the cost of doing business and maintaining a presence at the Statehouse.
Still, if this is what a lean year looks like, then lobbying remains big business.
Yeah, sorry, I guess that's not news.
Ever the Optimist
After Donald Trump's presidential victory last November, Congressman Peter Welch (D-Vt.) openly mulled his approach to the new reality. Would he continue his role as a pragmatic conciliator, seeking common ground with the Republican majority? Or would he adopt a fiercer stance? As he said in a December interview with Seven Days, "There will be times when I will have to be much more oppositional than I have been in the past."
Oppositional he has been at times; but the glass-half-full version of Welch is still very much with us.
Take, for example, one of his pet issues: allowing the Medicare program to negotiate bulk purchases of prescription drugs — a practice that is currently banned under federal law. On March 8, Welch and Congressman Elijah Cummings (D-Md.) met with Trump to promote the idea. At the time, Welch told Seven Days that the president was "knowledgeable and enthusiastic" about the idea, putting him at odds with congressional Republicans who've been blocking Cummings' and Welch's legislation to achieve that end for years.
At the end of the meeting, Trump handed the bill to Tom Price, now secretary of the Department of Health and Human Services, who was a staunch opponent of price negotiation when he served in Congress. The president told Price to get back to him in two weeks.
Well, it's been more than five weeks. Any news? Nope.
"We haven't heard back," says Welch, "but I'm a long way from giving up on it."
Welch gives the Trump administration the benefit of the doubt. "What happened after that is, we went into the whole repeal of health care, so that absorbed Secretary Price's time," the congressman notes.
Perhaps. But it could be hoped that a cabinet-level official would be capable of walking and chewing gum at the same time. Or if not, maybe one of his underlings could tackle the gum-chewing.
In the meantime, Welch continues to buttonhole his Republican colleagues.
"I need Republican support," he says. "And what I've noticed is, there is more openness by more Republican members who've traditionally been opposed to the idea. But the green light from Trump, the things he's said in the press, I'm getting more active engagement from my GOP colleagues."
Could the issue be sidelined by congressional leaders, abetted by Trump's short attention span?
"It certainly could," Welch admits. "And if it were up to Republican leadership in the House, and if it's up to Secretary Price, it's not going to happen."
Neither his office nor Cummings' has had any contact with Trump or Price since that March 8 meeting, but Welch has seen indirect signs that Trump's interest in the issue has not waned.
"I talked to Kevin McCarthy, the House majority leader, who told me that President Trump on his own brings up the question of price negotiation and the high price of drugs," Welch says. "So there appears to be strong interest on the part of the president, and that translates into grudging interest on the part of some of his allies."
Spoken like a man whose optimism has been tempered by experience.