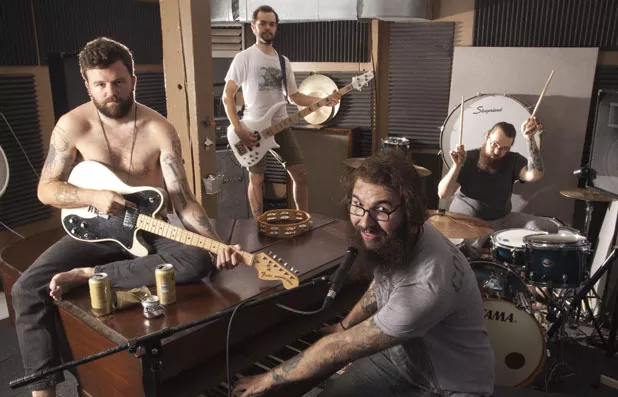 There are two people named Justin Gonyea in the Burlington music scene. Within one of them, the singer/guitarist for Vultures of Cult (the other plays in the local hardcore band Hunger), there are even more Justin Gonyeas. "I have this thing where every six months I completely flip what kind of music I write," he says. "I'm just completely schizophrenic."
Gonyea, 29, and Vultures of Cult — Steve Sharp (guitar), Keenan Bouchard (drums) and Logan Bouchard (bass) — have shape-shifted significantly during their six years together. Their first release, Cold Hum (2010), introduced the band as the Queen City's desert rock enfants terribles. Their latest, Fathoms, reintroduces VOC as a band with tighter-than-the-walls-of-Machu-Picchu writing and execution.
Gonyea and Sharp formed VOC during the degeneration period of Gonyea's previous band, Romans. At the Romans show where the pair first met, Sharp remembers thinking, Holy shit, they're not just, like, good for a local band. They're just a good band. "I didn't know that was a possibility," he says.
The two musicians bonded that evening, and Sharp began playing at Gonyea's now-defunct studio/venue in Colchester, Wasted City. After two Romans members absconded to the hipster heights of Brooklyn following a national tour, Gonyea approached Sharp with a proposition. "Justin was like, 'Do you want to play some desert rock or Isis-y metal or whatever?'" Sharp recalls. He did.
Romans played mostly loud, fast, hard rock. With VOC's Cold Hum, Gonyea changed directions abruptly, cutting back on distorted guitars and minimizing the screaming. The new band also spent part of the three years it took to write and record that debut crafting a Dust Bowl-era narrative, turning Cold Hum into a concept album.
"It's this weird story about this Dust Bowl, Depression-era guy that sells his soul to the devil to help his family get ahead," Gonyea says. "And then it's all the retribution of that and trying to win back his integrity and be a better man … but then he dies."
Both Gonyea and Sharp drew inspiration for the album from Cormac McCarthy novels: All the Pretty Horses and The Road for Gonyea; Blood Meridian for Sharp.
VOC recorded Cold Hum at another now-defunct Gonyea studio, unofficially known as the Long Mustache. When asked about the fate of that massive Flynn Avenue studio, Gonyea and Sharp sigh in unison, though Sharp punctuates his sigh with "bullshit." Long story short: The space, collectively known as Burlington Factory Studios, closed suddenly under mysterious circumstances.
"There was a sign on the door one day that said, 'Be out by the end of the weekend,'" Gonyea recalls.
The band dispersed to bedrooms and basements around Burlington to finish the album. And then the ADAT machine they'd been using to record destroyed their vocal and guitar tracks. Instead of rerecording, Gonyea mastered the final cut off of a cassette tape onto which they'd bounced the mix. Gonyea says he loves and still listens to Cold Hum. Sharp was sick of the songs by the end of recording and says he prefers Fathoms — which only took five months to record.
With moments of vertigo and pits of sludge, Fathoms evolves Cold Hum's desert rock into a unique metal/post-rock hybrid. "On the other record we were just in the mood to write that kind of music, so it was pretty laid-back," explains Gonyea. "Whereas this one's pretty dark, angry, introspective stuff."
There is no middle ground on Fathoms, which opens with a soft, acoustic intro and doesn't stop between any of the nine tracks. Militant chugs, astronomical riffs and Einstein on the Beach-esque arpeggios complement frequent screaming cut with mellower vocals. Gonyea doesn't mind being compared to Alice in Chains.
"I'm always listening to a lot of Alice in Chains," Sharp says. "Dirt. Jar of Flies. Fuckin' self-titled. Theirs is my personal favorite 'Unplugged' performance," he continues. "The first is Eric Clapton … fuck you, Nirvana."
Roughly half of Fathoms is instrumental, but Gonyea says he and Sharp were meticulous with their lyric writing. "Eighty to 90 percent of this record is thematically introspective of specific things going on in our lives," he says. "Or, if it isn't personal, [it's about] contemporary society and whatnot … not to get too uppity."
Gonyea adds that while many of his lyrics deal with personal family issues, "There are a few songs that are just flat-out influenced by metal, just stuff about monsters and shit."
VOC recorded Fathoms one song at a time at KTR Recording on Howard Street, where Gonyea is a recording engineer. Their unlimited — and free — studio access allowed the band to track thoughts as they occurred, an approach that encouraged variety in instrumentation and amplification while nurturing each song to flow naturally into its successor.
During the writing process, Gonyea created a password-protected Tumblr account through which each member could share audio files of ideas — many of which were discarded. "They can't all be winners," Sharp says.
Instead of cramming into a van to tour Fathoms nationally, Gonyea and Sharp prefer to stick close to home. "I love Burlington," Gonyea says. "That's why we've been making music for six years, and we will carry on. We are just content with creating. We lack the ulterior motive of trying to tour, trying to get signed or whatever. I feel like that's a big help to our cause of just trying to make music."
Ever the artistic schizo, Gonyea's recent projects with VOC include the upcoming release of Painted Manes, recorded by original Signal Kitchen mix master Mike Labita. "It's heavy, caustic, but definitively booty shaking at all times," Gonyea says.
VOC is also considering plunging into surf, as well as revisiting the Cold Hum vibe for a potential grindhouse film score. "I guess we're not really concerned with what the next direction's gonna be," Gonyea says. "There just is gonna be a next direction."
Trigger Effect, Without and Vultures of Cult play the Monkey House in Winooski this Sunday, September 2, at 9 p.m. $5. 18+.