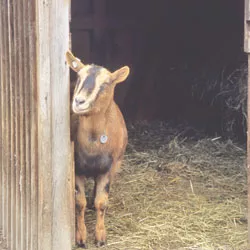 Goats don't like the rain, and they can be stubborn. So when Christine Kaiser claps her hands sharply and tells her herd to "go on," only a few reluctantly move toward the back door of her barn. After a few minutes of her entreaties, many of the animals still linger and look at her quizzically.
Not to worry — within a few minutes, Kaiser assures, they'll all move outside, because they like to stick together. She's learned much about goat temperament during her last four years of milking them, and she's grown so fond of her 135 animals that she's using her Social Security checks to keep the farm afloat.
Despite Kaiser's passion, though, her herd has been for sale since March. "My son wants me to get out of it, but I haven't had any offers yet," says Kaiser, 65, circling the barn to lead her goats down a leafy path to pasture.
Her father's dairy farm once occupied these hilly Stowe fields. Kaiser milked cows for 19 years, until she and her husband divorced and she sold off the herd in 2001. She jumped back into farming in 2007 — with goats — after learning that their milk fetched more than her cows' ever had.
"We made money [with goats] because the price of grain was less, fuel was less, electric was less," explains Kaiser, who has cropped white hair and a solid physique. "I decided to sell milk to Vermont Butter & Cheese." A few other producers warned her off, she recalls, "but I decided to give Vermont Butter & Cheese Creamery the benefit of the doubt."
Websterville-based Vermont Butter & Cheese Creamery (VBCC) is by far the state's largest purchaser of goat's milk, which the company uses for the thousands of pounds of fresh and aged goat cheeses it makes each year. Its prices are consistently at or above the national average. So why have Kaiser and a handful of VBCC's other producers put their herds up for sale, and banded together to negotiate better terms?
VBCC pays about $45 per hundredweight of milk — compared with the national average of $21 for cows' milk — and buys so much that some farmers consider it the only game around. But that hegemony has a downside for some. To work with VBCC, farmers need to accept the company's set price, which is tied to milk's protein content, and not sell to any other cheese makers. They must also keep somatic cell counts — the white blood cells that multiply during an udder infection — to a level 30 percent lower than what the state normally allows.
Despite these rules, Kaiser says her arrangement with the company was initially successful. As her herd grew, "My son said, 'Hey, mom, I think you're making money.'"
Then feed and fuel costs began to skyrocket, and Kaiser and other goat farmers watched their profits dissipate as their production costs spiraled higher. "The amount that VBCC pays for their milk doesn't keep pace with rising costs," explains Kaiser. "For a while, we were making money. Now we're all in the same boat — we're losing money."
One of the farmers who spearheaded a mediation effort with VBCC this spring was Frank Huard of Craftsbury, who purchased a herd in 2007 and began shipping milk to the company in 2008. His experience echoed Kaiser's: He made money the first two years; then, as the farm grew, Huard watched the rising costs of production erase his profits.
While farm losses are due to a variety of factors, Huard was frustrated that VBCC's prices were not covering his price of production — it costs at least 51 cents per pound of milk to farm his goats, he says. He balked at the pricing agreement offered to him last fall, which was contingent on maintaining protein levels. Because those levels in goat's milk can vary seasonally, the price per hundredweight also varies, from around $37 to $49.
"They really want to keep going and hope something will change, and nothing ever seems to change," Huard says of his fellow farmers. He now sells raw goat milk from his farm, and continues to work as a concrete contractor. "Anybody depending on this income is living in poverty."
Every day, trucks unload milk from the goat farmers at VBCC. Inside the creamery, packages of fresh goat cheese roll off conveyor belts to be shipped around the country. In a quieter part of the plant, workers clad in white coats hand-render the company's line of ash-ripened, aged cheeses. The hundreds of milky white cheese discs aging on metal racks in coolers here can fetch up to $32 per pound at market. VBCC cofounder Allison Hooper calls these "the future for our company, in terms of our ability to compete in the marketplace."
Despite its name, VBCC sources 65 percent of its milk from producers in Québec, New York and New Hampshire — a sore point for some of its 17 Vermont producers. "It would be great if we could buy all of our milk in Vermont," says Hooper, but notes that finding the volume of high-quality milk the company needs is a challenge. So is obtaining high-protein milk year round. "Having one price all times of the year is not practical for cheese making," Hooper says, so VBCC encourages farmers to breed out of season. But, she concedes, "It's a hard thing to do. It's more expensive."
After years of weathering the seasonal shortages, the company is planning to establish its own "demonstration" goat farm with stock derived from "very good" genetics. The goal is both to employ Vermonters and to introduce these model goats into the Vermont pool. VBCC most likely will start with 500 goats and build to 700 within the first year or two, using the milk for cheese and selling some animals "to provide good base genetics to herds in Vermont," says Hooper.
Meanwhile, Hooper does commiserate with current producers. "The inputs have skyrocketed," she acknowledges. "The price of fuel and feed are going up dramatically."
VBCC gave its farmers an 8 percent pay rise in May. "We've been able to address the easy stuff," Hooper says. "The hard thing is when people say, 'My cost of production is 60 cents a pound.' We can't possibly pay them that."
Farmers need to milk upward of 150 goats — and probably many more — to be profitable, Hooper says. "Size is a key, as is production per goat and expertise. Milking 40 goats is going to be a struggle."
Norman McAllister of Franklin, who has the largest dairy goat farm in the state, backs that up. He and his wife, Lena, employ two workers to help them milk 400 goats. He also serves as a Republican state legislator.
When McAllister switched from dairy cows to goats six years ago, he did so with both eyes open. "I did the math: Our stop charge [the fee for a milk hauler's stop] is $65, and we pay 50 cents per hundredweight on top of that just to ship our milk. I thought, It's not going to be worth it until we milk 100 or 150."
Asked if goat farming is sustainable, McAllister wavers. "I don't want to be negative, but it's a good sideline income. Unless someone can milk 400 or more, I don't know if they can make a go of it." His wife supplements the family's income by working as a teacher. They also sell vegetables, logs "and a bunch of other things besides," says McAllister.
He's gratified by the recent VBCC price increase, but points out that it's still based on protein, not on total volume. "During the summer, protein drops," McAllister says. "In order to get 100 pounds of protein, you've got to get 300 pounds of milk. It's tough to capture those dollars."
He is sympathetic toward VBCC, however. "They're making a profit, obviously, but they've paid us what the market can bear for them," McAllister says. "It's not their fault that we're not making money. It's easy to blame someone else when you're having a hard time."
Despite the challenges, aspiring goat farmers continue to jump into the fray. Deborah Wease of Glover has built an 82-head herd and expects to be milking by late fall. Her father sold his dairy cows years ago; she decided to get back into farming as a way to be home with her toddler while making a living. "The job market is very slim, and goat milk is in demand," Wease reasons. "I have the farm, and I have the know-how."
As she researched markets for her milk, Wease decided to sell to VBCC despite some of her colleagues' reservations. "We started looking around at private cheese makers, but unfortunately we only found one, and she wants 50 gallons per week," Wease says.
Many goat-milk producers continue to wholesale because commercial cheese making is a big, costly step to take. For those who can make the investment, though, it can open new avenues to profitability.
Hannah Sessions and Greg Burnhardt of Blue Ledge Farm in Salisbury milk 75 goats and make 50,000 pounds of cheese per year. When they first started out, they sold their goat milk to VBCC, but it was part of their long-term business plan, not an end in itself. "That first year, it took the pressure off and allowed our business to grow," Sessions says.
Getting into cheese making requires commitment and planning, she adds. "It's a major sticker shock. Just your pasteurizer is $15,000 to $20,000." Despite Blue Ledge Farm's success, Sessions advises aspiring cheese makers to start small and pay attention to their stock. "Start with a handful of really nice, high-quality goats," she says. "It took us years to weed out the not-superior genetics."
Sessions thinks demand for goat cheese will continue to grow. "If we look to Europe for food trends, then it's only going to get better," she predicts. "There are farms our size [there] that sell all of their cheese within a 50-mile radius."
For his part, Norman McAllister would like to see Vermonters tap markets for goat products such as yogurt and kefir as a way to grow the industry.
Back in Stowe, watching her goats leave the barn, Kaiser seems at an impasse. "The goat people have a passion, or they wouldn't be doing it," she says. "It's a frustrating situation. My dad gave me this place without debt, and I'd like to be able to leave it to my sons the same way."