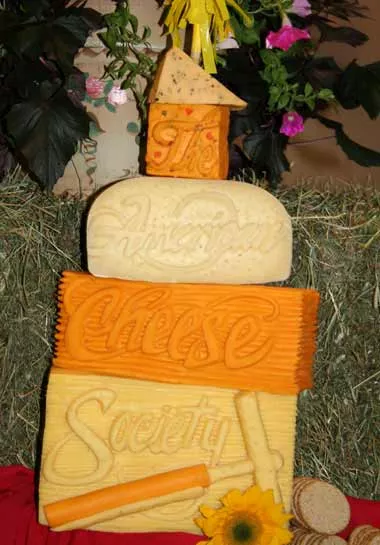 Three days, 1200 cheeses - it sounds like the "challenge" on some newfangled dairy-based reality show. In actuality, it describes the artisan cheese community's equivalent of the Academy Awards. This year the American Cheese Society's annual conference and competition took place right here in Vermont.
How did our little state get to host the largest American cheese contest ever? Perhaps it has something to do with the fact that Vermont has the highest number of artisan cheeses per capita. Or that the organization's current president is Allison Hooper, co-owner of the Vermont Butter & Cheese Company. It doesn't hurt that famous cheese-guide authors Jeff Roberts and Ellen Ecker Ogden live here, too.
The conference took place at the Sheraton Hotel in Burlington. Each day, producers, retailers and cheese enthusiasts attended talks, practica and tastings, during which they learned about the science behind aging cheeses, how to merchandise specialty cheeses and pairing cheese with food and beverages. For those who don't make a living making or selling cheese, it was all about the eatin'. Luckily, there were a bunch of sessions on tasting cheese, with or without other stuff. Here's a digestible sampling.
"Blind Tasting"
Moderator Laura Werlin, author of The All-American Cheese and Wine Book Presenter Scott A. Rankin, PhD, University of Wisconsin, Madison
Remember those people who told you never to play with your food? They're not cut out to be cheese tasters. The process involves sticking your nose as close to the surface of the cheese as possible, then breaking off small pieces and rolling them into balls between your fingers, in part to see how greasy they get. If you're a real pro, you might also want to put a piece of expensive artisanal cheese in your mouth, roll it around on your tongue and spit it out. They call it "expectorating," a less than appetizing term.
Why the nasty-sounding rigmarole? Because to evaluate a cheese, you need to use all of your senses. Does it have the texture of a sponge or a pencil eraser? Can you see holes as big as the Grand Canyon? Does the acidity make your tongue tingle like the current from a nine-volt battery? And, once you've thought about all these things, do you like it?
While blind tasting - trying foods without knowing exactly what they are - is most important to judges at events like this one, the principles behind it are useful to anyone who's had to decide whether the sales-bin Brie is "ripe" or way over the hill. The seminar on blind tasting was intended to "ease the growing syndrome of 'cheese anxiety.'" According to seminar presenter Scott Rankin, the key to picking the right product is to focus on why you're tasting. Are you trying to find a local cheese that will please your Velveeta-loving cousin, or to impress a hot date with the sensitivity of your palate?
Becoming a stellar cheese taster takes time, Rankin cautioned. For starters, he suggested chowing on cheese with more experienced folks. This will help you pick up important "standardized language" to better communicate your thoughts about cheese to others. The experts can also help you connect the flavors in cheese to its "inputs." Does a cheese have meaty, barnyard flavors? The animal was probably pastured. Next time you taste cheese from a grass-fed animal, you'll be more likely to recognize it. Is it golden brown? The milk could have been cooked, which brings out caramel color, and sometimes sweeter flavor.
What's verboten? Assuming that just because a cheese is smelly, it's good. Rankin has seen people at snobby tasting events applaud a smooshy mass that would be "ready to get up and run out the door if it wasn't stuck to a cracker," he jested. There is such a thing as cheese that's too old. Phew.
Another attitude to avoid: the "I don't know what's good, but I know what I like" approach. Showing a slide of the famous painting of card-playing dogs, Rankin opined that there's nothing wrong with hanging the painting in your living room, but "you gotta know who Monet was or that Picasso existed. Recognize that there are other dimensions to the story."
"Of Grass and Fermentation: The Marriage of Cheese and Beer"
Moderator Dennis D'Amico, Vermont Institute for Artisan Cheese, UVM
Presenters Matt Jennings, Chef-Owner of Farmstead and La Laiterie, Providence; Garrett Oliver, Brewmaster at The Brooklyn Brewery
Think the fruit of the vine is the perfect match for your favorite Brie or blue? Think again, according to brewer and beer pairing wizard Garrett Oliver, of New York's Brooklyn Brewery. "I'm afraid it doesn't quite work," he explained. "Beer has certain affinities with cheese that wine doesn't have." Case in point: Every time Oliver has gone up against a sommelier in "Iron Chef"-style matches, his beer has won. Every single time.
Why? For one thing, both beer and cheese are made from grasses that are processed and fermented. "Granted," Oliver admitted, "with cheese, there's a cow or sheep in between." Jokes aside, the caramelized, malty or bitter flavors that are frequently present in beer also show up in many cheeses - but not in wine. Hence the complex interplay of beer and cheese can be transporting. D'Amico called the duo "a perfect couple that's been together since the dawn of time."
Another reason to pair cheese with beer: the "scrubbing bubbles," said Oliver. Since cheese coats your mouth when you eat it, drinking an effervescent beverage, such as beer, helps keep the palate clear and more sensitive to other flavors.
Wanna learn more? Pick up Oliver's book, called The Brewmaster's Table: Discovering the Real Pleasures of Real Beer with Real Food. D'Amico called it "the bible of pairing beer with food."
"Pairing Beyond Beverages"
Moderator Sara Vivenzio, Founder of The Cheese School of San Francisco
Presenters Max McCalman, Master Fromager at Artisanal, New York; Louis Risoli, Maitre d' and fromager at Zingerman's, Ann Arbor, Michigan
In-the-know eaters don't have to restrict their cheese pairings to booze. In "Pairing Beyond Beverages," the panel gave suggestions for matching cheeses with other foods.
Wonder Bread and a can of Campbell's tomato soup didn't make the cut. What did? Artisan breads, flavored nuts, meats, honey and fruit. Audience members got to try four cheeses with a slew of different accompaniments to figure out for themselves what types of pairings work. A few standouts: buckwheat honey with blue cheese, salami with raw sheep's milk cheese and grapes with a young goat cheese.
One of the panelists confessed that, as a purist, he didn't usually try cheeses with food. A few audience members agreed, but most folks in the room were enthusiastic about the idea. Weinzweig, one of the founders of Zingerman's, gave a few compelling reasons for pairings: 1) To create a whole new eating experience; 2) To enable restaurants to differentiate themselves in the industry with signature pairings; 3) To help retail operations sell more stuff. "I don't have an MBA," he deadpanned, "but generally, if you sell two things instead of one, sales go up."
One thing everybody agreed on: You've just gotta try stuff to see how it works. According to McCalman, you're looking for "that special moment, an explosion. The chemical reaction that makes a new, wonderful taste." When pairing, added Risoli, "There's no right answer and no wrong answer." He quickly qualified, "Well, that's not really true." But he did offer that quince paste tastes good with almost anything. A second tenet: The cheese should come first. Select excellent cheeses, then look for tasty tidbits to match.
Once the tasting was over, folks all over the room popped up to recommend their favorite flavor combos. One touted such exotica as mushroom paste, cultured Moroccan olives and garam masala, an Indian spice blend. Others recommended wine jelly, olives, dates, grilled fruits or smoked fish. Rest assured there are thousands more combos out there waiting to be discovered.