Your devoted Seven Days food writers can barely leave the house without being asked variations on these questions: "What's new and good?" "What's your favorite restaurant?" and "Where should I be eating?"
These are the queries of amateurs. Those of us who eat for a living are forced to ask the questioner to be more specific. In Vermont, we have the happy problem of too many delights to choose from.
But as a New Year's gift to you, curious readers, we'll get more specific about our own choices with a list of superlatives from 2013. Sure, plenty of favorites from years past are still in heavy rotation, but this list is devoted to the new ones that have earned our love. Don't sing "Auld Lang Syne" without having tried a handful — or a mouthful.
Best New Chef
AL: The smoked-pork sandwich from the Southern Smoke food truck was love at first bite. The smoked-lamb-and-quinoa burrito and ever-changing fish tacos cemented my esteem for chef Brian Stefan's creativity. But it wasn't until he started popping up at ArtsRiot Kitchen Collective that the Sean Brock protégé began showing his real chops. Stefan's weekly barbecue nights are street food prepared with a fine-dining chef's skill. I can't wait to see what he creates next.
CH: If I'd known I was going to find some of the most memorable fare of the year inside a brewery tasting room, I would have allowed more time to gorge. I first tasted chef Erik Larson's food after reporting a story on Morrisville's Lost Nation Brewing. That menu included snail- and chorizo-spiked gnocchi so tender they melted on my tongue; a sculpturally gorgeous sandwich of smoked tofu with arugula on Elmore Mountain Bread; and a charcuterie board that evoked a still life from the Dutch golden age, with buttered bread squares, pickled cauliflower, peppers and pickled eggs. Larson's housemade pork rillette was so luscious, it tasted as if it were laced with foie gras (it wasn't). 2013 was not a year for new chefs splashing onto the scene — it was more about quiet, unexpected experiences like this one. Woe is me that I don't get up to Morrisville as often as I would like.
Best Menu Reinvention
AL: Before this year, the fusty après-ski bar Hyde Away Inn & Restaurant was barely on my radar. But general manager Bruce Hyde Jr. and chef Ryan Mayo have remade the inn's eatery into a locavore destination. When I visited in September, I flipped for the Parmesan-flavored risotto cakes in smoked-tomato sauce and the buttery duck Reuben. Looking at the latest menu, I know I'll have to return for the braised-oxtail grilled cheese with marrow butter, pork-fat wings and pho.
Best New Cuisine
AL: Given Burlington's growing African population, it was only a matter of time before the city got a Somali restaurant. I'm just glad it's as good as African Safari Store & Deli. For former big-city denizens who miss injera, there are not one but two varieties of the soft flatbread. Proteins change every day, but whether it's goat stew or jerk chicken, you're guaranteed big, beautiful flavors.
Best Mobile or Pop-Up Eatery
AL: The Hindquarter's red truck stopped all over Burlington this year, finally taking a regular space at the University of Vermont. I announced on my Alice Eats Facebook page that the Vermont food truck had come of age in July after I tried its "side dish" of toothsome, Indian-spiced monkfish with pickled cauliflower and mushrooms, beluga lentils and cucumber raita. Now, with a Friday pop-up indoors at ArtsRiot Kitchen Collective in Burlington, Hindquarter chef Luke Stone serves up some of the state's most creative, sophisticated fare.
Biggest Trend
AL: No question, this was the Year of the Bagel. It started with the opening of the stylish Bagel Place in South Burlington, with its perfectly formed sandwiches. Myer's Bagel Bakery in Burlington expanded its offerings with eastern-European/Jewish-inflected dishes such as smoked-brisket sandwiches, not to mention a veritable venture center of other foods prepared on-site, including cakes, doughnuts and hummus. Finally, the New York-style bagel came to Burlington with the opening of Feldman's Bagels, which satisfies even the fussiest alte kakers with its bagels and matzo ball soup.
CH: Wine bars have been old hat in other parts of the country for a while, but Burlington really caught the wave this year. It began when L'Amante's Kevin and Kathi Cleary opened their spacious, elegant Vin (originally called Uva) last spring beside their College Street digs. Then, in the fall, came a duo of new wine hangouts: the cozy, subterranean Sotto Enoteca — an anteroom for Burlington's Trattoria Delia but a wonderful bar in its own right — and the airy, modern oak45 in Winooski.
Best Trend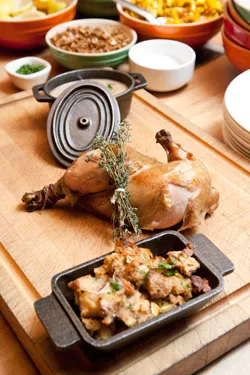 AL: The meat-and-three concept first reared its delicious head late last year when Misery Loves Co. in Winooski debuted meals such as fried chicken or steak with a choice of sides. South Burlington's Guild & Company won me over with a Thanksgiving-like Sunday dinner option of local chicken with all the fixings. Nika has an amazing deal with three courses of delicious Mediterranean specialties for $20 on Sunday night. And the confited-and-fried pork shank at the Hindquarter's Friday night pop-up in Burlington? It's served a different way nearly every week, and I want them all. Tacos, bo ssäm — whatever chef Luke Stone throws at me, I'll collect like edible baseball cards.
CH: It seemed like octopus was suddenly everywhere this year: grilled with garlic-flecked yogurt at Pistou in Burlington; smoky, tender, wood-fired tentacles at Hen of the Wood in Burlington, curled atop a sunchoke purée; grilled with chorizo and charred lemon at Bluebird Tavern; braised and crisped atop cumin-scented yogurt at SoLo Farm & Table in South Londonderry. There were even curls of octopus for sale at fish counters. Vermont had a cephalopod epidemic this year, and it was blissfully infectious.
Best Takeout
AL: Sure, you can eat from your lunchbox at one of the window counters at Bento, but it's even more fun to take it back to the office and make your colleagues drool. I haven't met a single dish I haven't loved at the latest link in the San Sai Japanese Restaurant chain.
And I can afford to feed my dependence. Exceptionally flavorful miso soup is $1, while ultra-fresh, made-to-order sushi tops out at $6. I haven't eaten my way through all the bento boxes just yet, but whether I'm ordering tsukune, gyoza or a hamachi collar, I know the myriad sides will be different from those of the day before and just as delicious.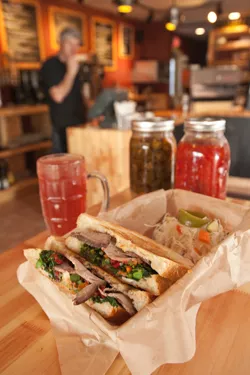 CH: The staff of Burlington's Lucky Next Door start spinning their magic at breakfast with cast-iron skillets bubbling over with baked eggs. Those can't be taken out, of course, but most every scrumptious lunch item can be. Those include a hulking sautéed-broccoli-rabe-and-shaved-beef sandwich stuffed with pillowy meat, wilted bitter greens, spicy cherry-pepper relish and melted grana; a sardine plate tossed with capers and slivers of red onion in an earthy mustard sauce; a cucumber salad showered with crumbled peanuts; a gooey, caramelized mac and cheese … um, now I'm hungry.
Best New Food/Ag Book
CH: Butterworks Farm's Jack Lazor is known and beloved far beyond the tight-knit world of Vermont agriculture, and not just for his luscious organic yogurts and kefir. He's also an innovator who has spent 35 years honing the art of growing grains in rocky northern Vermont. Recently, Lazor spent months distilling that knowledge into the 448-page The Organic Grain Grower: Small-Scale, Holistic Grain Production for the Home and Market Producer, released by Chelsea Green Publishing last summer. It covers everything from judging soil fertility and flaking oats to granary design and the merits of various flour mills. Most of the guidelines are drawn from Lazor's direct experience. He quips that growing grain in Vermont is "a great way to lose money," but his book is likely to be a touchstone for generations of farmers to come.
Most Addictive Sweet
AL: The crunch of the flaky exterior, the ooze of the Michel Cluizel chocolate, the buttery inner reaches. There isn't a single region of the anatomy of the Little Sweets pain au chocolat whose description doesn't sound almost pornographic. Just a chocolate croissant? Perish the thought. Just like Andrew LeStourgeon's canelés, raisin-filled cinnamon buns and pitch-perfect ice creams, this decadent sweet from the Hen of the Wood pastry chef is several cuts above.
CH: Though it's not new this year, Quechee's Trap Door Bakehouse & Café is the best bakery that most northern Vermonters have never heard of. Owner Theodora Damaskos and her staff fatten the Upper Valley populace with perfect, flaky croissants; crumble-topped blueberry muffins; and glazed koulourakia, a subtly sweet Greek pastry. I have a serious crush on Betwixt, the Bakehouse's twist on Twix bars: buttery sugar cookies topped with caramel, a drizzle of melted chocolate and crumbled pecans. Even gluten-free eaters are not safe from their seductions: Carrot-cake petits fours, topped with blossoms of gingery buttercream and showered with grated coconut, lack gluten but are laced with goodness.
Best Guilty Pleasure
AL: There are two kinds of guilty pleasures: food you're embarrassed to eat because of its lowbrow cultural associations, and morsels that you know won't do your body any good. Though it mostly deals in healthy noodle dishes, Dharshan Namaste Asian Deli in Winooski ticks off both boxes with its occasional special, the sausage banh mi.
Imagine an anise-heavy, greasy Italian sausage on a baguette that's also stuffed with cilantro and sriracha mayo. I guarantee you'll enjoy the delicious shame of the Frankenstein fusion.
CH: There are many things to love about the menu at Burlington's Hen of the Wood, the new temple to nose-to-tail cuisine that's part of Hotel Vermont. Chief among those assets is tonno di maiale, a deceptive dish of ham that's been braised in wine until it resembles the fish of its name. The shredded ham, submerged in nutty olive oil, is tender and velvety, its glistening surface crowned with a bay leaf, and it's tinged with garrigue flavors from chopped green olives and herbs. Piled on garlicky triangles of toast and daubed with grain mustard, it's sublime.
Coolest Thing to Happen to a Small Town
CH: Woodstock is dense with tourists and locals during the day but can feel deserted after the sun goes down. So Worthy Kitchen is a blessing in this sleepy burg: a spacious, buzzing, industrial-chic hangout with very non-Woodstockian counter service, incredible beer and a menu of what might be called Vermont soul food. Buttermilk-fried chicken thighs are coated in a ridiculously crispy batter landscape of peaks and valleys. Shoestring-thin truffle fries, dusted with salt and parsley, arrive greasy from their cooking in beef tallow but still crisp and utterly addictive. A hunk of moist, flaky roasted cod with spicy remoulade is served on a bed of salty kale chips. Crunch, crunch, crunch. And, though the Lard Donuts sound like they might block an artery, each cinnamon-showered pastry is like a little puff of heaven.
Photos by Matthew Thorsen
The original print version of this article was headlined "Supper Superlatives"