File: Luke Awtry
Peg Tassey and Miriam Bernardo
Every year, Seven Days reviews approximately 100 records from local bands and artists. They reflect the vast diversity of sounds and styles found in the Green Mountains. From folk to punk to utterly unclassifiable records, the collective 2019 output of Vermont's music community was truly a marvel.
Whittling down the horde to a concise best-of list is no easy task — but it must be done. Here is an eclectic group of recordings that stood out from the pack. I hope you enjoy them as much as I have.
12. Strangled Darlings, American Pageant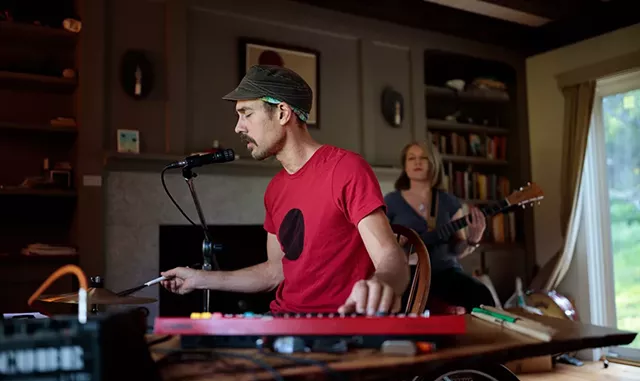 File: Ben Deflorio
Strangled Darlings
(Self-released, CD, digital)
Formerly of Portland, Ore., married couple Jess Anderly and George Veech spent three years living in an RV, traveling around the United States and playing music wherever they went. The result of their trek is American Pageant, a collection of folk-leaning indie-pop tunes that channel the people, places and experiences of their time wandering the land. Cutting commentary and daring arrangements make this album a thought-provoking listen.
Choice cut: "Modern Man"
11. Matthew Mercury, Matthew Mercury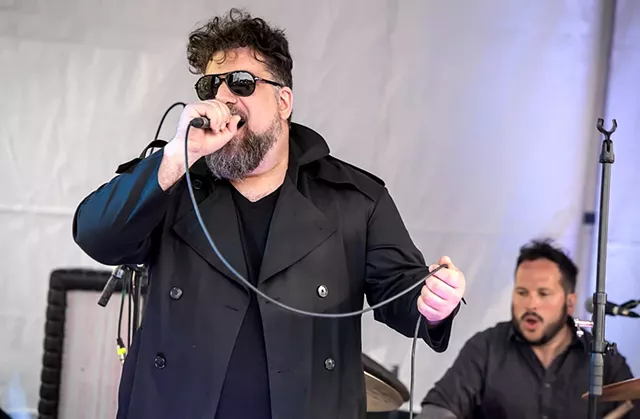 File: Luke Awtry Photography
Ezra Oklan of Matthew Mercury
(Self-released, LP, CD, digital)
Though he's been a professional musician nearly all of his adult life, drummer Ezra Oklan had never stepped to the mic as a front person until he burst out of the gate with his new persona, Matthew Mercury. The self-titled album of steely urban rock makes the listener wonder why Oklan held back for all these years.
Choice cut: "Burn Right Down"
10. Ben Patton and Michelle Sudarsono, Our Follies
(Self-released, CD, digital)
A total throwback to jazz standards and classic musical theater, Ben Patton and Michelle Sudarsono's Our Follies is a dazzling assemblage of swingin' tunes. Somehow both sincere and a bit tongue-in-cheek, the vibrant tunes sound like lost numbers from shows such as Frank Loesser's Guys and Dolls or George and Ira Gershwin's Girl Crazy.
Choice cut: "Abra Cadabra Presto"
9. About Time, I Don't Think I Belong Here
(Self-released, CD, digital)
Hinesburg-based ensemble About Time turned out a surprisingly fresh take on classic vocal jazz and pop-funk fusion on their five-years-in-the-making debut, I Don't Think I Belong Here. Singer Lauren Kelley's breezy vocals guide the listener through groovy arrangements banged out by a full band of top-notch players.
Choice cut: "Capstone Thought"
8. Thea Wren, In Between
(Self-released, LP, CD, digital)
Singer-songwriter Cynthia Braren let her alter ego out of the box on her debut record, In Between. As Thea Wren, she moves away from the jazz standards with which she's made a name for herself locally. Instead, she charges headfirst into a soul-inflected pop space brought to life by some of the creative minds behind Matthew Mercury.
Choice cut: "Anyway"
7. Ernest, I'm Gonna Do It (Anyway)
(Self-released, digital)
In a post-Madaila world, the erstwhile psych-pop band's front person and primary songwriter Mark Daly strikes out on his own on a massive double album called I'm Gonna Do It (Anyway). Under the moniker Ernest, he presents a record that's one half sugared-up electro-pop and one half contemplative folk-rock.
Choice cut: "Carousel"
6. Greaseface, You Fucked Up My Car
(Self-released, digital)
On their debut, Burlington punks Greaseface remind audiences that not only do they put on a hell of a show, they're also talented songwriters. You Fucked Up My Car oozes with insouciant charm, its songs cautionary tales from the bowels of youth culture. Hard-edged and unflinchingly brash, it simply rocks.
Choice cut: "Car"
5. JUPTR, Echo
(Self-released, digital)
Members of smalltalker, Caroline Rose, and defunct outfits Madaila and Smooth Antics join forces for one of the glossiest, sexiest records of the year. Led by incomparable front person Steph Wilson, neo-soul outfit JUPTR dropped their long-awaited debut EP, Echo. Dripping with panache, its seven tracks are a cosmic journey inward.
Choice cut: "Filthy"
4. Roost, Self-titled
(Self-released, CD, cassette, digital)
Delivering one of the fiercest debuts of the year, Burlington post-punks Roost blew a hole in space-time with their six-track EP Self-titled. Imposing synth bass and commanding beats envelop brooding front person Zach Schuster's thoroughly charming yet puzzling lyrics. Dark and devilish, the record is wicked fun.
Choice cut: "Lazy Tongue"
3. 99 Neighbors, Television
(Self-released, digital)
Released during the first week of 2019, hip-hop outfit 99 Neighbors' full-length debut, Television, was met with universal acclaim — locally and beyond. In just two and a half years, the Burlington upstarts have coalesced into an unstoppable unit, landing a distribution deal with Warner Music and working the major festival circuit. The album overflows with swag, memorable hooks and flashy production.
Choice cut: "Work"
2. Princess Nostalgia, Thank Heavens 4 Opposable Thumbs
(Self-released, digital)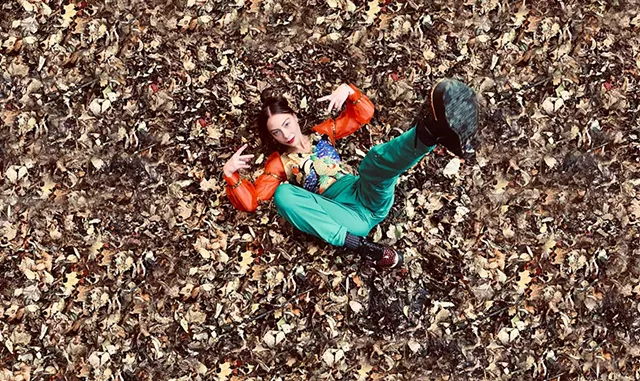 Courtesy Of Princess Nostalgia
Princess Nostalgia
Princess Nostalgia went from performing mostly at open mics and poetry events to opening 2019's Grand Point North music festival, all in the span of roughly two years. Her debut album, Thank Heavens 4 Opposable Thumbs, is a grand showcase of her many talents. From her ever-strengthening production skills to her compassionate, hopeful outlook, Princess Nostalgia is a new member of Burlington's musical royalty.
Choice cut: "The Talking Drug"
1. Miriam Bernardo, Songs From the Well
(Flower Fields, CD, LP, digital)
Miriam Bernardo's Songs From the Well exemplifies the connectivity of Vermont's music community — particularly the scene in central Vermont. First-time producer Peg Tassey enlisted a group of talented songwriters to write for or gift a song to vocalist Miriam Bernardo, a hardworking artist who had never put out a solo record. Touching on folk-rock, modern pop and psychedelia, the sweeping collection of songs, brought to life by a massive group of Vermont's finest players, is a gorgeous, poetic masterpiece.
Choice cut: "Angle of the Sun"