Courtesy Of Dana Tarr
Yes Darling
Seven Days reviewed well over 100 local records in 2018. At the risk of sounding insincere, I must say that choosing the best of those was seriously difficult this year. Was there something in the air, water or local produce that caused so many creators to birth such incredible works these past 12 months? Perhaps. Or maybe Vermont is just inexplicably blessed with scads of excellent songwriters, musicians, engineers and producers. That's probably it.
Whatever the case, here are the year's best local recordings, according to this critic. You'll also find favorites from regular contributors to the 7D music pages. We hope you've enjoyed them as much as we have.
12. The Smittens, City Rock Dove
(Fika Recordings, vinyl, digital)
Indie-pop sweethearts the Smittens are proof that your band can still make excellent music even if life gets in the way. The Burlington- and New York City-based quintet may not be super active these days, but its creative juices are flowing at peak levels. For example, the song "Three States" is an unprecedented duet between transgender singer-songwriter Dana Kaplan's pre- and post-hormone therapy voices. And that's just the opening track.
Choice cut: "Cats for Cats"
11. Dwight & Nicole, Electric Lights
(self-released, vinyl, CD, digital)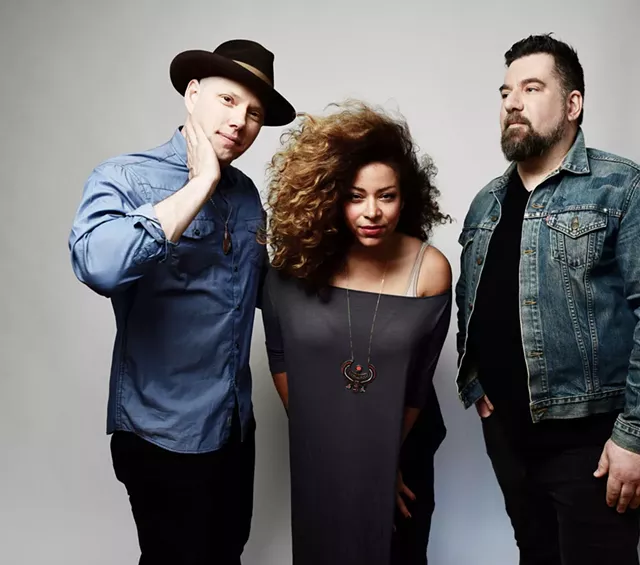 Courtesy Photo
Dwight & Nicole
Blues aficionados Dwight & Nicole delivered a radiant batch of material on Electric Lights. Glossy studio production sheen smooths out some — but not all — of the band's gritty inclinations. Calling on glam rock, gospel and just a pinch of modern pop, the EP suggests a new era for the formerly Boston-based pair.
Choice cut: "Electric Lights"
10. Ver Sacrum, Stirrings Still
(self-released, cassette, digital)
One of the most perplexing and stirring (pun intended) albums of 2018 is Ver Sacrum's Stirrings Still. I previously described furniture artisan Matthew Hastings' atmospheric masterpiece as sounding like "a transmission from the end of the world." His moody, avant-garde folk tunes are nestled within foreboding, disorienting soundscapes.
Choice cut: "Stirrings Still"
9. smalltalker, Talk Small
(self-released, digital)
Talk Small, by soulful jazz-pop ensemble smalltalker, closes the loop on the stylistic inclinations hinted at on the band's 2017 debut EP Walk Tall — think of the EPs as sides A and B of an LP. The new effort folds in more nods to jazz than its counterpart — unconventional time signatures and polyrhythmic interplay are prominent. Yet at its core, the new EP centers on blissful, inviting pop tunes.
Choice cut: "Wildcard"
8. Sam., Collision
(self-released, digital)
On her 2018 album so sad so sexy, Swedish pop artist Lykke Li includes a song called "sex money feelings die." Essentially, that's what 99 Neighbors rapper/singer Sam.'s record Collision is all about. He and his crew of instrumentalists and producers deftly and accurately portray the messy intersection of ambition, depression, lust and the endless search for contentment in an oversaturated world.
Choice cut: "Don't Call Me"
7. Miku Daza, It's a Fairy Tale
(self-released, digital)
Courtesy Of Arielle Thomas
Miku Daza
Brimming with theatricality, poetic imagery and visceral emotions, Miku Daza's It's a Fairy Tale is the essence of sensational. By drawing parallels between romance and body horror, the carnival-punk outfit highlights the pain — both corporeal and conceptual — of falling in love. Though you technically can't see it when listening to the EP, front person Miku has a truly electric stage presence that audibly comes through in her operatic vocals.
Choice cut: "Panic"
6. J Bengoy, Dogwood Winter
(self-released, digital)
Life in your twenties is traditionally a chaotic time full of mistakes, ennui and deep-seated passion. No one currently over the age of 30 has any idea what it's like to hover around quarter-life at this exact moment in history, when everything is figuratively — and, in certain regions, literally — on fire. Despite the dire state of the world, J Bengoy serve up an even-keeled batch of endearing indie-rock tunes focused on heartache and personal growth.
Choice cut: "Armchair"
5. Clever Girls, Luck
(self-released, vinyl, CD, cassette, digital)
Hot off their impressive 2017 Loose Tooth EP, Clever Girls pushed themselves even further on their first full-length, Luck. Leaning into shoegaze territory with subtle hints of garage and golden oldies, Clever Girls create a sound that evokes traces of Mazzy Star and Jenny Lewis' work with the Watson Twins. Front person Diane Jean's vocals teeter between triumphant and timid, finding a relatable and comforting space in between.
Choice cut: "Dumb Smile"
4. Adam Wolf, Songs I/II
(self-released, digital)
Doom-country singer-songwriter Adam Wolf's debut EP, Songs I/II, is a claustrophobic, anxiety-riddled quagmire of existential dread. The artist's gloomy, grunge-tastic take on alt-country is fresh and utterly devastating. Every chord struck and note plucked stings like a memory you wish you could forget.
Choice cut: "Rooted"
3. Paper Castles, Acceptionalism
(self-released, vinyl, digital)
Paper Castles' first album in five years was well worth the wait. Themes of awkwardness, coming of age and love pains go hand in hand with the band's nostalgic slacker-rock aesthetics. Singer-songwriter and bandleader Paddy Reagan's conversational singing style beautifully lends itself to the album's confessional nature.
Choice cut: "The Inbetweens"
2. Yes Darling, Yes Darling
(self-released, CD, digital)
As Yes Darling, recent BTV transplants Hayley Jane and Ryan Montbleau team up to create something completely different from their own ongoing personal projects, Hayley Jane and the Primates and the Ryan Montbleau Band. The eclectic, almost vaudevillian collection of romance-centric songs shows off not only the pair's indelible musical chops, but also their charming personalities and theatrical showmanship.
Choice cut: "Calabasas"
1. The Mountain Carol, Starkiller and the Banshees
(self-released, CD, digital)
Plattsburgh, N.Y.'s the Mountain Carol create some of the most compelling pop music in the area. Steeped in fantastical imagery and psychedelic undertones, the progressive trio's majestic, arena-sized anthems transmute '80s new-wave sensibilities. Starkiller and the Banshees is a de facto rock opera brimming with stylish guitar work and glittery synths.
Choice cut: "The Party's Over"
More Local Picks
Chris Farnsworth, contributor
The Essex Green, Hardly Electronic

Bison, Drive Fast, Love Hard

Rob Voland, Quality Loneliness

Xenia Dunford, Flesh and Bone (& Everything Within) Side A

Dan Zura, Leo's Lament

The Mountain Carol, Starkiller and the Banshees

The Dead Shakers, All Circles Vanish
Justin Boland, contributor
Es-K, Trust the Process

Jarv, Jarvage Vol. 2

Alabaster Samovars, Alabaster Samovars

Dokowala, Cold Waves

Hanknative, Problem Child

Minds Eye Tribe, Illiterature

Raw Deff, Uninvited Guest
Kristen Ravin, contributor and calendar writer
Will Stamp, That Old Familiar Heartbreak

nothing,nowhere., ruiner

Hanknative, Problem Child

Julia Caesar, Heavy Flow

Sam., Collision

Doom Service, The Uncanny Doom Service

The High Breaks, Stay Loose and Hang Tight With... the High Breaks
Dan Bolles, assistant arts editor
Paper Castles, Acceptionalism

Julia Caesar, Heavy Flow

J Bengoy, Dogwood Winter

The Tsunamibots vs Brand New Luddites, Man vs Machine

The Rear Defrosters, Gentleman Farmer

Rough Francis, MSP3: Counter Attack

Phantom Suns, Caldera