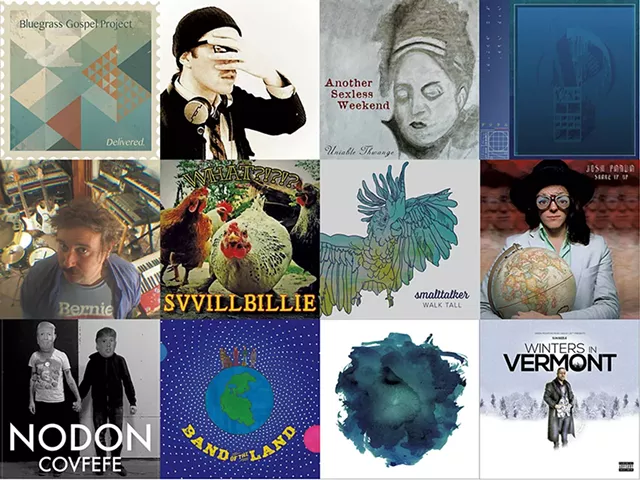 Welcome to Part 2 of our 2017 local albums recap. For those of you who read last week's installment, feel free to skip the next paragraph, because it's mostly exposition.
As you may have noticed — or not, depending on how deeply you've fallen into summer debauchery — we've officially crossed over into the second half of 2017. Since every music blog and pop-culture website is cranking out a "Best of 2017 ... So Far" list, we thought we'd jump on the bandwagon as well. Last week, I recapped the most outstanding records Seven Days reviewed from January through March. This week, I'm looking back at April through June.
Last week's summation began with a nod to a few acts that disbanded in 2017. So begins Part 2. Bluegrass Gospel Project announced their demise just before releasing Delivered., an album of live recordings from a selection of shows spanning the last few years. To speak my truth, I find that live albums can be a bit tricky. They often don't land the way that a studio album does, and they rarely capture the true magic of live performance. But this record is the exception. Close your eyes and listen to BGP's flawless, a cappella rendition of the classic hymn "Precious Memories," and you'll feel like they're in the room with you.
Jack-of-all-trades Alexis, who grew up performing with Vermont's Bread and Puppet Theater, delivered a monstrous collection of eclectic pop on Full Throttle. He deftly jackknifes from genre to genre, cobbling together an explosive combination of rock, hip-hop, industrial, electro-pop, dub and folk. Fun fact: He produced the majority of the record on his iPhone and recorded all the vocals using only his in-line headset microphone.
A newcomer to Burlington's music scene is the hilariously named Another Sexless Weekend. Their debut album, Uniable Thwange, is encrusted with late-'60s rock, folk and punk influences — though I wouldn't say it's a nostalgia project. It's as if the band's young members, Julian Foster and Andrew Poitras, filter throwback sounds through a dreamy — or drunken — lens. Every note, lick and lyric is just a wee bit catawampus.
Ebn Ezra, stage name of composer Ethan Wells, creates an enchanting, ethereal wonderland on his first foray into pop, Pax Romana. Through entirely electronic instrumentation, he synthesizes a fantastical world of new-age serenity. His musings on peace and love glow with iridescence on choice cuts such as "The Boy Who Loves You" and "Across the Green Steppe."
Let it be known that 2017 was the year that Joey Pizza Slice, fka Son of Salami and Nosebleed Island, decided to drop the pseudonyms and release music under his real name, Joey Agresta. His new album, Let's Not Talk About Music, is a lo-fi expedition into whispery fuzz-pop and murmured, introspective musings.
Psychobilly rascals Swillbillie dropped their debut record, What?!?!?. They throw down a beer-soaked whirlwind of thrashing cymbals, stinging guitars and slack-jawed southern whimsy. And their stage names — Whiskey Dick, Shanthrax and J. Dubya — are just delightful. If you're so inclined, chug a brewski or two while rocking out to the devilish "County of Sin."
Smalltalker are one of the most buzzed-about local acts of 2017. The sunshine-soul collective will appear at this year's Grand Point North festival, as well as the Otis Mountain Get Down, and is the subject of an upcoming installment of Burlington's newest online music publication and production company, Noise Ordinance. The band's debut EP, Walk Tall, is ridiculously smooth and polished for a first effort. The opening track, "Looking," overflows with bright, intoxicating horn and vocal arrangements — some of the best I've heard this year.
After a five-year hiatus, Josh Panda triumphantly returned with his most stellar album to date, Shake It Up. And he recalibrated his sound, replacing bluegrass and various forms of Americana with soulful rock and southern-gospel influences. The majestic "We've Come Too Far" is one of my favorite songs of the year — local or otherwise.
Protest-punk rockers NODON, aka Tristan Baribeau and Seth Gundersen (both of Villanelles), dropped one of the most acidic and timely records of the year: Covfefe EP. Just weeks after President Donald Trump's infamous "covfefe" tweet, the boys unveiled their second incendiary attack on their least favorite person in the world. It's even more ferocious and corrosive than their debut, President Fuckboi EP. Rock on, dudes.
Band of the Land dropped their self-titled debut EP in fall of 2016, but we just reviewed it a few weeks ago. So it goes sometimes. Vermont's natural beauty is sewn into their rural and ruddy folk on songs such as "Little Words," which includes the sounds of chattering birds and rushing water. The group also makes a subtle dalliance into reggae, which I'd normally regard as a misstep. (I'm a purist about rude-boy jams.) But they do so with tact and elegance and successfully blend it into their otherwise standard Americana orthodoxy.
And finally, just as I did last week, I'd like to mention a few albums that we did not formally review.
Wren Kitz's Dancing on Soda Lake is unlike anything you'll hear this year. Kitz uses the phrase "textural song music" to describe the album's largely amorphous, vaguely folk-sounding compositions. Replete with field recordings, magnetic tape manipulation and an unearthly blend of stringed instruments, it's a transcendental fantasia that inspires meditative self-reflection.
Finally, rapper S.I.N.siZZle's Winters in Vermont is a straight-up masterpiece. Trap beats, rock riffs and synth arpeggios come together with grace and panache as S.I.N. and a slew of guest MCs and vocalists impart an invigorating, uplifting batch of bangers.
That's it for now. I'm in awe of the boundless creativity of prolific local music makers and am looking forward to another six months of inspiring, diverse recordings. Bring it on, Vermont.
Listening In
If I were a superhero, my superpower would be the ability to get songs stuck in other people's heads. Here are five songs that have been stuck in my head this week. May they also get stuck in yours. Follow sevendaysvt on Spotify for weekly playlists with tunes by artists featured in the music section.
John Legend, "Save Room"
Animal Feelings, "Chemical Love"
Baio, "PHILOSOPHY!"
Klyne, "Your Touch"
Marina and the Diamonds, "I Am Not a Robot"