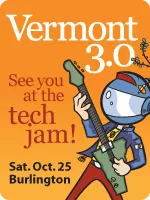 Fellow students — if finding your dream job after college is important, clear your Saturday schedule! The Vermont 3.0 Career Jam will be at Champlain College on the 25th to dispel the rumor that there are no jobs in Vermont.
No, you won't find any covered bridge engineers or sugarers here. Fortunately, from real-life CSI's, to video game designers, to professional facebookers, to robot makers and tons more — there are some extremely cool jobs at the Career Jam. Some of the most dynamic jobs and most innovative professionals, not just in Vermont, but nationally, will be participating in panel discussions throughout the day.
So, who are the players, you may be asking? Take a look:
Definitely check out Steve Benen at 10 a.m. Benen is a blogger and contributor to The Washington Monthly. His background includes publishing The Carpetbagger Report, and writing for the Huffington Post, and The Guardian. He has also appeared on NPR's "Talk of the Nation," MSNBC's "Rachel Maddow Show," Air America Radio's "Sam Seder Show," and XM Radio's "POTUS '08." If you're interested about making a career as a blogger, or even a journalist, this is your guy! This is not just some college blogger working for a local paper, this guy is big! A must-see!
But if blogging and political reporting doesn't cream your coffee at that hour, listen to Nate Herzog, Director of Information Services at JDK Design. Before JDK he worked for MIT in the support division of the IS/IT Department where he was a support specialist, system administrator, and technical writer. This bears mention--his college degree was in English literature… and then he worked in technology at MIT. There is absolutely no way this guy will be a bore with a skill set like that.