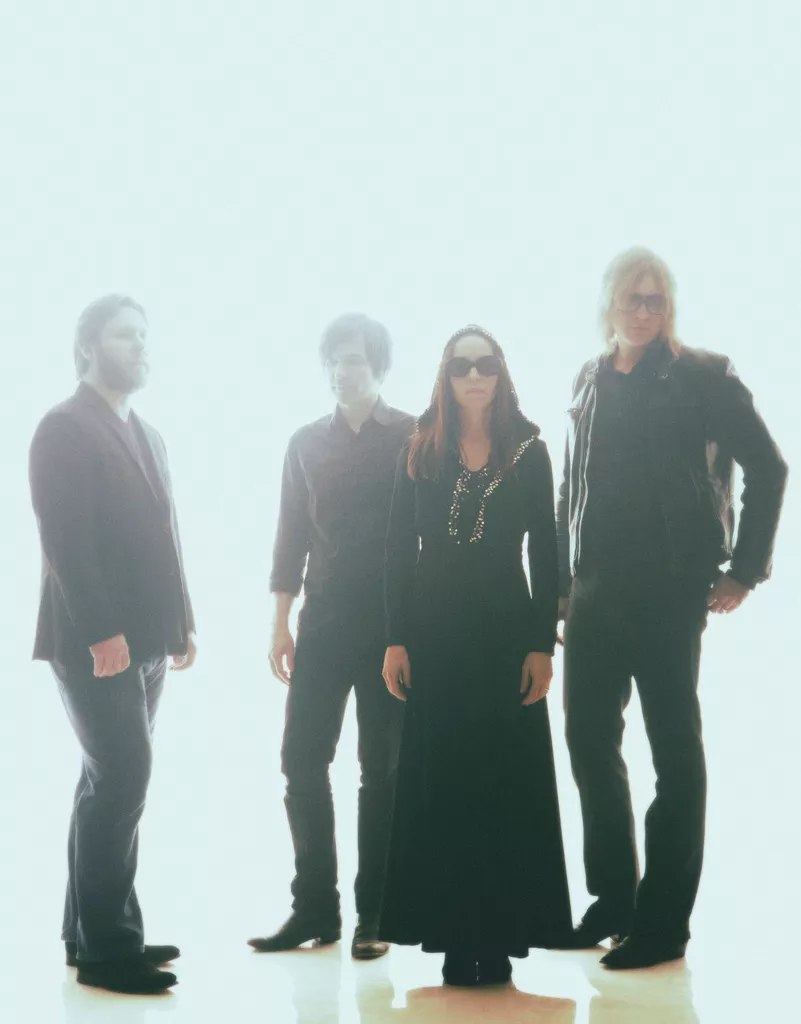 COURTESY oF the besnard lakes
Swirling, whirling and hypnotically lush, the music of the Besnard Lakes beckons listeners to be swept away into an ocean of sound and promises to sonically smash them against the most knifelike of rocks. Trancelike yet jagged, the band's sound echoes those of "shoegaze" bands like My Bloody Valentine and Ride, but distinguishes itself with rich textures and even a little levity.
Jace Lasek, who cofounded the Besnard Lakes with his wife, Olga Goreas, in 2003, has no quibbles with the shoegaze moniker, but he eagerly identifies several other, more unexpected influences on his band's sound. Lasek even credits one Prince Rogers Nelson as a vocal influence. (For laypeople, that'd be the artist currently known as Prince.)
The Besnard Lakes bring their big, luscious sound to the jungle gym of Winooski's Monkey House on Tuesday, January 27, the last stop on a six-date mini-tour of the Northeast. After some difficult telephonic negotiations with Bell Canada, the amiable Lasek managed to speak with Seven Days from the band's home base of Montréal.
SEVEN DAYS: The Besnard Lakes' sound is pretty expansive. How do you think it'll play in a small venue like the Monkey House?
JACE LASEK: Almost all musicians will say that it's fun to play small venues, for the intimacy. Not all of the time, but a lot of the time, we have our best shows in small venues. Since we do have such a big sound, the sound fills the whole room much more easily. You can kind of be encompassed.
SD: I know what you mean. I once saw the Brian Jonestown Massacre play in some kid's basement.
JL: Everybody's got a story like that! I grew up in the western part of Canada in a city called Regina [in Saskatchewan]. We never really had any bands come out there except for hardcore bands and pop-punk bands from California, every once in while. So my story is that, when I was 15, I saw Green Day in a shitty little club in Regina. That's my stupid claim to small-show fame. My wife saw Nirvana in a small club during the Bleach tour, and Sonic Youth, My Bloody Valentine, all these classic shows. I'm like, "I saw Green Day."
SD: When I lived in Minneapolis, a friend of mine would sometimes go to the legendary "after-concerts" at Prince's Paisley Park Studios. I never had the pleasure.
JL: He's doing them again! Apparently, if you subscribe to Prince's Twitter feed, every now and then he'll say, "There's a show tonight. Come to Paisley Park." It's first-come, first-served and costs, like, seven bucks. And Prince will just walk through the crowd. I'm very jealous of the people of Minneapolis.
SD: From your music, listeners might not expect you to admire Prince so much. Might he be a kind of hidden influence?
JL: I think about this sometimes. When I was young, I would sing along to Prince records all the time. And I almost feel like I was training my voice to sing high like his. When I started writing songs and singing, it never seemed natural for me to sing in falsetto, because he did it. And if he does it, it's fucking totally cool. But then, being from Regina, all these guys thought it was ridiculous that I would sing like that. But when I got to Montréal and started homing in on what I was doing, you know what? I realized I was actually comfortable singing that way. So I'm gonna credit him indirectly — or maybe even directly — for that.
SD: I hear traces of stoner metal in your stuff, too.
JL: Yes! I love Sleep, and I really love OM, which is the offshoot band started by Sleep's bass player. As much as I'm a Prince fan, I'm also a metal fan. Slayer is one of my all-time favorite bands, and I love Iron Maiden and obviously Black Sabbath. And all that doomy stuff, like Sunn O))). When metal decided it could be psychedelic, that really lit a fire for me.
The band opening for us, USA Out of Vietnam, is a doomy-type band. Very slow songs that are really, really long. Sort of like this exaltive doom.
SD: I've been listening to your most recent album, Until in Excess, Imperceptible UFO, and it sounds loose and dreamy but also exceptionally coherent.
JL: That album was our first conscious effort to take more care in recording. A lot of the time, we were haphazard in the way we doing things. Because I own the studio, I can actually be in here trying to get good sounds for weeks on end. So we kind of made a rule: Once we get a sound, who cares? Because I want to hear it in a song more than anything else. But UFO was more thought out. When we found a good sound, we'd at least spend five minutes to see if we could make it better. We'd never really worked that way before, so, in that sense, it's a denser, more carefully textured album.
SD: What can you tell me about the next record?
JL: It's raw! Besnard is never super-raw, but this one is definitely not as carefully textured as UFO was. We did a lot of writing outside of the studio, and we're finding that a lot of the tracks we had recorded really oddly — and I could even say "really poorly" — are turning out to be little gems. So we're keeping them and integrating them into the album.
SD: You guys do take your time between records.
JL: This time, there's been a shorter turnaround time making the album, but as far as the release is concerned, we're still looking at three years per album. Labels take a while to build albums up. Once it gets delivered — we're hoping around March — we're still gonna be sitting at a six-month turnaround, at least, before it comes out. My plan was always to make records more quickly, but I also don't ever want to compromise what we're doing. So if we're not feeling it, we're not gonna do it. It's an odd world, this world of musicians. m
The original print version of this article was headlined "It's an Odd, Odd World"