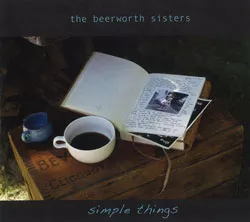 (Self-released, CD, digital download)
There really is beauty in simplicity. For proof, look no further than the appropriately titled debut from Burlington-based duo the Beerworth Sisters, Simple Things. Spare and elegant, the album is a striking collection of material that succeeds on little more than strong songwriting and solid performances, presented as straightforwardly as possible. Especially in an age when so many artists look to all manner of sonic contrivances to enhance — or sometimes mask — their songwriting, there's something refreshing about an album so unassuming and, well, simple.
Fittingly, it opens on "Little Tune," a cheery duet between sisters Julia Beerworth and Anna Pepin. Backed by a breezily strummed mandolin, the duo frolics through bright, singsong verses and choruses that charm without becoming precious.
On the following cut, "Some Kind of Man," the sisters delve a little deeper than airy folk-pop. Flanked by a mournful fiddle and melancholy piano, Pepin takes the lead and proves a commanding front woman. Her expressive, pure-toned alto exists somewhere between the vocals of Sara Watkins and Emmylou Harris — a high compliment, to be sure. For her part, Julia Beerworth adds exquisite harmonies, tastefully accenting her sister's performance. It's a nearly perfect country ballad.
The Beerworth Sisters are obviously well schooled in folk and country. But what is intriguing about Simple Things is how the duo injects modern pop and rock influences while maintaining reverence for those more classic sounds. Melding rock and country is hardly a new phenomenon. But some, like these siblings, do it far more tactfully than others.
For example, "Running Low." Above an undulating bed of strings, piano and acoustic guitars, Julia Beerworth takes center stage, her breathy croon a subtle contrast to her sister's fuller delivery. It's essentially a pop song. In fact, the syncopated strings almost create an island vibe. But it fits seamlessly amid the dustier fare surrounding it.
Perhaps some credit for the album's twangy cohesion belongs to producer and multi-instrumentalist Colin McCaffrey, who, as ever, tweaks knobs and plucks a variety of strings with equal grace and skill. Guest instrumentalists, including Joshua Glass (piano), Tim Swanson (violin) and Kirk Lord (bass), among others, also add tasteful flourishes.
But, as it should be, the focus of Simple Things is squarely on the Beerworth Sisters. Nowhere is this more evident than on the closing title track. Pretty but powerful, "Simple Things" is a beautifully understated duet that in some ways represents the record as a whole. It is a fine close to a fine debut.
Simple Things by the Beerworth Sisters is available at cdbaby.com.