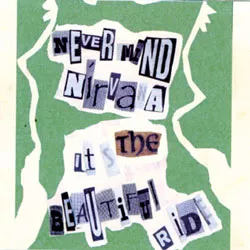 (Self-released, CD)
Never mind Nirvana? Really? That's a pretty bold statement, even if it is tongue-in-cheek. For a moment — or 400 words, anyway — let us take that suspicious advice and actually disregard the contributions of Kurt Cobain's legendary grunge trio. What did they ever really do for rock music, anyway?
Now that we've established Nirvana never existed, to what shall we listen to fill a craving for vicious grunge? It's got to rock, that's a certainty. It should probably be lo-fi — Nirvana's best work was before Nevermind, kiddies. And it should be, believe it or not, eclectic — one of the Seattle band's most underrated qualities was subtle ingenuity. Drawing from the local options, we are left with but one band to fill all three prerequisites: The Beautiful Ride.
The brainchild of longtime Vermont musician Trevor Ayer, The Beautiful Ride takes its name from one of the guitarist's recent solo albums. This time around, Ayer has surrounded himself with two likeminded souls: Michael Regan Jr. on bass and Kevin Lawyer on drums. The trio isn't exactly Cobain, Novoselic and Grohl. But for the purposes of this experiment, that's OK.
The band's debut, Never Mind Nirvana . . . It's The Beautiful Ride, is a clever pastiche of originals and covers that weave around each other so cohesively that it's occasionally hard to recognize which is which — kind of like Nirvana's Unplugged.
Ayer's "Yes Yes Love" sets the tone with pure lo-fi ferocity. Dirty guitar and rumbling bass are propelled by smooth, laid-back drum grooves, ultimately giving way to a swirling cacophony of noise. Ayer's vocals are set rather far back in the mix, but it's effective, particularly when his fearsome guitar riffs take over.
The following track, "2 Steps Back" — another Ayer original — shifts gears as the band proves as adept at Pavement-esque pop as they are with hard-rockin' grunge.
At this point the aforementioned cover songs enter the picture with a re-imagining of Stephen and Damien Marley's "All Nite." Ayer injects a few of his own lyrics throughout the song, and the resulting feel is reggae-pop by way of Camper van Beethoven. Neat trick.
On the following track we run into trouble denying that Nirvana ever existed, because this one was written by, well, Kurt Cobain. The Beautiful Ride's take on "Aneurysm" probably won't rank among the all-time great covers. But it's a nifty garage-pop interpretation of the Nirvana scorcher.
Will The Beautiful Ride ever cause anyone to forget about Nirvana? Of course not, and it's a safe bet they're not really trying to. However, folks looking for a solid dose of inventive grunge-rock could do a lot worse.