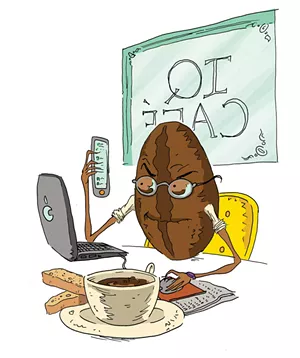 So, it's morning — or not — and you're in need of a sleep-defying pick-me-up. Word to the wise: Don't just curb that caffeine craving at the first coffeehouse you come across. Perhaps you're looking for a quiet spot to sit and get some work done. Maybe it's a more social sip that you seek — in the company of a colleague or among interesting strangers. Or let's say you're a next-level nerd on the hunt for obscure single-source beans known only to the coffee illuminati. Whatever your pleasure, Burlington's got a café for you.
If You're a Bean Brainiac
126 College St., Burlington, onyxtonics.com
At this specialty-coffee tasting bar, the ever-changing menu offers a half dozen single-origin coffees from farms and roasters around the world. Sample them in the form of espresso, cappuccino, drip or hand-brewed filter — perhaps paired with a glazed "sourdoughnut" or another sweet snack from a local artisan baker. Warm weather brings cold-brew and affogato. Year-round, the tables are occupied by people clickety-clacking away on computers — in addition to serving excellent, responsibly sourced coffee, Onyx provides a fine workspace with free Wi-Fi.
If You're an Introvert in Need of Entertainment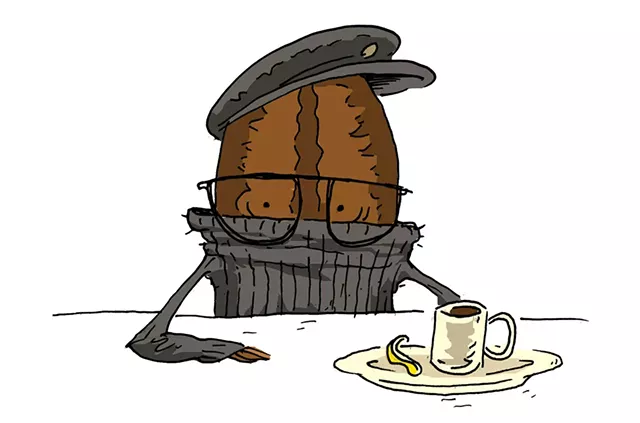 42 Church St., Burlington, ugvermont.com
Want to grab a cup and feel like you're in the middle of it all? Head to Church Street's Uncommon Grounds. For more than two decades, this buzzing, family-owned coffee stop has won over customers with its in-house roaster, speedy service and vegan peanut-butter bars. Tables can be hard to score, but there's almost always a counter seat.
184 Main St., Burlington
Exposed beams and rustic wood floors make the bohemian coffeehouse feel more like a tree house. Go early and hole up near the picture windows overlooking Main Street — the high-traffic area provides a constant stream of local color. Enjoy it with an organic, fair-trade roast; a made-to-order juice or smoothie; or, later in the day, a cocktail. Need a bite? Snack on a homemade macaroon or other baked goodie.
As many as 700 caffeine-dependent patrons pass through this busy little shop in the heart of the South End Arts District every day. The beans are roasted in-house and available in bulk. Breakfast pastries come from Barrio Bakery & Café.
If You're Really Hungry, Too
At its other locations in Burlington's Old North End and Winooski, Scout is best known for pairing creative, well-crafted ice creams with rich and fruity cups of joe locally roasted at Vivid Coffee. But deep in Burlington's South End, in a tucked-away corner of an old factory, chef Owen Hoppe crafts inexpensive locavore breakfasts and lunches — think breakfast tacos, waffles, banh mi and cheeseburgers. These are definitely worth sitting down for.
If You're Mixing Work With Pleasure
Need to hold an impromptu conference with coworkers or bang out some work on a deadline? There are plenty of tables to choose from at this airy, laptop-friendly hangout near the Burlington waterfront. The baristas will gladly regale you with the full history of the well-sourced options of Counter Culture Coffee that are available each day. You'll also find rare teas from Vermont's Stone Leaf Teahouse, kombucha on draft and handmade pastries. Oh, and you can bring your dog!
If You're On the Run
True to its name, Tight Squeeze is tiny, and there's nowhere to sit. But it's a downtown go-to for fast, quality caffeine, including custom espresso roasted locally at Earthback Coffee Roasters. Other drinks include silky hot chocolates, spicy chai teas and Earl Grey lattes made with organic milk. Sweet and savory treats come from a nearby bakery.
From a sweet kiosk at the intersection of Church and College streets, staff from nearby Leunig's Bistro & Café serve fresh-brewed coffees and espresso con panna. Peruse the display window filled with homemade apple tarts, French macarons and pâte de fruit, or grab breakfast or lunch. The duck-confit poutine is locally famous, and the baguette sandwiches aren't too shabby, either.