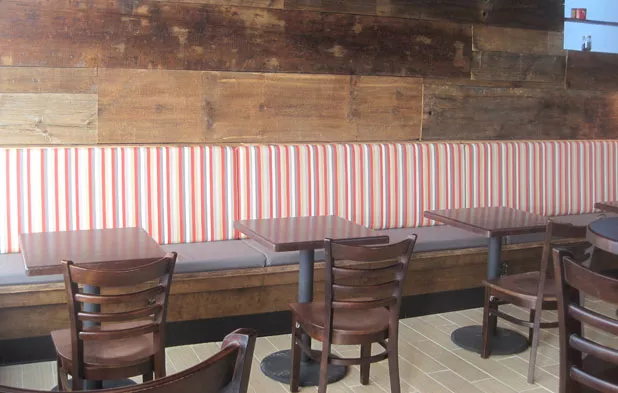 Biathlons and bagels may not sound like a natural pairing, but they were for Algis Shalna. When the Lithuanian native first came to the United States as a coach for the national biathlon team, he fell in love with the chewy, round bread. As he traveled the country for competitions, he tried bagels at every stop, becoming a dyed-in-the-wool connoisseur.
Now Shalna, his son-in-law, Nate Malley, and his son, Tauty Shalna, are opening their own temple to the bagel in South Burlington. If all goes well, the Bagel Place at 1160 Williston Road will open this weekend.
Malley says the bagels are steamed rather than boiled to keep them optimally soft and chewy, so fillings won't ooze out of sandwiches at first bite. Both bagels and those fillings will come courtesy of Tom Roden, who recently closed the Mad Hatter deli on Burlington's Bank Street.
As kitchen manager, Roden is aiming above standard bagel café fare, says Malley. Eggs for breakfast sandwiches will be cooked in pans, not microwaves. Lunch items include the old standards — turkey and mayo, BLTs — but also a Cubano sandwich; an Italian piled with prosciutto, salami, capicola and Provolone; and a Caprese with fresh basil.
Malley, a real estate broker, enlisted Christine Burdick Design to remake the empty storefront with the boards of a 1791 Shelburne barn and a display case of eye-catching, all-red antiques. "We want to have a homey experience that would be enjoyable for people. Other places, you just grab a bagel and go," Malley says.
Customers are invited to settle in for a cup of coffee, blended especially for the Bagel Place by Uncommon Grounds. Roden will make muffins, brownies and cookies to go with the warm drinks. Eventually, Malley says, the Shalna family may even provide a little bit of cultural exchange — in the form of Lithuanian pastries.
The print version of this article was headlined "Round and Round".