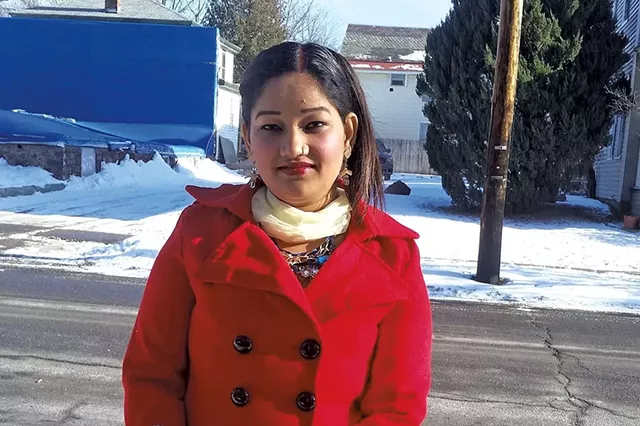 Mark Davis had recently written a cover story about a murder-suicide in Maidstone. Molly Walsh had interviewed Ron Ryan, whose daughter, Rebecca, died while rock climbing in Bolton.
In a weekly meeting of the Seven Days news team, I listened to my colleagues share advice about their recent experiences talking to people who'd lost loved ones. Reporters often have to find just the right words — "I want to understand what happened" was one recommendation — to convince a grieving family member to open up.
A week later, I found myself in a similar situation reporting on the murder of Yogeswari Khadka, whose husband killed her with a cleaver in Burlington's Old North End. But there was one big difference: I was covering the Bhutanese woman's funeral. No one had offered any guidance on that.
Before the wake, I planned to stand at the back of the Elmwood-Meunier Funeral Home and record my observations. Like a fly on the wall, I was going to maintain a respectful distance from the mourners.
Then someone offered me a purple ribbon in support of domestic violence awareness. I hesitated for a moment. I asked myself, Was it acceptable as a reporter to acknowledge the tragedy in this way? I compromised by pinning the ribbon on my backpack.
The last of my determination to remain a passive observer vanished when Basu Dhakal, president of Vermont Hindu Temple, beckoned me to pay my last respects to Khadka.
I expected to see someone who resembled Khadka's smiling Facebook photo. But when I saw Khadka's corpse, my first view of a dead body, I went into a kind of shock. All I can remember is: She looked much older, her face was ashen and she wore a red sari.
Afterward, I mingled with the mourners and rode shotgun with one of them to the crematorium.
I was initially reluctant to include details about Khadka's wake in my story. At some point in the process, I believed that I had stopped being an objective journalist. But my editors thought differently.
"I know being present at a time like that can feel intrusive, but bearing witness is also a way of honoring someone's memory and recording this important moment," wrote one of them.
Through this reporting assignment, I learned that it isn't always necessary to remain detached from stories and subjects. At the end of the day, reporters are people, too.