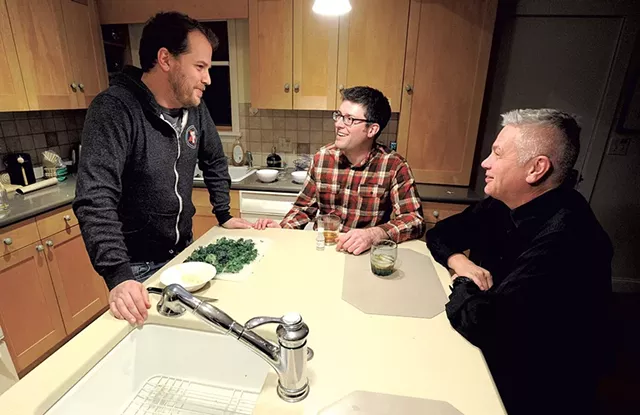 JEB WALLACE-BRODEUR
Left to right: Legislative housemates Rep. Sam Young, Rep. Matt Trieber and Sen. Richard Westman
I don't normally drink while interviewing people, but this particular story demanded it. I was writing about state lawmakers who rent houses together during the four months they spend in Montpelier. After a fair amount of cajoling — and some rejections — I talked my way into two residences.
One was home to Representatives Matt Trieber (D-Bellows Falls) and Sam Young (D-Glover) and Sen. Richard Westman (R-Lamoille) .
I'd been told the house drink was bourbon, but, when I arrived around 5 p.m., the three men were drinking red wine around their kitchen island.
As reporters, we're trained not to accept anything from interview subjects — no gifts, money, food or booze. But perched on a stool in their immaculate kitchen, I felt more like an anthropologist trying to ingratiate myself with some indigenous tribe.
When they offered wine, I accepted. I decided it would be less awkward for everyone if I drank, and the more comfortable everybody was, the more information I'd get.
Plus, it's rude not to participate in tribal customs.
The lawmakers didn't seem uncomfortable with a stranger in their midst. In fact, they took full advantage of the opportunity to tease one another as I took notes.
When I asked whether they cooked together, Westman bemoaned the absence of their former roommate, Sarah Buxton, a Tunbridge rep who'd lost her bid for reelection. Unlike the present company, Westman explained, she would cook for him when he came home late at night.
"I made you dinner last week," Young said indignantly.
"But Sarah would make me chicken marsala," Westman responded.
"Where is your pressure cooker this year?" Young mischievously asked Trieber.
The Bellows Falls rep, they explained, is known for his frugality.
Or, as Westman put it, "He's so freakin' cheap."
"There's a reason I'm on the Appropriations Committee," Trieber conceded.
At his housemates' insistence, Trieber told me that he'd been unable to sleep one night. Still awake at 3 a.m., he turned on the QVC channel and watched a particularly compelling pressure cooker ad.
Despite their apparent ease with having a reporter in their house, I suspected it wasn't a coincidence they had dinner plans — that didn't include me — scheduled for an hour after my arrival.
Young insisted I take a slice of the pie he'd baked before politely escorting me out.