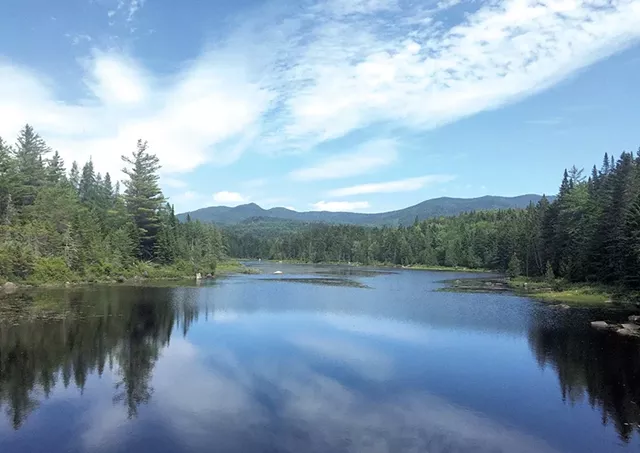 Alicia Freese
LaBier Flow in the Boreas Ponds tract
I drove two hours to North Hudson, N.Y., to report on the Boreas Ponds, an expansive wilderness tract in the Adirondacks. Conservationists want to keep it remote; state and local officials want to make the land more accessible.
I found out that the current route to the main attraction — a lake with a view of the surrounding mountains — is not for the unfit or faint of heart.
A few miles before the turnoff, I stopped at a buffalo farm, bought some barbecue sauce and talked up two locals, who were complaining about all the ungrateful hikers they've rescued over the years.
As I was leaving, they warned me that the old logging road to the lake was a bit rough and that, after three miles, I'd have to hike the remaining three and a half.
I could handle it, I assured them. I grew up driving off-road and keep a pair of running shoes in my trunk.
Minutes into the drive, I knew I'd miscalculated. The "road" was littered with small boulders, and I was driving a Toyota Corolla, not my dad's pickup truck. I flinched each time the car's undercarriage scraped a rock.
The road wasn't wide enough to turn around, and there was no cell service. If my Corolla conks out, it occurred to me, the pair at the buffalo farm might be my only hope.
When I finally made it to the gravel parking lot, I put on my shoes and started running. I felt pretty hard-core until I passed a man on a bike casually towing a large, wooden canoe. As the path led deeper into the woods, I wondered whether workers' compensation would cover a bear attack.
My anxiety melted away when I arrived at an unspoiled, evergreen-encircled lake, the high peaks of the Adirondacks reflected on its glassy surface. I figured I deserved a break before heading back, so I sprawled out on a rock at the water's edge and closed my eyes, basking in the sunshine and solitude. That's when I felt the first deerfly bite.