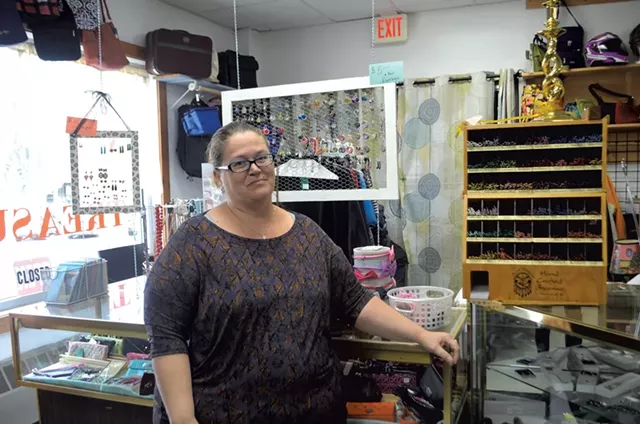 Katie Jickling
Tina Brady at her consignment store
To be a good journalist, you have to keep an open mind. That's because investigating the facts of a story may change your assumptions. Mine were turned upside down while reporting a story in my hometown of Randolph.
I knew about Mikel Brady — the local gossip about him, anyway — when I showed up at his mom's consignment shop for an interview in late October. I had read newspaper stories and heard plenty about the litany of crimes — more than 30 — the eldest Brady boy had committed by the time he was 20 years old. Subsequently imprisoned, he'd been charged in an attempted breakout that took the lives of four North Carolina prison employees earlier that month, and there was a possibility he would face the death penalty.
Brady and I went to high school together — though he was three years older and cool enough to intimidate me. His sister and I had mutual friends.
His mom remembered watching me play baseball when I was 11. I was the only girl on the Little League team and played first base in games against her youngest son.
Tina Brady told me other stories, too — poignant ones that must have died on the local grapevine: the challenges of explaining her husband's murder to their three young children; the shame of being a single mother unable to provide Christmas presents.
There was the time a neighbor called Tina to tell her that teenage Mikel, bipolar and manic, was on the roof and wouldn't come down. She also described the way she braced herself before telling her son, at age 16, that his best friend had been killed in a car accident.
We wrap ourselves in our secrets like blankets, I remember thinking as she recalled so many trips to the police station. What else have I been missing?
Two weeks after my story was published, prosecutors in North Carolina decided to seek the death penalty for Mikel. I called Tina for her reaction and quickly realized she hadn't known — until I had told her.
While she tried to hold back tears, I apologized profusely — not just for the bad news but, perhaps, because I didn't expect to feel so moved by her pain.
I still drive through Randolph, visiting my family, returning to my trusty car mechanic. After reporting this story, I hope I see the town a little more clearly.