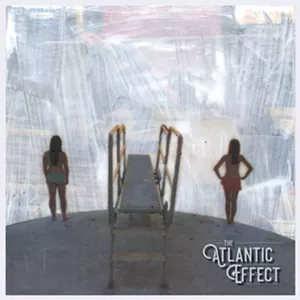 The Atlantic Effect, The Atlantic Effect
(Self-released, CD, digital download)
"Edge" is largely an ineffable concept, particularly when used to describe a band — "They've got this edge, man. Dig?" Sometimes an artist achieves it through stylistic means, such as futuristic production or unconventional instrumentation. Other times, a group might Frankenstein opposing influences into something that leaves an indelible mark on the cultural zeitgeist. Edge is unpredictable and highly debatable.
It's hard to imagine anyone ascribing the term to Burlington rock quartet the Atlantic Effect — despite the fact that guitarist Donavan Delabruere played with a couple of defunct local outfits that did have a certain amount of edge: experimental Americana band Victory Orchard and gritty rockers the Summit of Thieves. Lamentably, the magic these bygone groups captured on their respective recordings is nowhere to be found on The Atlantic Effect.
The band's self-titled debut is a fairly rote exercise in guitar-forward jam- and folk-rock — which we already have plenty of locally, from residents and touring musicians alike. That's not necessarily a condemnation, mind you. But the fact remains that jam-adjacent music thrives in the Queen City, despite fluctuations in overall quality or the genre's waning cultural relevance.
In terms of technical specs, The Atlantic Effect benefits from having local heavy-hitting producers Joe Egan and Lane Gibson at the helm. The album is perfectly mixed to capture the group's dexterous musicianship. Lead singer Jake Machell has an impressive vocal range and sings with a glossy, radio-friendly timbre — almost too radio-friendly. His prominent vocal affectation, which comes out on nearly every one of his vowel sounds, is not unlike Taylor Hanson's famously over-pronounced drawl. To wit: The word "strength" becomes "stray-eength."
And speaking of the fraternal pop-rockers who brought us "MMMBop," the Atlantic Effect's songwriting is nearly as mawkish as Hanson's repertoire. Honestly, it takes big, oblivious balls to title a song "Virginia," one of the most overused names in songwriting — and one that's just begging for a Train comparison.
Though the repetitive album leaves little room for experimentation, shape-shifting track "Bridge" is nearly tolerable. It builds from a bluesy slow jam into a speedy, ska-tinged number. Between righteously rippin' guitar solos, a soft bed of "oohs" accompanies Machell as he tears through his musings on loss.
After a warm intro with some intricately plucked, descending arpeggios, "All I Need" reveals itself to be watered-down Twiddle fare crossed with something Andy Dwyer would've penned for his band Mouse Rat on the NBC sitcom "Parks and Recreation." Machell sings, "And it's music to my ears / Let the light in / And dry your tears / I've got wings / I've got soul."
Any further dissection of The Atlantic Effect would be redundant. It's flavorless, unobtrusive rock that feels wholly out of place in 2018.
The Atlantic Effect is available on iTunes.