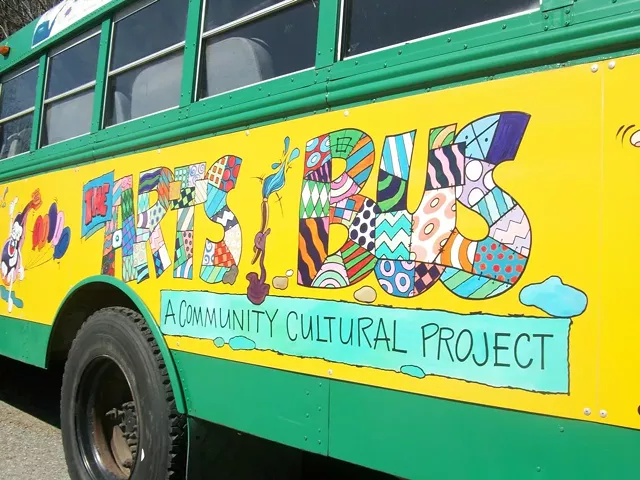 Courtesy of Genny Albert
The Arts Bus
When the 2008 recession forced school budget cuts, a group of parents, artists and educators from Braintree and Randolph pooled their ingenuity and resources to keep arts education alive for local children. Consistent exposure to arts, the group believed, is important to children's healthy development. The group knew that transportation in rural Vermont creates barriers for many families who are often unable to afford the expense of enrichment activities or find the time to drive their children to classes or performances.
The group decided to bring art to the kids. When a retired school bus driver donated a bus to the cause — in memory of his wife who had been a music teacher — the Arts Bus was launched.
The full-sized, green bus has multiple uses. It's a traveling music and dance stage, a pop-up theater, and a ceramic, paint and textile studio. It provides programming both during and after school in partnership with school staff. Executive director Genny Albert describes the bus as an art-oriented version of a bookmobile, or mobile library.
With families isolated at home because of COVID-19, the Arts Bus temporarily retired from the road and, instead, stepped up with a plan to distribute art kits to kids instead. The Kits4Kids are being distributed to students in Orange, Washington, Windsor and Windham counties, primarily through the school districts' meal delivery service. Each kit contains basic supplies, including paper, watercolors, glue, scissors and colored puff balls. A sheet of directions for suggested activities ranges from a simple stick animal to making a mandala. The kits, which cost $20 to assemble, are provided free to children. To date, the bus has delivered more than 300 kits. Around 1,000 kits have been requested. To defray costs, the Arts Bus is asking for donations.
While living in a pandemic is scary, Albert notes that positive things will emerge from this period, too. She says that kids are so often provided with prompts to generate ideas that "there's rarely a blank canvas" to simply explore. The Arts Bus is devoted to supplying the materials. Kids can provide the imagination.
For more information or to make a donation, visit artsbusvt.org.