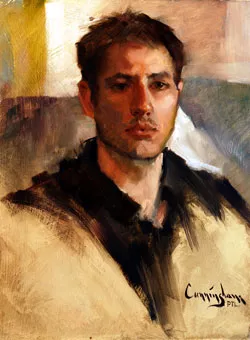 T.J. Cunningham is so preternaturally gifted an artist that "it almost makes you believe in past lives," says Linda Hampton-Smith, a gallery assistant at The Art House in Middlebury.
The 22-year-old Addison prodigy took up painting just three years ago. The oldest of the 25 oils included in Cunningham's debut show, titled "Subtle Expressions," dates from early last year. It's exciting — and a little scary — to imagine what his work will look like when he's 40.
Cunningham's representational, often impressionist style reflects technical proficiency as well as an ability to compose intriguing narratives, sometimes with a soupçon of surrealism. He's almost equally deft in whatever genre he tries: portraits, landscapes, history paintings, fantasies.
Asked about his influences, Cunningham names John Singer Sargent. "The Missionary's Granddaughter" does show a similarity to some of Sargent's works in the languid pose of its subject, a young woman wrapped in a blanket and asleep on the floor. The painting's arrangement of colors, particularly the bright red of a suitcase in an otherwise subdued palette, may also call to mind that American master.
Reminding us how new he is to the tradition in which he's working, Cunningham remarks that he's not familiar with Edgar Degas. Yet his "The Hall Meeting" mirrors the radical cropping of realistic scenes occasionally employed by the French impressionist painter. This horizontal piece, the best in a show with hardly any clunkers, depicts several college-age boys sitting in a circle on the floor and looking up at a standing man holding a book. Cunningham frames this central figure from the shoulders down, emphasizing the speaker's body language while simultaneously focusing viewers' attention on the listeners' distinctively wrought faces.
In an interview during his opening reception at The Art House, Cunningham explains that the setting for "The Hall Meeting" is a dorm on the campus of Pensacola Christian College, and that the book in the man's hand is a Bible.
Cunningham graduated from the Florida religious school in May. He makes note of his alma mater in an artist's statement on the gallery wall, explaining that he was drawn to the traditionalist art department of this Bible-based institution because "I didn't know that you could still learn to paint like that." Cunningham's Baptist faith infuses his portraits, he adds in his artist's statement, saying he aims to give his subjects "just a hint of the breath that God breathed into man."
But there's nothing explicitly Christian, or even generically religious, about his paintings. The closest Cunningham gets in this show to devotional art is the title of one work: "Mary and the Angel." In it, a woman wearing a cloak and holding a basket stares, as if entranced, in the direction of the viewer. No angel is evident, though perhaps that's what Mary is looking at somewhere outside the picture plane.
Cunningham, who was home-schooled prior to college, moved with his family from Cambridge to Addison when he was 8. Spending most of adolescence alone "served to intensify my creative spark 10-fold," he recounts in the statement introducing his show.
In conversation, the tall, thin and curly-haired adept speaks earnestly about having committed himself to an art career at age 17, after he sold his sculpture of a Tyrannosaurus rex for $100. He decided to leave home that same year, living briefly in Benson. The experiment in independence failed, however, with "Dad having to come pick me up in the mini-van."
That interlude inspired the eerie painting titled "With Regret," which resembles a still photo from a 1930s Hollywood swashbuckler. Two men in 18th-century garb aboard a sailing ship are depicted moving toward the viewer. The standing figure in the foreground holds on to the rigging, while a seated, bearded man with a bandaged head brandishes a rifle. A second, ghostly pale ship looms in the background.
Cunningham, who participates in historical reenactments, says the painting's origin is a photo shoot aboard a replica of the gunboat Philadelphia built by the Lake Champlain Maritime Museum. "With Regret" is based on the retreat of Revolutionary troops following their defeat in the Battle of Valcour Island, near Plattsburgh, N.Y., in 1776.
"The idea of a retreat really stuck with me after I tried living on my own," Cunningham explains. But, as he also notes, the expression on the figures' faces is meant to convey faith in the future. In Cunningham's own case, that faith seems fully justified.