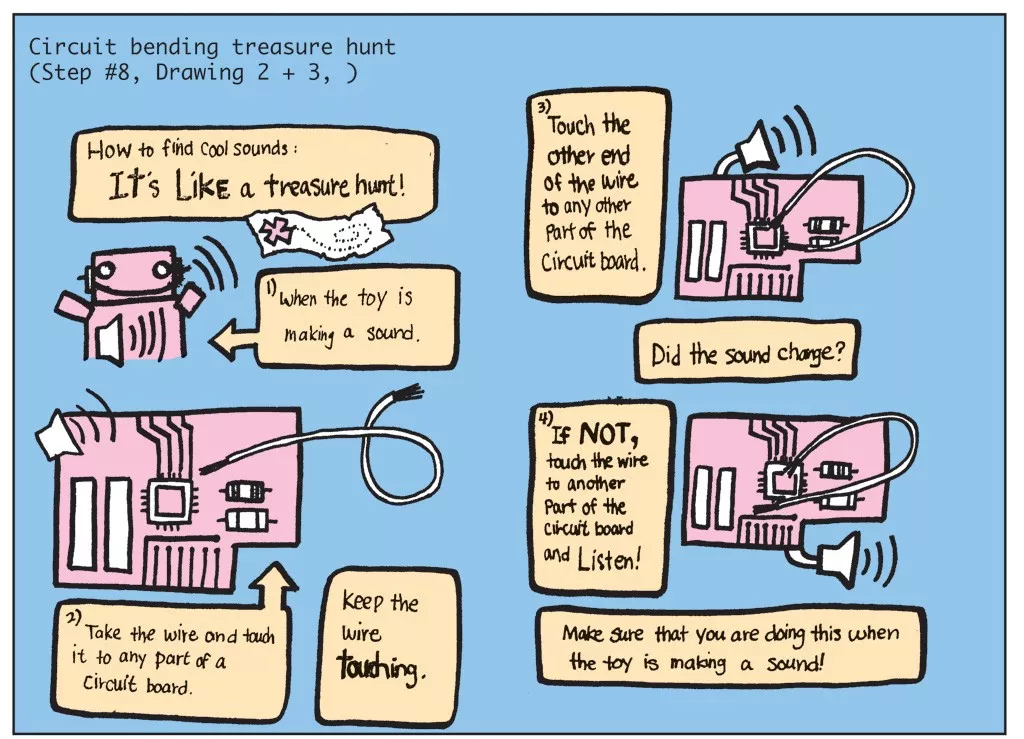 Courtesy of Technology and Community Outreach (TACO) Team
Toy-hacking activity worksheet
The talking caterpillars and electronic musical instruments seemed destined for a group of toddlers. But they were arranged on a table at the Fairfax Library for six elementary-school-age kids, who played with them in an unconventional way: They took the toys apart.
The group was participating in a recent toy hacking workshop, which aimed to teach kids how circuits work through guided, hands-on exploration. The class is one of five modules of the "Vermont Makers and Libraries: Spark a Culture of Innovation" project, which is taking place at 14 Vermont libraries this summer. Workshop topics range from incorporating LEDs into textiles and repurposed plastic creatures, to making circuits out of Play-Doh and origami.
Dayle Payne, the technology integrationist at Georgia Elementary and Middle School, led the Fairfax session. She started by giving kids a simple definition of hacking — taking something apart and using it in a new way — and introducing them to safety guidelines: Wear goggles, only use battery-powered, not plug-in, toys and stop what you're doing if you see smoke.
"If you're looking for explosions, you're in the wrong workshop," Payne said with a smile.
After flashing her repurposed circuit-board earrings, the instructor sent each child off to a quiet corner of the library with a pencil, paper and a toy of their choice. Kids drew pictures and took notes about the parts of their toys, including what they could see happening when they pressed different buttons and what they imagined was happening inside.
Nine-year-old Jacob Antonovich sat on the floor making a detailed diagram of a VTech Write & Learn touch tablet, pondering what wires might be connected beneath the plastic. "I'd do this as much as I could," he said excitedly. "I just like figuring out what everything does."
When the group came back to share its findings, fits of giggling ensued as each kid demonstrated the silly songs and strange voices their items made. "I can't stop laughing at these cuckoo toys," Jacob pronounced.
Next, Payne passed out goggles and screwdrivers, and the toy surgery began. She instructed kids to remove all the screws — except those holding in the battery — then crack open their items. Kids inspected the colored wires, speakers and circuit boards inside, comparing notes on what they found.
Payne then handed each child a thin, plastic-coated wire with metal tips so they could see what happened when they connected it with different solder points on the circuit boards. "This is where you get to become a mad scientist," she said.
Payne learned about toy hacking during a UVM continuing education class called Vermont FabLab Workshop, which explored innovation through art and technology projects. Vermont Makers founder Jenn Karson, who taught the class, was instrumental in putting together the proposal for the Vermont Community Foundation library grant. Additional funds came from the UVM College of Engineering and Mathematical Sciences.
Karson says that, in addition to familiarizing kids with the basics of how circuitry works, toy hacking activates their curiosity. "It unleashes a hunger in people of all ages," she says. Kids are "not just pulling something off the shelf or opening a Christmas gift" but really thinking about how it's made. Toys, she adds, are a particularly powerful tool for teaching because they're unintimidating and immediately invite play.
As the workshop wound down, Payne pointed out that the kids were still dissecting their toys — almost three hours later. She wondered aloud what other educational activity could hold an elementary-age kid's interest for that long.
"Toys really are more fun on the inside," she observed.
For more information about "Spark a Culture of Innovation" library programs in August, Toy Hacking and the Vermont FabLab Workshop, visit steam-e-zine.com or contact Jenn Karson at jkarson@uvm.edu.