courtesy of lisa bernardin
Students participate in the practical quiz portion of the Bee
Most people have participated in a spelling bee at some point in their academic career. But a brain bee? Unlikely.

For 10 years, though, high schoolers in Vermont have had the opportunity to test their knowledge of neuroscience during the annual Vermont Brain Bee. In February, 48 students from seven area high schools — some clad in jeans and T-shirts, others in ties and button-downs — gathered in a large classroom at University of Vermont's Medical Education Center to compete. The event started with a multiple-choice test, an oral exam and a practical quiz, in which competitors had to identify parts of the human brain.
In the afternoon, eight Brain Bee finalists — students with the top scores on the morning exams — competed in a final oral round, scrawling answers to questions on a paper hidden inside a folder, then revealing their answers to the judges simultaneously. A few difficult questions elicited nervous laughter. One of them: "The basis of functional magnetic resonance imaging techniques is the relationship between neuron functions and ________." (The answer: blood flow.)
Burlington High School senior Vilena Lee emerged victorious. Lee is the president of the BHS Neuroscience Club, which has just four members. She said she fell in love with the subject after learning about all of the processes that take place inside the brain in mere milliseconds. "It's amazing to me how thinking and memory have specific chemical reactions that can be traced back to very specific regions of the brain," she said. Lee prepared for the Bee by studying the texts on which the questions were based — an online booklet entitled "Neuroscience: Science of the Brain" and the book Brain Facts, published by the Society for Neuroscience — and by playing a lot of the online quiz game Kahoot!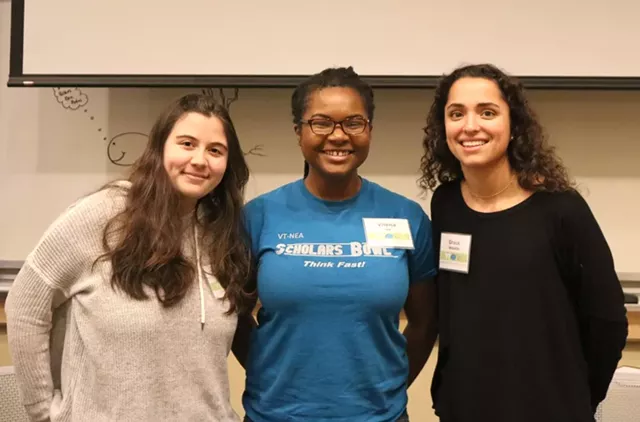 courtesy of lisa bernardin
Brain Bee winner Vilena Lee (center) with second place finisher Isabelle Petrucci of Essex High School (left) and third place finisher Grace Widelitz of Middlebury Union High School
Essex High School senior Kate Connolly was another Bee participant. She said she especially enjoyed the practical part of the competition, where students had to identify the parts of the brain — using a real human brain. That kind of thing doesn't make her squeamish, she said. "'Grey's Anatomy' has been a big part of that." Since January, she's led an afterschool club for fourth and fifth graders in Essex, teaching them about the brain, then doing craft projects, like making neurons out of pom-poms, pipe cleaners and beads, and sculpting brain lobes out of salt dough.
The USA Brain Bee was founded in 1998 by University of Maryland professor Dr. Norbert Myslinksi. But it wasn't until 2010 that Middlebury resident Lisa Bernardin started the Vermont chapter of the Brain Bee. Bernardin, a traumatic brain injury survivor, had teenage children at the time. She read about the national Brain Bee in a medical journal and thought Vermont kids should have the opportunity to learn more about neuroscience.
The Brain Bee isn't just about competition. Students also have the chance to learn from experts in the field. In the morning, psychologists presented neurological and psychiatric case studies, playing the roles of patient and clinician, to help students learn how to differentiate between conditions like psychosis and post-traumatic stress disorder, and delirium and dementia.
Following a pizza lunch, Dr. Hugh Garavan, a professor in UVM's Department of Psychiatry, spoke about the Adolescent Brain Cognitive Development Study, which he's helming in Vermont. The 10-year study — the largest long-term study of brain development and child health in the United States — involves 21 sites and 11,874 children, who were recruited as 9- and 10-year-olds. He also touched on research he's done about how cannabis affects the teenage brain.
Afterward, a panel of UVM neuroscience majors fielded questions about college and careers from the high schoolers.
A big smile spread across Lee's face when she was announced as the winner, and her fellow competitors clapped and cheered. Lee said she hopes to major in neuroscience in college, then get a PhD in behavioral science. But first, she'll travel to Penn State College of Medicine in April, where she'll represent Vermont in the USA Brain Bee Championship.