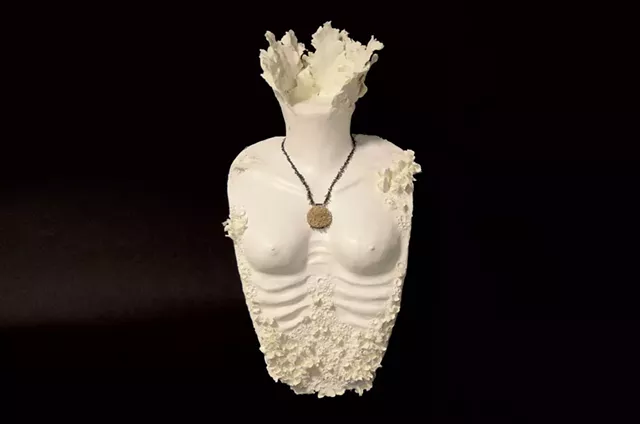 "#MeToo Sculpted Bust" by Beth Robinsonand "#MeToo Necklace" by Annika Rundberg
Parasitic forces make humans anxious — for proof, we need only look at the enduring mythos of vampires who sleep in coffins, skulk in the dark and drain unsuspecting passersby of their life juice. "HUSK," a newly opened group show at Burlington's S.P.A.C.E. Gallery, mines the narratively rich material of the parasite for results that, at least sometimes, land as social commentary. "Where do we get the energy we need to sustain ourselves?" asks the curatorial text. "Are those sources sustainable or part of a system that ultimately depletes us?"
With these open-ended questions a-swirling, the gallery has assembled a motley exhibition of works by Janine Fleri, Martha Hull, Jenn LeBlanc, Athena Kafantaris, Lynne Reed, Beth Robinson, Annika Rundberg, Alex Swaisgood and Sarah Vogelsang. The show comes just in time for Valentine's Day, that extra-special collusion of consumerism and romance.
Among the most pointed and fresh — and intentionally silly — works is Fleri's participatory "Suck Us Dry." The artist has amended kids' classic Capri Sun juice pouches with labels featuring five graphic portraits of artists participating in the show, and gallery visitors are welcome to drink these beverages. Among the "flavors" is Robinson's Bolo Punch, a "fiery blend of natural swamp water, diesel & shattered glass flavors!" The homemade label features a black-clad Robinson, middle finger raised. Or perhaps Hull's Strawberry Milkshake, "with just a splash of cyanide," is more to taste.
"Suck Us Dry" is certainly cute, but it also takes an important jab at notions of artist-viewer reciprocity. Unless they happen to be buying, gallerygoers are in many senses parasites, enjoying and criticizing the oft-intensive labors of art producers. Seen from this angle, the art world is a host riddled with leeches hiding in plain sight. In lieu of a dollar amount, the exhibition price list for "Suck Us Dry" reads simply "for consumption." If the show packs a definitive punch, it's here.
Fleri also collaborated with Kafantaris on her sculptural "Unlightened," a wall-mounted white papier-mâché work that Fleri describes as "a chakra map for cynics." A meditating human figure with legs like pincers is split down the middle. Suspended within this split are seven clear plastic tubes that alternately light up in various colors. Scratched into the tubes are phrases such as "I own you," "Pay attention to me," "Say you love me" and "Love me."
Along with her collaboration with Fleri, Kafantaris has contributed two sculptural video works: "It Will Eat Itself" and "A Thing That Suffocates." The latter consists of a video of Kafantaris in dripping black face paint, looping on a screen mounted within a wreath of dead flowers. Tucked among the crunchy petals are small notes that, taken together, read, "My love is a thing that suffocates."
The potential for harm in relationships involving dependency, particularly between men and women, is a theme further explored in works by Robinson, Rundberg and Vogelsang. Each work taps into the current zeitgeist of raw feminist anger in its own way.
At the center of the gallery stand three of Robinson's female busts intricately hewn from clay. Serpentine spines and seemingly decaying skin give these creatures a distinctly predatory look. "Blood Suckers (malaria feeding on a mosquito)" and "Trichodina (the monogamous parasite)" reference parasites explicitly with photo transfers of the critters in question.
"Turtled," a sculpture by Swaisgood, is a decidedly less gory offering than Robinson's. A small wire figure camps out on a miniature couch under an opaque acrylic turtle shell.
Robinson also crafted the "#MeToo Sculpted Bust," as a complement to and display for Rundberg's "#MeToo Necklace." Rundberg's large circular pendant is crafted from bull scrotum and tiny mother-of-pearl beads. Is the scrotum meant as a trophy symbolic of female domination? It's hard to tell, but Rundberg writes, "If I could coat things with mother-of-pearl and make it obsolete, I would make my pearl over the toxic male ego."
Vogelsang also goes unabashedly into the territory of feminine fierceness. Two photographs, inexplicably hung separately from each other, show the same naked woman behaving ferally. In one, "Reclaiming Femininity," she crouches, clutching a bloody organ. In the other, "Devour the Parasite," a pair of legs, presumably of the dispatched parasite, sticks out from behind a tree. The sheer energy of this wild-woman archetype brings to mind the augmented photographs of 1970s feminist artist Mary Beth Edelson.
"Worm Orgy" by Martha Hull
Three series of paintings run the stylistic gamut. Hull, who works under the brand "Cute + Deadly," has applied her penchant for sweet, zany anthropomorphized figures to the parasitic form of the worm. In "Hostless," a down-and-out, cigarette-puffing worm props up his parasitic plea: "Hostless; anything helps." "Worm Orgy" is what it sounds like: A pale greenish tangle of worms leaves little empty space on the canvas.
Hull has also contributed the only fiber-arts work in the show: a knitted tapeworm 60 feet long — the longest an actual tapeworm has been known to grow. Wrapped around and propped up on a pink pillow, the grossest thing ever seems kind of adorable rendered with Hull's skill.
With her painting "Hypovolemic" (meaning "in a state of decreased blood volume"), LeBlanc uses a more realist approach to create an entire terrain of parasites, complete with a map and key for identifying each. Among these is a human baby in utero — perhaps unexpected, but making a valid point.
Six medium-scale paintings by Reed stand out for their deviance from the idea of a parasite as a grotesque or overtly dark entity. She writes of her gentle, textured abstractions, "I am attempting to capture on paper some of the complex internal emotional states involved [in parasitic dynamics between people]." Reed's most striking image may be "Engulfed," a dense mass that evokes the tension of muscle while retaining a certain fluidity of colors and shapes.
Overall, "HUSK" is in keeping with the vibe cultivated by S.P.A.C.E. in its annual "Art of Horror" shows, embodying a general air of off-the-cuff cheekiness. Though sincerity and heart seem to supplant visual coherence here, the unflinching engagement of these (mostly) women artists with themes of grotesqueness, reciprocity and broken relational structures is both welcome and of the moment.