Megan James
Scott Gemignani
Scott Gemignani has always loved games. Growing up in Bristol in the '80s, he played Risk, the classic game of world domination. When his older sister wouldn't let him join in Dungeons & Dragons, he created his own version.
In April 2015, Gemignani's dream of making a living in gaming came true. He and his wife, Rebecca, opened a community game space and store, called Tinker & Smithy, in Middlebury. In addition to selling board and card games, Dungeons & Dragons books, and medieval figurines, they offer an after-school program, Magic: The Gathering classes and other events.
"People can play games for free in the store," says Gemignani. "We're trying to encourage people to sit across from each other and not be on a screen."
Gemignani sees board games as an antidote to our collective screen addiction. When his two kids were 7 and 3, he and Rebecca instituted a family tradition: "There are no Saturday morning cartoons," he says. "We sit down in front of the fire, and we play a game."
Tinker & Smithy grew out of that love of family gaming. Gemignani says proudly that gamers of all ages hang out in the store — from the first- through sixth-graders in his after-school program to local octogenarians. A Middlebury police officer runs a weekly Dungeons & Dragons game for girls.
"There are kids who do not want to be outside playing baseball," says Gemignani. "They may wish to retreat to a quieter place, or a place where they are around like-minded individuals."
And games, Gemignani stresses, aren't just recreation: "They are all teaching tools."
"My son is reading words like, 'Target opponent sacrifices a creature,'" Gemignani says with a smile. "He's in the second grade. This is because of the amount of board games we play. When you are learning in a low-stress environment, you pick up so much more because it's enjoyable."
Gemignani doesn't believe kids can learn as much from games played on a screen — and there are none at Tinker & Smithy. "When you jump on a computer, all of the math, all of the processing, that's all done for you," he says. "You're also alone."
When you're sitting across from another human being, he says, "You are playing against a thinking, breathing opponent who can come up with solutions to this game that a computer cannot. You're also interacting with someone. And that in itself is an education."
Great Games for Kids
Gemignani's all-time-favorite games are the classics: Risk, Stratego, and Dungeons & Dragons. But here are some others he loves:
The Settlers of Catan
In this wildly popular board game, players develop settlements by acquiring and trading resources.
Disregard the 13 and up age recommendation printed on the box. Gemignani introduced his daughter to this game when she was 7. "Catan is the perfect game to begin with a young child because it requires zero critical reading, and the math involved is very, very basic — the type of stuff that a 4-year-old can easily do," he says.
Don't be fooled by the spin-off, Catan Junior. It's "an insult," says Gemignani. "It's the exact same thing, but baby-fied."
Carcassonne
Players lay tiles to develop the area around a medieval French city.
There's no math, no critical reading; the game simply requires placing workers to develop roads, cities and fields. "It's obviously very French," says Gemignani.
Ticket to Ride
Players attempt to out-travel each other by laying railroad tracks to as many U.S. cities as they can.
"The time it takes to set up the board is the time it takes to learn how to play," says Gemignani.
Mille Bornes
In this card game, the winner is the first player to drive 1,000 miles.
All you're trying to do is drive. "You lay down cards that represent miles, and sometimes you have a flat tire," explains Gemignani.
Splendor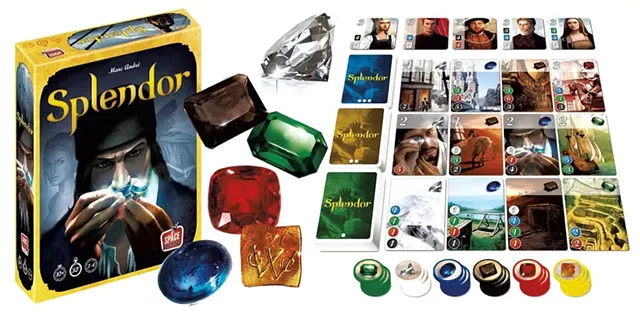 Players become Renaissance merchants trying to buy gem mines, means of transportation and shops in order to acquire the most prestige points.
This is a "crazy-good game," says Gemignani. "You can play it while you're eating dinner, having coffee, even watching a TV show. You can play it almost without speaking."
Zombies!!!
Players attack and escape from zombies.
"It's goofy, and it knows that it's goofy," says Gemignani. "It's wicked fun."
Superfight
In this card game, players create and battle superheroes.
In it, you get a handful of cards listing attributes you can use to create your superhero. For example: Chuck Norris; 10 stories tall ... but he can only move when his opponent moves. Another player might be Darth Vader, who can create a force field while holding his breath ... but his bottom half is a T. Rex. "And then you sit down and have a logical discussion about who would win this fight," says Gemignani. "It's amazing to play with kids."