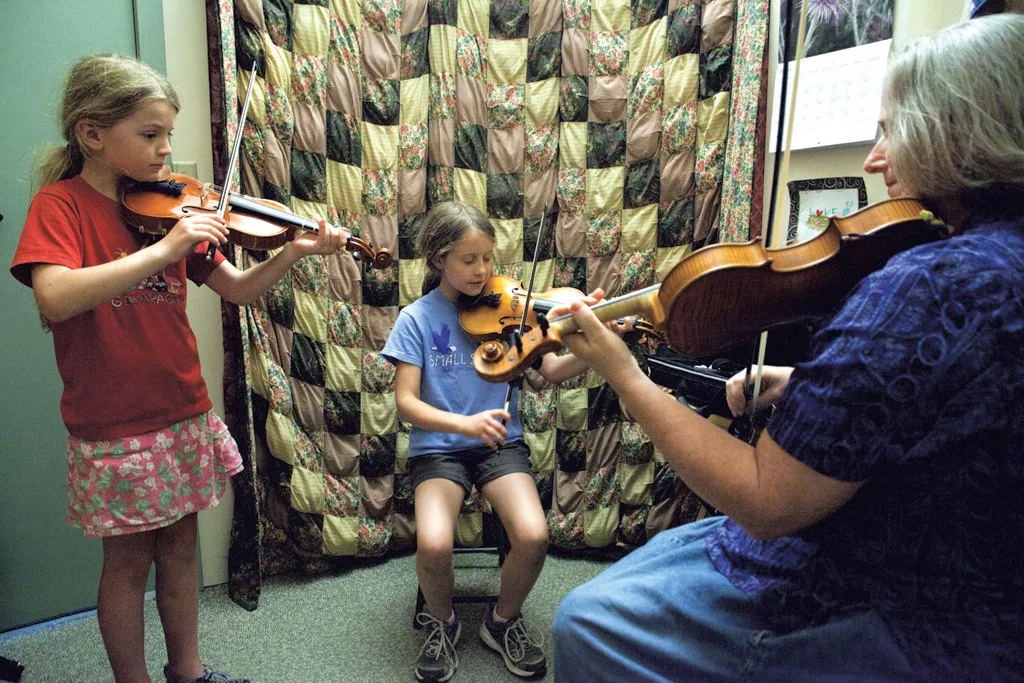 Caroline Swayze, Hadley Stockwell and instructor Sarah Hotchkiss
Visit any local farmers market, summer festival or coffee-house jam session, and you'll likely see adults making music with fiddles, banjos and mandolins. It's no surprise, then, that Vermont kids want in on the action.
Woodbury Strings caters to their interest. The business specializes in teaching beginners to play string instruments: the fiddle starting at age 3, the ukulele starting at 4, the banjo starting at 5, and the mandolin and guitar starting at 10.
Husband-and-wife duo Sarah Hotchkiss and John Mowad run Woodbury Strings out of a small office on lower North Street in Burlington. Hotchkiss has dabbled in teaching string instruments to kids since she was in high school; the Jericho native played viola with the Vermont Youth Orchestra and studied music at the Crane School of Music and the University of Vermont. She began teaching formally in the late 1980s, when her own children were young. In 2000, she met Mowad, a lifelong musician who had just arrived from Nashville, and they soon began teaching together in a studio in Montpelier.
In 2003, Hotchkiss founded the Vermont Fiddle Orchestra — she retired as its director last year — with Mowad leading the rhythm section and composing for the group. In their current Burlington location, Hotchkiss teaches younger students, while Mowad works mostly with older kids and adults.
The couple has a teaching philosophy that is as folksy as the music they help create. Hotchkiss calls her style a "whole-person approach," where she adapts her instruction to each student's learning style and pace. Sometimes during lessons Mowad uses his composing skills to spontaneously create songs that help students practice a specific skill, such as using a bow.
The teachers arrange annual opportunities for students to gather for informal music-making sessions during which parents are encouraged to play their own instruments as backup.
Friends Hadley Stockwell, 9, and Caroline Swayze, 8, of Charlotte have been taking fiddle lessons from Hotchkiss since the fall. During a recent lesson, Hadley got instruction from Hotchkiss while Caroline looked on nearby, happily playing with play dough.
Hadley's session started with a review of technique and posture. Hotchkiss gave her a piece of purple foam to put in between her thumb and pointer finger to help her avoid pinching the fiddle's neck.
Next, the 9-year-old practiced scales; Hotchkiss gave her tips on positioning and holding the bow so that she could get a more concentrated, clear sound. She incorporated the feedback while playing a catchy Irish jig called "Road to Lisdoonvarna" that she had learned in a previous lesson.
At the end of the class, Caroline joined Hadley and Hotchkiss for a song.
Beginning students typically start off with half-hour lessons, then progress to 45 minutes, and eventually an hour, says Hotchkiss. In the first session, students learn about the parts of the instrument, and how to handle and care for it. By the end of the second lesson, Hotchkiss aims to have students playing an easy song such as "Hot Cross Buns."
"Once my students have three to five simple tunes and they're making music, it really gets them invested in it," Hotchkiss says.
How do you choose an instrument to learn? There are virtues to each of them, she says. Banjo and ukulele can be initially more rewarding for young kids to play because just strumming the strings produces a nice sound. But Hotchkiss says she's a bit biased toward the fiddle.
"It's just a beautiful instrument and bowing is a compelling activity," she says, adding that the fiddle's sound is the closest match to the human voice of any instrument. Learning how to use a bow can be tricky at first, but it's a skill that helps with all aspects of a child's development, Hotchkiss says. And the instrument comes in sizes small enough for the youngest of musicians.
Jean Swayze, Caroline's mother, says her daughter's weekly 45 minutes of fiddle instruction has taught Caroline more than musical rudiments.
"Through the lessons, Sarah has opened the door to fiddling in the real world, from participating in concerts to giving recitals to playing on Church Street," Swayze said. "Sarah also has this wonderfully gentle gift of relating to the kids on their level, which I think enables her to coax music from everyone."