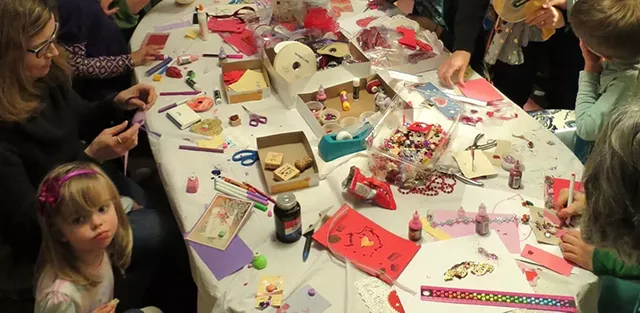 Matthew Thorsen
Humphrey's dining room table
Many parents don't experience fuzzy feelings of love as February 14 approaches. Instead, they begin to panic about what their children will hand out on Valentine's Day. Giant craft projects can be stressful. And messy. And overwhelming.
There's nothing wrong with store-bought valentines — we can't be perfectly crafty all the time. But making your own doesn't have to be such a painful production.
During a recent card-making session at Megan Humphrey's dining room table, six kids ages 4 to 10 sit quietly crafting their hearts out. And the mood is relaxed.
It's not what one might expect at a professional card maker's crafting party — there's little instruction or structure. Humphrey, owner of Sweet Basil Cards, embraces spontaneity. Using images from antique cards, scraps of doilies, bits of ribbon and other embellishments, Sweet Basil cards are whimsical and filled with surprise.
The supplies on her table reflect that sensibility. There are piles of materials in every hue and texture. Some you might expect: heart-shaped doilies, glitter, shiny hearts, markers, colored pencils. But then things get interesting. Closer inspection reveals puzzle pieces, images from magazines, old wallpaper books, wrapping paper, even a red net bag that once held oranges — all free for the taking, and making.
Beyond a description of the materials and a quick demonstration on how to fold and glue a strip of paper to create a pop-up effect, Humphrey gives very little guidance. The kids don't need it. They quickly get to work creating cards for cousins, parents, grandparents and friends.
Ten-year-old Aimerance Badibanga pastes a red, heart-shaped doily to a white piece of paper, then embellishes it with small satin rosettes, a conversation heart that says "Get Real" and a strand of beads around its border. Shayna Walker, 6, uses pink puffy paint to create a heart with swirls inside. My 8-year-old daughter, Mira, writes "Love" on the front of her card, then wraps it in string like an old-fashioned parcel.
Far from being stressed, the parents can't help but join in.
Humphrey understands the urge to create. She began making cards 35 years ago, inspired by vintage valentines from the late 1800s and early 1900s, of which she has thousands. In order to sell her cards in larger quantities at places like Frog Hollow Vermont State Craft Center, she now photographs her collages and makes color copies.
She creates cards for all occasions, but Valentine's Day is her favorite.
"To me, it's about so much more than a mushy day with one's sweetheart," she says. "It gives all of us the chance to be able to say 'I love you' to family and friends, to celebrate love in the world."
And, apparently, to craft with abandon.
After an hour, Humphrey sends the kids on their way with their creations and goodie bags. The bags aren't filled with candy or plastic toys, but with possibility: scraps of paper, ribbons, beads, string — more fuel for their creative minds.
Arty Party!
Want to host a valentine-making party? Humphrey offers tips to make it a success.
Have different sizes and colors of precut cardstock. Your local print shop may have extra cardstock they'd be willing to sell at a low cost.
Be sure to have enough scissors, glue and materials to go around. Consider investing in a double-sided tape gun for affixing things, and a hot-glue gun for attaching bulkier items. Adults should help with these tools.
Store materials in small, clear plastic totes so you can easily see what's inside.
Embrace creative reuse. No need to go out to a craft store for supplies. Wallpaper books, leftover ribbon, wrapping paper, old jewelry, buttons, envelopes and Mardi Gras beads can all be repurposed.
Megan Humphrey will lead a free, all-ages Valentine's Day card-making workshop at Frog Hollow State Craft Center on Church Street in Burlington on Saturday, February 6, from 1-3 p.m. Registration is not required.