courtesy of Sally j. smith/greenspirit arts
Smith's Golden Cottage, made from birch bark
Sally Smith spent her "wild and free-range" childhood roaming Shelburne Farms and camping in the woods with her father, nature photographer Clyde H. Smith. Those early rambles inspire her work as an artist and architect of fairy houses. Twenty of her whimsical creations are on display at Middlebury's Henry Sheldon Museum of Vermont History through Sept. 1.
Now residing in Wadhams, N.Y., Smith credits her youthful wanderings among Shelburne Farms' impressive buildings with instilling in her an appreciation for towers and turrets.
Those experiences sparked her to think beyond the clichéd house with a white picket fence and ask What does 'home' mean? What is architecture? "I was blessed," she says.
Smith traveled a winding path to fairy house construction. She worked as a graphic artist and illustrator until she discovered, in 2006, that she "just couldn't paint anymore." An art therapist coach advised her to think about what kind of work she was most passionate about.
At the time, she was influenced by the work of Andy Goldsworthy, a sculptor well-known for creating pieces within landscapes. She admired his spontaneity and use of natural materials, like flowers, clay and rocks, and realized her creative interest lay in environmental sculpture, which incorporates materials from the natural world. Although she had made many fairy houses as a young girl, her first adult creation was constructed completely from ice. "I loved it," she says. She began a new phase of her artistic career, rooted in her early childhood experiences.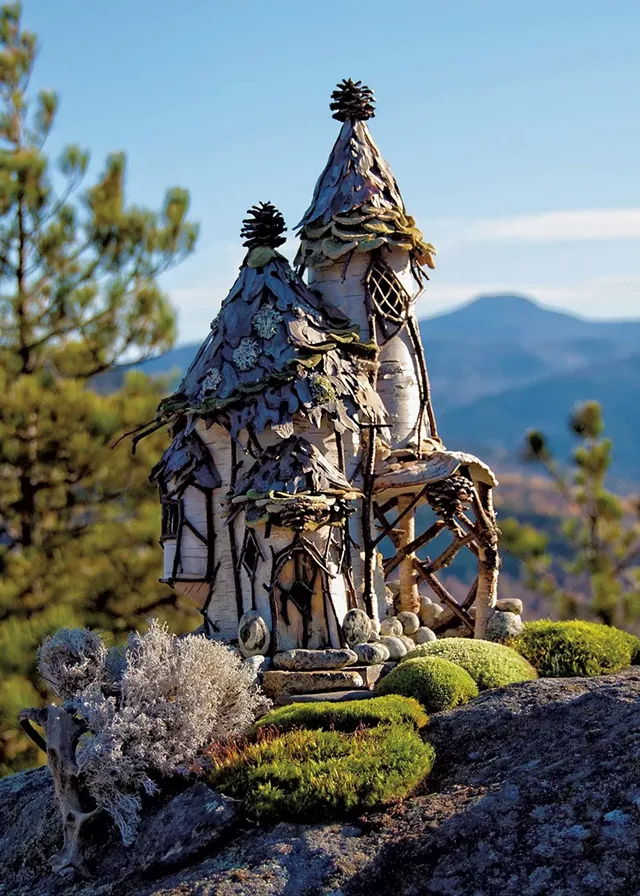 courtesy of Sally j. smith/greenspirit arts
Smith's Adirondack Faerie Lodge
At the Henry Sheldon Museum, her houses range in size from approximately 12 to 18 inches. The elaborately crafted tiny houses are built primarily from natural materials, including stone or fungus bases, birch bark walls, and curved twigs around windows. Intended to remain permanently indoors, these creations also contain sparkling jewels, brightly colored silk leaves, needle-felted roofs and battery-powered lights. Their interiors are decorated with wallpaper, furniture, hearths and faux flowers.
Visitors to the exhibit will find these glass-enclosed diminutive creations spread throughout the museum's permanent collection of 19th and 20th century Vermont furniture, paintings and household objects.
In an upstairs room of the museum, one corner is designated for young visitors, who are encouraged to imagine what life was like for children in historic times. Kids can stretch out on a trundle bed, try on frontier clothing, and play with a wooden dollhouse, tea set, toy barn and covered wagon.
While the fairy houses on display are intended to be preserved, Smith also spontaneously builds others in the wild and leaves them to surprise strangers. Since those houses eventually fall apart, she uses only materials that will decompose to "avoid harming anything."
Aspiring builders can make their own magical home using the step-by-step instructions in Smith's Fairy Houses: How to Create Whimsical Homes for Fairy Folk, published in 2017. Unlike books written for young fairy house builders, this one offers explicit directions in advanced techniques, from joining roof rafters to building bay windows.
For child builders, however, Smith advises parents to "let them loose" to follow their own instincts. She notes children nearly always add a path to their fairy house door, sometimes simply sweeping the dirt clear, to mark what they must instinctually know is an entryway into a magical realm.
"Whimsical Wonders: Fairy Houses from Nature by Sally J. Smith" is on display at the Henry Sheldon Museum of Vermont History, One Park St., Middlebury, through September 1. Find more at henrysheldonmuseum.org. Learn more about the artist at sallyjsmithart.com.
Advice for Amateur Architects
Smith believes that, for children, fairy-house building should be a free-flowing process. Here are a few of her tips to get you started:
To find materials, Smith suggests exploring your natural surroundings and seeing "what sparks the imagination." It's important to help your child learn what is acceptable to harvest, she adds. For example, it's OK to pick a few wildflowers from a whole field of flowers, but a single trillium should remain untouched.
Children often need assistance with structural challenges, like attaching walls to a roof. Smith suggests that adults carry a spool of thread to help children fasten their structures together. Florists' wire — which rusts, then decomposes — is also a useful connector. Smith also recommends carrying a tin of hawthorn thorns, which can be harvested any time of year and used to attach decorations.