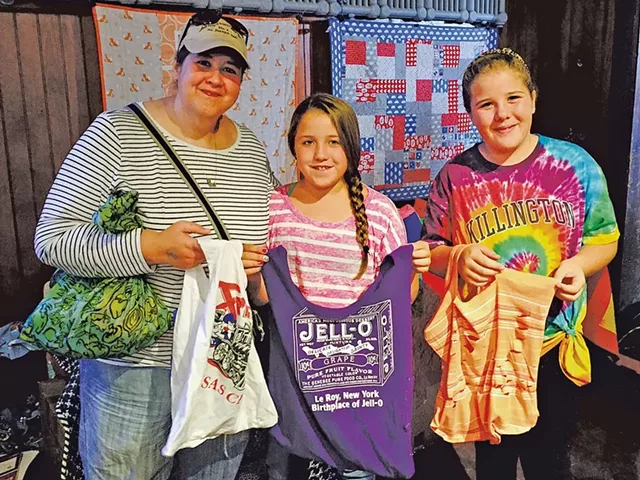 Courtesy of Karen Freeman
With its robot battles, 3D printers and rocket displays, the Champlain Mini Maker Faire at Shelburne Farms had a decidedly high-tech vibe. But this celebration of innovation in September included at least one low-tech activity — the first-ever "Swap, Stitch, Make."
Courtesy of Karen Freeman
It took place in a corner of the Coach Barn, at tables piled high with textiles and lined with sewing machines. Kids and adults practiced upcycling — making useful items out of used fabric. Karen Freeman, a lifelong sewer, organized and presided over the craft area. She said the purpose was twofold: Get more people sewing and teach ways to repurpose textiles to keep them out of landfills.
"Give them the tools and let them go," she said of the workshop participants as she refolded old T-shirts displayed on a table. "Let the creative juices flow."
An array of hands-on projects enabled that creativity. At one table, local designer Jennifer Muldoon demonstrated how to make a trivet with ribbon pieces and torn-up strips of old fabric, using a weaving technique called locker hooking. At the booth next to her, Kelly Hickey, who sells her handmade home goods and clothing through her Etsy shop, Edie & Glo, taught kids and adults how to make lavender-filled eye pillows using vintage cloth and a sewing machine.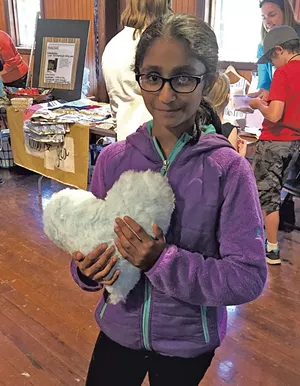 Courtesy of Karen Freeman
At a booth sponsored by Vermont Teddy Bear Company, 9-year-old Miranda traced a giant heart on the back of a large scrap of blue fur, the first step of a pillow-making project. Her 6-year-old brother, Liam, traced a rectangle on brown fur. The Teddy Bear Company's CEO, Bill Shouldice, even got in on the action: He dusted off his sewing-machine skills to make matching heart-shaped pillows out of white fur dotted with hearts for his daughter and her college roommate.
"We have thousands of yards of remnant pieces that we are looking for creative ways to use, and this has been a great event," Shouldice said. "Sewing is a skill that is dying out, and we would love to help keep it going."
Kids made simple tote bags at a booth sponsored by Jennifer Buffington, owner of the Shelburne sewing shop Stitched. Nine-year-old Michaela proudly displayed a bag with a pocket sewn inside that she had just fashioned from an old, red T-shirt. "That was easier than I thought!" she marveled.
Sewing isn't just fun, according to Buffington, it's an important life skill. "We live in a disposable world," she said. "If your backpack strap breaks, you should be able to fix it, not just throw it away and get a new one."
Courtesy of Karen Freeman
Thirteen-year-old Sasha deviated from the tote-bag project at Buffington's station after he found a T-shirt emblazoned with a picture of the band One Direction. He quickly set to work cutting out the band members' faces, then sewing a piece of camouflage fabric underneath to fill the holes. When he completed his alterations, he held up the shirt for his mom to see.
"Cool!" she said, showing him her own creation: a black shirt with a star-covered soccer ball from another shirt sewn on the front. She'd also given it a pocket to hold her cellphone.
Buffington marveled at the mother-son pair's creativity. "This is awesome," she said. "This is what makes it worth it."
Sewing Skills
Love the idea of repurposing old fabric but don't know how to sew? Think your son or daughter might benefit from lessons? Here are some local shops that offer sewing classes for kids and adults: