What better time for mummies, daddies, boils and ghouls to let their imaginations run wild than in the weeks leading up to Halloween? For our October 2014 issue, we asked readers to share their favorite homemade costumes from years past. It was so fun, we decided to do it again.
Via email, parents discussed their creative process and motivation, then broke down the cost, materials and time commitment required for each costume.
Be they sewing-machine whizzes or DIY neophytes, lovers of the hair-raising holiday are sure to find spooktacular inspiration in the handcrafted disguises described below.
Sew Scary
Cheshire Cat


Costumed kiddo: Jacob Devecchio, 4
Parent: Ceili Quigley, Waterbury
Inspiration: "For the last few years we've let our daughter [Jacob's sister] choose her costume, and I build our costumes around her idea," wrote Quigley.
Materials: Felt, faux fur and fabric spray paint
Creative process: Conscious of cold weather, Quigley built this outfit around a snowsuit, sewing fur around the suit and spray-painting stripes. After the paint dried, she stitched on a felt face and ears. Her words of warning: "The fake fur was all over after I cut out the pieces."
Construction time: Two nights
Cost: Around $45
Movie Night
Boo from Monsters, Inc.
Costumed kiddo: Isabelle McClain, now 7
Parent: Gina McClain, South Hero
Inspiration: "Isabelle looked so much like Boo that I just had to do a family costume of her favorite movie," McClain wrote.
Materials: Glittery purple fabric, a purple zipper and thread, Styrofoam balls, cotton stuffing, pipe cleaners, markers, shoelaces, felt, a glue gun, a mop head and a baseball cap
Creative process: With no sewing machine, McClain relied on hand stitching, dividing the fabric body of the suit into three stuffed sections and installing a zipper in the back to make it easy-on, easy-off. A baseball cap surrounded by stuffing gave the hood its shape, and shoelaces tied under Isabelle's chin secured the hood to her head.
Construction time: Four weekends
Cost: Around $30
Scream Time
iPad
Costumed kiddo: Sydney Feltz, 12
Parent: Cheryl and Joe Feltz, Colchester
Inspiration: "Sydney really loves technology," wrote her parents. "She was in a fifth grade tech class at Malletts Bay School, and wanted to incorporate all that into her Halloween costume."
Materials: Lots of duct tape, paper copies of Apple application icons, thick poster board and glue
Creative process: Sydney was 10 when she made this costume and took charge of the construction. Using her actual iPad as a template, she attached printed images of apps to a poster-board "screen." Duct tape joined the two boards that sandwiched Sydney's body.
Construction time: A few hours
Cost: $10-$15
Green Mountain Pride
Vermont License Plate
Costumed kiddo: Benjamin Carney, 6
Parent: Elizabeth Carney, Shelburne
Inspiration: "Ben came up with the idea," Carney wrote. "He is really fascinated by the colors of the Vermont license plate. We moved here from Maryland, where the license plates are decidedly more boring."
Materials: Cardboard from an old moving box, poster paint, fine-pointed paintbrushes, twine, green pants and a matching hoodie
Creative process: This costume took precision. Carney measured an actual license plate and scaled up the measurements before cutting out a cardboard replica. She created templates of the letters to achieve accurate spacing between characters. Thinking ahead, she painted the cardboard green on both sides so she'd have a backup in case of a mistake.
Construction time: Two days
Cost: Around $45
From the Depths
Scuba Diver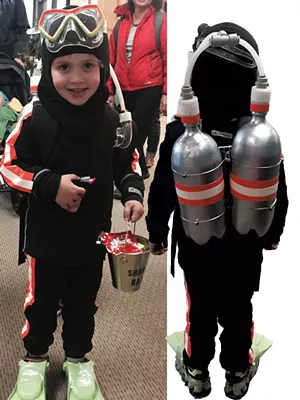 Costumed kiddo: Jameson Reynolds, 4
Parent: Kara Gomez, Cambridge
Inspiration: "[Jameson] told us in the summer, when he had received a snorkel set, that he wanted to go scuba diving," wrote Gomez. "The obsession with scuba diving had begun, and it was a must for Halloween."
Materials: A base layer of black clothing, a ski mask, two soda bottles, glow-in-the-dark duct tape, silver spray paint, air tubing, zip ties, a snorkel set, a backpack, flippers, letter stickers and a pail
Creative process: Gomez was the mastermind behind the materials, and Jameson's dad, Steven Reynolds, put in most of the labor to fashion the aquatic attire. After spray painting and decorating two soda bottles, he connected the bottles with air tubing. One tube also attached to the snorkel's mouthpiece. Zip ties secured the bottles to a backpack. For footwear, Dad cut the bottoms out of flippers and taped them to the top of Jameson's sneakers.
Construction time: Two hours
Cost: Around $22, plus some household items
Burlington City Arts offers a DIY Halloween Costumes class for kids ages 6 to 12 on Friday, Oct. 19 from 8 a.m. to 3 p.m. at the BCA Studios in Burlington. Registration is required. For more information, contact Burlington City Arts at 865-7166 or visit burlingtoncityarts.org.